The Party 21
Schizo: You can always have one drink. The secret is in knowing when to stop. Ruby: I suppose you're right. Very well, just one. Orlock: What were you doing out there with him? Ruby: Max, would you stop that? I'm not in the mood for being interrogated.
The Party 22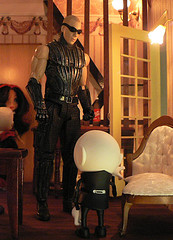 Riddick: Max, leave her alone. Orlock: She sounded mean. Riddick: Your fault. You have no right to question her or to control with whom she can talk. I'm not surprised she sounded mean. Watch out or she will soon be a lot more than just irritated. Orlock: Why does she like everyone else, but not me? Riddick: Have you ever considered that you might be trying a bit too hard? Give her some space.
The Party 23
Orlock: Schizo is supposed to be my friend. Riddick: So? They are having a drink and talking. Look around, everybody is doing that. It's the whole point of having a party, to meet people. Orlock: But... Riddick: Just try to relax.
The Party 24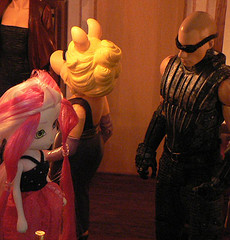 Kitty: What was that about? Riddick: Max is sulking, because Ruby is talking with his friend. Kitty: Well, I think Schizo did come here mainly to see Ruby. At least that's the impression I got when I called him. Riddick: It doesn't matter. Max has no right to try to control what Ruby does or who she's talking with. Kitty: I would never have believed Max could cause that sort of problems.
The Party 25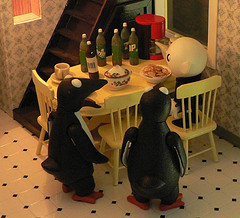 Penguin 1: What's the matter with you? Penguin 2: This is supposed to be a party, why the long face? Orlock: None of your business. Penguin 1: Where did you leave your friend? Penguin 2: The one in clown suit? Orlock: I don't care where he is. Some friend...
The Party 26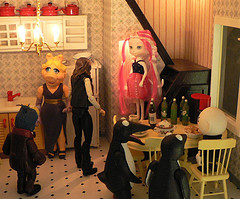 Faith: There you are. I'm sorry I'm late. Kitty: Not at all. The party isn't over yet. Let's go and have a drink and then I'll show you the house.
The Party 27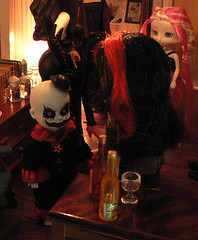 Schizo: Is there any place where we could talk in private? Ruby: We can go upstairs. I don't think there's anyone there as it's the bedroom. Schizo: Are you sure Kitty won't mind? Ruby: I'm sure she won't mind. And we're not going to be there for long.
The Party 28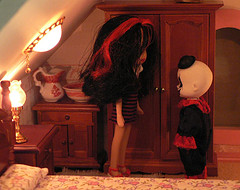 Schizo: Is Max causing you problems? Ruby: He thinks he loves me. I have told him that I think of him as a friend, nothing more, but he just doesn't seem to get it. Schizo: It's not the first time. He can be a bit too persistent, but he'll get it eventually. He doesn't mean any harm and he's certainly not dangerous, so there's no need to worry about that. - I'll try talking to him, but there's no guarantee he will listen.
The Party 29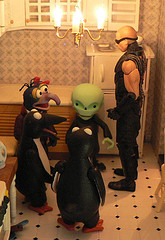 Riddick: Kevin, could I have a word? Kevin: Sure.
The Party 30
Kevin: Are you worried about Kitty's grandma? She could cause you a lot of trouble. Riddick: Not exactly worried, but I'd like to hear your opinion. I've been thinking that if we're not taking anything from Anika, she can't demand anything in return. Kevin: It may not be quite that simple. Anika is very influential. Riddick: Kitty was talking about threatening to cause a few more scandals, if Anika doesn't leave us alone.
The Party 31
Kevin: Yes, that could be a very effective way of keeping things under control. And you wouldn't mind it, if Kitty decided to cause some sort of a scandal? Riddick: As long as she keeps it legal and it doesn't involve her divorcing or cheating me, I won't mind. I don't much care what other people think of us. I guess it's the benefit of never having been acceptable in the first place. Kevin: I guess so. You know, I'm not surprised that you ended up with Kitty, and vice versa.
The Party 32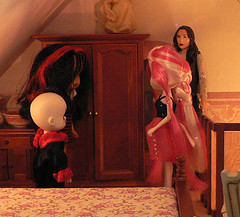 Kitty: Are we interrupting something? Ruby: I'm sorry, if we weren't supposed to come here, but we needed to talk in private. Kitty: It's all right, I don't mind. As long as you don't break into Riddick's room, everything is fine. Ruby: He told you about that one? I wouldn't do it here. Kitty: I was just joking.
The Party 33
Faith: What was that about? Kitty: You mean those two or the breaking in? I don't know the answer to the first question, but the latter one referred to the time when Ruby broke into Riddick's basement room at the theater. - Enough about that. What do you think of the bedroom? Faith: Very nice, but what's with the tiles? Kitty: That part was a bathroom before. We haven't decided yet what to do about it.
The Party 34
Piggy: Who's the guy in the clown suit? Is he your friend? Ruby: He's Schizo. He's a friend of Max and that's how I met him. Piggy: Is he the one who was scaring Scooter out of his mind? The description fits. Ruby: Well, yes... I know it was a cruel joke, but... Piggy: You don't need to explain anything to me. From what I heard, he deserved it.
The Party 35
Riddick: So, how is the new life? Sneezy: Better. I was getting a bit too old for all that traveling. The only reason I didn't ask Veronika to stop earlier was that I thought I had no right to do that. She needed to make the decision herself. Otherwise, she would have always blamed me for ruining her career. Riddick: Yes, that is possible.
The Party 36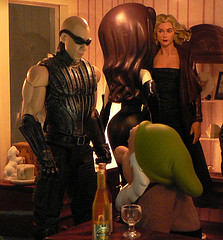 Sneezy: How about you? Have you really thought about what it means to settle down? Riddick: I don't think I understand the question. Sneezy: You're married now. You can't just leave when you feel like it. Well, of course you could, but that's not what you're supposed to do. Riddick: Don't worry, I've done all the running I ever want to do. If the past is going to catch me, because I stop running, then it will and I'll just have to deal with it. Sneezy: That bad, huh? I had no idea.
The Party 37
Wendy: He used to work for you, so you know him quite well. Do you think he has really changed? Veronika: You're talking about his past. He isn't like that anymore and things seem to be getting better all the time. I'm sure he won't do anything to risk all he's got now. Wendy: I hope you're right. By the way, isn't she taking quite a risk, marrying an outsider? Veronika: Her father was an outsider. She isn't quite like others of her kind.
The Party 38
Wendy: Do you know the family? Veronika: I know about them. It's hard not to. Everybody is always gossiping and the recent events in that family have been the talk of the town. I guess you know about Chase, it's your territory. Wendy: Yes, I arrested her. It's really quite unbelievable how different those two are. I mean, Kitty is mischievous, but she would never hurt anyone on purpose.
The Party 39
Kevin: Hello, I don't think we have met before. I know you're Kermit's assistant, but I can't remember your name. I'm Kevin. Ruby: I'm Ruby. How do you know Kitty and Riddick? Kevin: I'm a lawyer and I know Kitty's whole family. Ruby: A lawyer? Really? Sorry, I didn't mean it like that... Kevin: It's all right. I know I don't exactly look like a lawyer, but it is sometimes very useful.
The Party 40
Schizo: Max, are you stalking again? Didn't you learn anything from the last time? Orlock: You are only saying that so I would give up and you could ask her out. Schizo: First, I don't need your acceptance. If I wanted to, I could ask her out right now. Second, I won't do it, because I don't believe in fairy tales. She's very nice and treats us both well, but girls like her aren't for guys like us. Orlock: Riddick and Kitty aren't a normal couple, neither are Wendy and Kermit or Piggy and Marv. Why couldn't I have Ruby?