The Party 41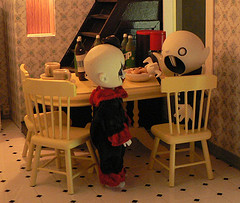 Schizo: Do I really need to say it? She doesn't want you. Your problem is that as soon as someone is nice to you, you start expecting more. And then it gets to the restraining orders and stuff... Remember? Orlock: Why do you always have to bring that one up? Schizo: Because you should have learned something from it. You know, you're lucky that Riddick is your friend. Just don't stretch it, I think Ruby is a higher priority for him than you are.
The Party 42
Lizzy: Excuse me... Schizo: Yes? Please don't look so scared, we're perfectly harmless. I'm Schizo and this here is Orlock. How can we help you? Lizzy: I'm Lizzy. I live next door. Kitty invited me to the party, but I couldn't come earlier. Do you know where I can find her? Schizo: Upstairs somewhere. Just go there and have a look. But I must warn you, Kitty and Riddick have some strange friends. However, they are all very nice.
The Party 43
Ruby: Hello, we haven't met before. I'm Ruby. Lizzy: I'm Lizzy, from next door. Kitty invited me. I... I don't really know anyone else here except her and Riddick. And if I had known it was going to be this crowded, I wouldn't have come at all. Ruby: Everybody here is really nice and as for you not knowing them, let's start fixing that right away. Come on, I'll introduce you to them.
The Party 44
A little later: Kitty: I see you've already met Ruby. Ruby: She has met a whole lot of others, too. I introduced her to most of them. Lizzy: You really have interesting friends. Kitty: Yes, I think that is a very appropriate word for describing them. I'm not going to ask if you liked them. Some of them are sort of an acquired taste, if you know what I mean.
The Party 45
After the guests are gone: Kitty: That was nice. I noticed you were having fun too. Don't try to deny it. Riddick: All right. It was good to have all our friends here. I wouldn't want to do it again, at least not for some time, but I liked it. Kitty: Don't worry, we won't be having that kind of parties often, but I am planning to invite a few people here now and then. Your participation is of course optional. I'm not going to force you to entertain any guests.
The Party 46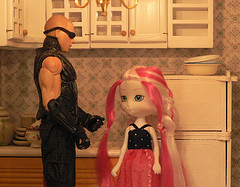 Kitty: Ruby wanted to stay and help clean up, but I told her to go with Wendy. Safer that way. Riddick: Yes, it was. And those dishes aren't going anywhere, so you should leave them as well. We'll clean up tomorrow. Kitty: Yes, you're right. Mother and grandma are coming for a visit tomorrow, but I guess it doesn't matter, if the place isn't all cleaned up before that. I can take a remark or two about how I'm not that good at housekeeping.
The Party 47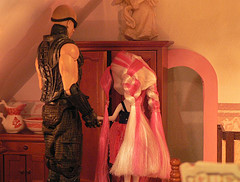 Kitty: Are you going to do something about Max? Riddick: I don't know. I need to talk with Ruby, see what she thinks about the situation. Kitty: She seems to like Schizo. I found them here talking when I brought Faith here to take a look. Riddick: That's really none of our business. She can choose her own friends. It only becomes a problem, if someone tries to tell her she can't do that.
The Party 48
Next day: Anika: I should have guessed it's going to look like this. Well, at least those bottles are just soft drinks. Kitty: Don't start. We had the housewarming party last night and Riddick and I haven't had time to clean up yet. Anika: Party? Why weren't we invited? Kitty: Are you really saying you would have come? Our friends are anything else but feline.
The Party 49
Kitty: I suppose you might have liked Veronika. She's very wealthy and famous. Anika: Veronika? If that's who I think it is, I have no desire to meet her. Kitty: There you go again. You're only complaining about not being invited, because you missed the opportunity to decline the invitation. - Come on, let's go upstairs.
The Party 50
Toffee: Kitty, where did you get all the furniture? Some of these pieces are really valuable. Kitty: Are they? I wouldn't know. Veronika showed us her storage and told us to choose what we needed and wanted. Toffee: Everyone will soon know about that. Mother, do you realize what they will say? They will say that Kitty needs to resort to charity, because you're too mean to give her any money to set up her own home.
The Party 51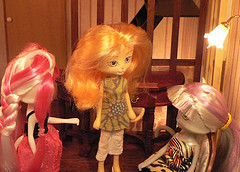 Anika: I did offer her money. Kitty: Sure. With conditions like "no marriage, no children." You weren't seriously thinking I would accept, were you? You just made an impossible offer, so you could say that you did offer, but I declined. It's what you always do. Toffee: Mother, did you really do that? Didn't you learn anything from the first time? Kitty: First time? Did she try to buy you too? Unbelievable.
The Party 52
Anika: What's the problem? You can live with him without being married to him. Kitty: Actually, not anymore. We got married yesterday afternoon. Anika: You did what?! Toffee: Oh Kitty, that's wonderful. Anika: Did you talk with Kevin? Kitty: If you mean the prenup thing, he did mention it yesterday, but I just told him it was too late. The only document there is ever going to be is the marriage certificate.
The Party 53
Riddick: Hello, ladies. I didn't know you are already here. It is very nice to see you again. Anika: You... you... Toffee: Hello, Riddick. Don't mind her, she just heard the news and doesn't quite know what to say. Riddick: I can see that. And you? Toffee: I'm happy for you both. Mother has a problem with you not being our kind, but I think you and Kitty will be very happy together.
The Party 54
Kitty: Are you quite serious? Toffee: Of course. You must know that the only way you could have married one of our kind would have been an arranged marriage. You know what kind of guys resort to that. Anika: There was nothing wrong with the young man Kitty was supposed to marry. Riddick: What?! - I suggest you leave now. Anika: Are you throwing me out? How dare you... Kitty: Grandma, do as he says. Now.
The Party 55
Toffee: I think I should go after her. Fortunately, we've got the driver this time, so she's not going to cause havoc in the traffic. Kitty: Mom, please don't let her go and tell Chase. We're going there to tell her ourselves. Toffee: I'll do what I can. By the way, you do know how Chase is going to react, don't you? Kitty: Sure, but we will have to do it anyway.
The Party 56
Riddick: In what century does your grandmother live? Kitty: Just forget that, it was never going to happen anyway. I would not have done it even if I had not met you. Grandma was just making plans and hoping she would get me to agree at some point. Riddick: Your mother seems to accept the situation. She even seemed happy. Kitty: Yes, that was a bit of a surprise, but it will help us in dealing with grandma.
The Party 57
Riddick: About Anika... Kevin and I talked about the situation. He seemed to think that the threat of a scandal would be a good way to keep her at bay. Although, when you rule out illegality, divorce and cheating, is there anything useful left? Kitty: Don't worry, I have some interesting ideas. It's really a pity I won't get to do any of it as they will be just threats. She won't dare to harass us too much after she hears what I have in store, if she even tries anything.