Surprises 61
Riddick: Ruby, it's not the end of the world. Besides, you hardly knew him. Ruby: I just wanted him to like me. He was so nice... Riddick: If you say so. But tell me, would you really want someone who gets scared so easily? Ruby: I guess not. He didn't even want to try... Riddick: I've met someone like that before. - You deserve better.
Surprises 62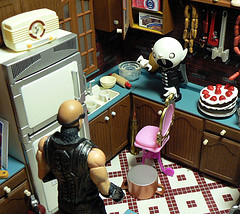 Riddick: Max, what are you doing? Orlock: Um... nothing. Riddick: Really? All that trouble for nothing? - What is it you're after? Cookies? Orlock: Yes...
Surprises 63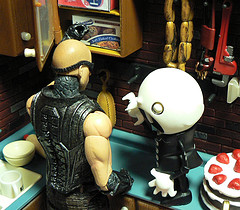 Orlock: Did Ruby come back already? Riddick: Yes. It seems that Don got scared and we won't be seeing him around again. Orlock: Riddick, why are you so pleased about that? I thought he was all right. Riddick: I'm not so sure about that. He would have hurt her in the end. Orlock: You know, what you said to me about jealousy... Are you quite sure you're not...? Riddick: Max, don't. You don't know anything about it.
Surprises 64
Orlock: You've got Kitty. You can't have Ruby as well. Riddick: It's nothing like that. You don't understand. If you only knew what she has been through... Orlock: Maybe somebody should finally tell me. Otherwise, I can't understand what's wrong. What can be so horrible that I cannot be told about it?
Surprises 65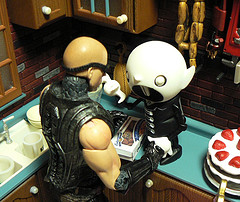 Riddick: All right. Let me help you down. Then I'll tell you. Orlock: I can get down by myself. Just put the chair back. Riddick: This is safer. Your dignity won't get hurt too badly. No one is going to see. Orlock: All right. I guess I don't have a choice.
Surprises 66
Riddick: ...and that's all. Now you know what the problem is. Orlock: Her father? How could he...? That's... Riddick: Do you understand now? Orlock: Yes. Poor Ruby. I feel even more like an idiot now. Riddick: Max, don't worry. Ruby wants a normal life, not pity. And all I want is to make sure no one hurts her again. I may get a bit overprotective at times, I admit that, but it's better than watching her getting hurt.
Surprises 67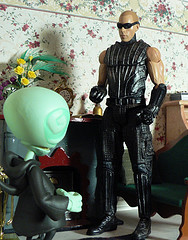 Next day: Riddick: Hi, Kevin. Why are you here? Anything I should know about? Kevin: Just some business matters with Kermit. - Riddick, what did you do to Anika? She was furious the last time I saw her. Riddick: Just suggested she should leave when she came for a visit and started talking nonsense. Kevin: Great. Just great. Riddick: Kitty saw her again last night and said things are a bit better now.
Surprises 68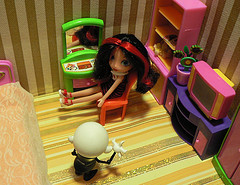 Orlock: Ruby, I've been meaning to talk to you. Do you have a few minutes now? Ruby: Sure. What's on your mind? Orlock: I wanted to say that I'm sorry I have been such a jerk. I've been harassing you and not believing when you said you just wanted to be my friend. I'm sorry about it all and I hope you are still my friend.
Surprises 69
Ruby: Of course I am your friend and I accept the apology. I knew you would come into your senses, Schizo told me so. Orlock: He's always sticking his nose into other people's businesses. Ruby: You should be grateful to him. Without his advise I probably would have talked to Wendy about the situation. - I'm glad everything is all right again between us.
Surprises 70
Kitty: Hi, Lizzy. Is this your friend? Lizzy: Yes, this is Vicky. Vicky, this is Kitty, my new neighbor. She works here and promised to show us around. Vicky: Cool. I have never seen the backstage of a theater. Kitty: There's no show tonight, so it isn't as busy as usual. I don't think Kermit would want any extra visitors on busy times, so today is ideal for your visit.
Surprises 71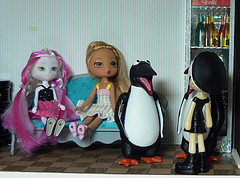 Penguin 1: Hello. I haven't seen you before. Nice outfit. Good choice of colors. Penguin 2: Excellent. Very stylish. Vicky: Um... thanks, I guess.
Surprises 72
Vicky: Were those penguins? Real penguins? Kitty: Yes. They tend to eavesdrop every chance they get and they're always sticking their beaks into things that are none of their business, but they are otherwise quite nice and very polite, as I'm sure you noticed. Lizzy: I've never seen talking penguins before. Kitty: Well, there are some other strange characters here as well. Shall we go and see now?
Surprises 73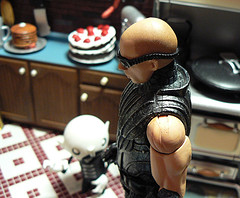 Orlock: Riddick, are you going to scare all potential boyfriends into treating her nicely? Shouldn't they do that on their own free will? Riddick: Actually, I hope she finds someone like that who won't be scared of me. Orlock: Right. And what are the chances of that happening?
Surprises 74
Riddick: Max, if the guy has to deal with Hagrid, he can't be too timid. Don certainly failed the test. Orlock: You were having fun scaring him, admit it. Riddick: All right, things are a bit boring around here. Orlock: What do you think Ruby would think about that, if I told her? Riddick: But you won't. Right, Max?
Surprises 75
Kitty: ...and here we have the kitchen. This is Riddick and this is... Vicky: Max! Long time, no see! What are you doing here? Is Schizo here too? Orlock: No! No, no, no, no...
Surprises 76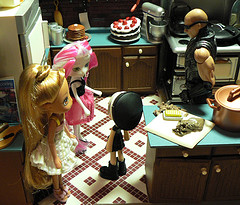 Kitty: I take it you two have met before. What got into Max? I've never seen him run that fast. Vicky: The last time we met didn't go very well, but then again, it was his own fault. He should have believed what I said. Kitty: And what was that? Vicky: Something along the lines "I'm not interested. Go to hell before I get an axe and get even more brutal than normally."
Surprises 77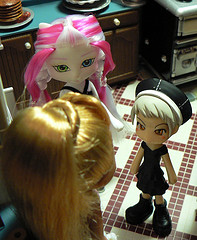 Lizzy: You have never told me about that. Vicky: You're so sensitive. I didn't want to upset you. It was old history, anyway. Kitty: And now? Vicky: It seems to me that Max won't be bothering me ever again. Actually, I'm a bit sorry about getting him so upset. I don't hate him. He was just a terrible nuisance.
Surprises 78
Vicky: So, you're Riddick? I'm Vicky. What do you do around here? Riddick: I'm in charge of security. I hope you left axes and other weapons at the door. Vicky: You're a funny one. Don't worry, I only have these teeth and they are not removable. But I guess it wouldn't be necessary, considering you let Max roam around freely. Has he bitten anyone yet? He will, you know. He can't help it. Riddick: Now you must be joking.
Surprises 79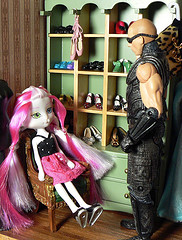 Later: Riddick: Have they left? Kitty: Yes. Have you seen Max? Riddick: No. He disappeared totally. I haven't seen him and I've been looking everywhere. Kitty: I thought it would cheer him up. How was I supposed to know... Riddick: It's not your fault. It's nobody's fault. Just bad luck. Kitty: I have an idea where he could be. I'll go and check.
Surprises 80
Orlock: Kitty, why did you bring her here? Kitty: I'm sorry, Max. I thought you would like the company of someone who is more like you than us. Orlock: She's nothing like me. She's nuts and she's dangerous. I'm lucky I still have all body parts intact after what she did.
Surprises 81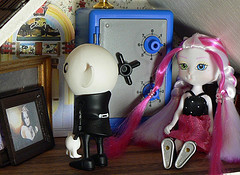 Kitty: And you were totally innocent? For instance, you weren't running after her like you've been running after Ruby, driving her crazy? Orlock: Well... maybe it was partly my fault. Still, she had no right to start running after me with an axe. Kitty: Yes, you have a point there. Anyway, they are gone and you can come down now.