Max 1
Schizo: Kitty, thanks for calling. I had no idea Vicky was here. Kitty: I was just trying to make Max happy. I didn't know... Schizo: There was no way for you to know. Max doesn't talk about it. Anyway, I'm sure he'll be fine after what I have planned. Kitty: What's that? Schizo: I'm taking him to a party. A friend of mine is having a birthday party and I'm sure Max will love it. It will be all girls, except the two of us.
Max 2
Orlock: Are you sure it is a good idea? I don't even know anybody there. Schizo: So what? You will soon learn to know them. Besides, they are all little people. Wait till you see the house. I bet you've never seen anything like it. Orlock: All right. If you insist.
Max 3
Schizo: Blythe, this is Max. Max, this is Blythe, the birthday girl. Just don't ask how old she is now. Orlock: I wasn't going to. - Happy birthday, and thanks for inviting me. Blythe: Thank you and welcome. Schizo said you need a bit of cheering up and I suspect he needed moral support. As you can see, there are no other guys here. We are very selective in inviting guys to our parties.
Max 4
Blythe: How do you like the house? Orlock: Schizo said it would be something I've never seen before and he was right. It's just the right size. Blythe: It was built specifically for me, although there are standard houses for people like us. I just wanted something a little different.
Max 5
Blythe: Max, this is Lisa. Lisa, this is Schizo's friend Max. Orlock: Nice to meet you, Lisa. Lisa: Are you really a real one? Blythe: Lisa, don't ask that, it's rude. Max, would you like to see the rest of the house? Orlock: Sure, I'd love to.
Max 6
Schizo: Did you see where Blythe went? Lisa: I think she took your friend upstairs to see the rest of the house. Schizo: Really? I haven't seen the rest of the house. Kate: Schizo, are you jealous? Didn't you know she has this thing about guys like your friend? By the way, is he a real one or a fake? Schizo: What? Oh, a real one.
Max 7
Orlock: You don't seem to be bothered by what I am. Blythe: I'm not. Should I be? Orlock: No, of course not. I haven't bitten anyone in ages. I know it sounds strange, but somehow I just got over the urge. Makes life a lot easier when you don't need to move all the time.
Max 8
Blythe: I hope my pets are not bothering you. They seem to like you. Orlock: I don't mind. I've never had pets myself, but I get along with most animals. Blythe: That's good. I think we should go downstairs. I'll introduce you to the rest of the guests. Orlock: All right. - Blythe, I am happy that you invited me. Blythe: And I'm happy that you came. Come on, let's join the party.
Max 9
Blythe: Max is Schizo's friend. Claire: Oh yes, Schizo was telling us about him earlier. So, you work at the theater? Orlock: Yes, I've been there for some time now and it's the best job I've ever had. I get to meet all sorts of people.
Max 10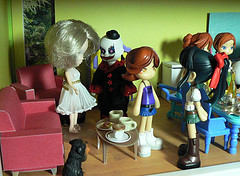 Blythe: Where have you been hiding him? Why haven't you brought him here before? Schizo: He isn't really into parties. He had a bad experience recently and I managed to persuade him to come. He needs to stop brooding about the past. Blythe: Oh, I'm sure I can do something about that.
Max 11
Orlock: ...and then Schizo called him a bad boy and promised to appear in his dreams. Claire: Hehe, he has always loved stuff like that. And he's so good at it. Tina: Max, are you really a real one? Kate: Schizo said you are. Orlock: Yes, that's right. I am a real one. All girls together: Cool!
Max 12
On their way back home: Schizo: Max, do you have any idea what you have done? Orlock: What do you mean? Schizo: I've been asking her out for ages. She always declines. Then you come along and now she doesn't even see me. Orlock: I'm sorry. I had no idea. Why didn't you tell me?
Max 13
Schizo: I thought it was none of your business. Well, I guess it was time for things to go this way for a change. If she likes you, consider yourself lucky and don't mess it up. I mean it. Orlock: I know I'm lucky. Even if she never wants to see me again. Schizo: She will.
Max 14
Next day: Riddick: Kitty told me about the party. How was it? Orlock: It was nice. Riddick: You two alone with a bunch of girls and you're saying it was "nice?" Orlock: All right, it was the best party I've ever been invited to. Riddick: Curious way to put it. Orlock: What do you mean? Riddick: Makes me think you've attended an even better party at some point, but uninvited.
Max 15
Orlock: Has anyone ever told you that you've got a suspicious nature? - All right, you got the right impression, but I can't talk about it. The charges were dropped in exchange for me signing a non-disclosure agreement. Pity, really. It would have made a bestseller. Riddick: Must have been one hell of a party. Orlock: Riddick... I know I have a tendency to start imagining things when somebody is a bit nicer than normally. How do you know if someone is interested or if it is all just in your head?
Max 16
Riddick: Hard to say. I think that's something you should ask Kitty. Orlock: So, it's not that easy? I thought there are some clear rules and I'm just not getting it. Riddick: It's not that easy. And I guess you could say I'm your opposite: I tend to ignore even the clearest signs. At least that way you can avoid restraining orders. Orlock: Did Schizo tell you about that? He promised not to. Riddick: About what? Orlock: Oh, nothing.
Max 17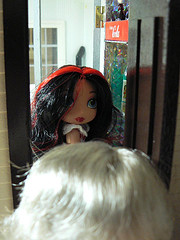 A couple of days later: Blythe: Excuse me... I wonder if you can help me. I'm supposed to meet Max. Ruby: Come in. I'll go and get him. Blythe: Thank you.
Max 18
Gonzo: I'm Gonzo. I don't remember seeing you here before. Blythe: This is the first time I've been here. I'm Blythe, and I'm waiting for Max. Gonzo: Really? How do you know him? I had no idea he had friends like you.
Max 19
Ruby: Max is a bit busy right now, but he'll come as soon as he's finished. I'll show you where you can wait without being bothered. Blythe: Thank you. Gonzo: I wasn't bothering anybody...
Max 20
Ruby: You can wait here. Max will be here any minute. I need to get back to work now. Blythe: Are you quite sure this is all right? Ruby: Yes, don't worry. Max said it would be better for you to wait here where there isn't so many people coming and going all the time.