Max 21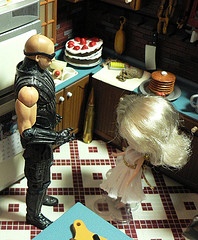 Riddick: Hello. I don't think we have met. I'm Riddick. Blythe: I'm Blythe. I came to see Max. I was told to wait here. Riddick: It's all right. I didn't mean to scare you. - So, how do you know Max? Blythe: We met at my party. Schizo brought him there. - You know, I'm going to sprain my neck talking to you like this. It's always the same problem with you big people. Riddick: Let's see what we can do about that.
Max 22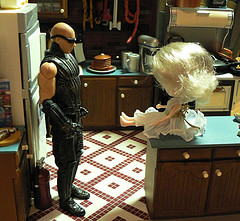 Blythe: This is much better. I always prefer seeing the face of the person I'm talking to. Riddick: Yes, that does help. Blythe: What do you do around here? You're not the sort of person I would have expected to see here. Riddick: I'm in charge of security. Blythe: Well, that explains it.
Max 23
Riddick: How much did Schizo tell you about Max? Blythe: If you mean his trouble with women, I know about it. That's why I called him to ask him out. I thought a direct approach would be best, so we can leave out all the guessing. Riddick: Very practical of you. So you like him? Blythe: Yes. All my friends who were at the party liked him too and they are not easy to please. - You know, I'm starting to feel like this is an interview, not a discussion. Riddick: I'm sorry. I didn't mean it that way.
Max 24
Blythe: It's all right. I guess you're worried about him. Riddick: Well, I know it's none of my business... Blythe: It isn't, but if it makes you feel better, I can tell you that I'm not in the habit of breaking hearts for fun. And if you don't believe me, ask Schizo. Riddick: As I said, it's none of my business, but thanks for telling.
Max 25
Orlock: Blythe, what are you doing up there? How did you get there? Blythe: Your friend kindly lifted me here so we could talk. Orlock: Maybe he should help you down now, so we can go. Riddick: Certainly.
Max 26
Riddick: Where are you going? Blythe: Movies. I just love old horror movies. We are going to see Nosferatu, the original one. Riddick: Have fun.
Max 27
Ruby: Who was she? I have never seen her before. How does she know Max? Riddick: Her name is Blythe. Schizo introduced them. I think we can stop worrying about Max. Ruby: What do you mean? Is she his girlfriend now? - She's awfully short. Riddick: Haven't you met any of the little people before? Max doesn't count, because he isn't one of them, although he is even smaller. Ruby: Little people? No, I haven't even heard of them before this.
Max 28
Riddick: Really? I thought everybody knew about them. They are like us, just a lot smaller. They often live in their own communities where the houses are smaller and built especially for them. Ruby: Like hobbits? Riddick: Ruby... You shouldn't say that, especially not around them. They find it offensive. Ruby: I didn't know. I'll keep that in mind.
Max 29
Ruby: Riddick, why would someone like her be interested in Max? I mean, she's pretty and she looked a lot older than me, although she was so short... Riddick: Maybe she saw something you didn't. Besides, as far as I know, Max's kind and the little people have always been closer to each other than to us. It's the size, I guess. Ruby: Oh, I see. Is there anything else I should know? Riddick: Just don't pay too much attention to her height. Treat her like you would treat anyone else and everything will be fine.
Max 30
Ruby: What if she's just... you know, having fun with him? Riddick: Nothing wrong in having fun. Ruby: You know what I mean. What if she just dumps him when she gets bored? Riddick: There is always that risk and there is nothing we can do about it. If Max wants to be with her, it's his business. Ruby: Yeah, I know, but... Riddick: Listen, Max is an adult. In fact, he's a lot older than you realize. He is perfectly capable of deciding for himself. And if the worst happens, we'll be there for him, right?
Max 31
Kitty: Really? Sounds like a perfect match. Riddick: At least Max looked happier than in a long time. Kitty: Maybe we should ask them to come for a visit. It would be nice to meet her. Riddick: Sure, if that's what you want. She seemed like a very nice person to me. - You know, it's so hard to remember that they are adults. She looked so small and fragile, but I wouldn't be surprised if she turned out to be older than I am. Kitty: Max isn't exactly young either. Although, with his kind, age isn't as clear concept as it is for us.
Max 32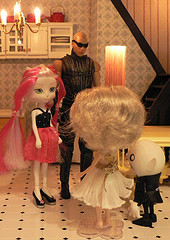 And so: Kitty: Hello. I'm Kitty and you have already met Riddick. Blythe: Yes, we met at the theater. Are you two really married? I'm sorry, that was rude... It's just, you're nothing like I imagined. Kitty: It's all right. I know we are a bit odd couple. And yes, we are married.
Max 33
Blythe: You've got a lovely house. Kitty: Thank you. Riddick found it for us and his friend helped us furnishing it. Would you like to look around? Riddick: Ladies, if you'll excuse us... I think Max and I will go to my room while you're touring the house. Kitty: All right. I suspect Max isn't that interested in interior decoration. Orlock: No, not really.
Max 34
Blythe: I love it. The stairs are of course a bit difficult for me, but I'm used to that. It's the same thing in all big people's houses. Kitty: From what Max has told, I understood that you have a house of your own. Is it one of the small ones?
Max 35
Blythe: Yes, but it's not a standard house. I had one built to my own specifications. Of course, there are standards, like the room height, that you must observe, but otherwise they give you fairly free hands when it comes to the design. Kitty: You know, I have never seen any of the houses in your community. Do you think I could...? Blythe: Certainly. I'd be happy to show you my house. You'll fit in, but I'm afraid your husband is much too tall.
Max 36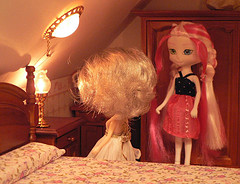 Blythe: Tell me, how did those two end up being friends? Somehow I would have thought someone like Riddick wouldn't pay much attention to Max. Kitty: Oh, Riddick has a certain affinity for small people, regardless of age. It's his overprotective nature, I guess. Blythe: I see. Yes, I thought I noticed something like that when we met at the theater. I'm not really that fragile, you know.
Max 37
Kitty: I can see that, but then again, I'm not that much bigger than you are. Blythe: That's really why I was so surprised when I saw you. I was expecting to see someone almost his size. You know, a tall blonde or something like that. How did you two meet? Kitty: At work. It's a long story. Maybe some other time.
Max 38
Riddick: I thought you might like to have something stronger than just tea. Orlock: Thanks. I've got nothing against tea, but this is still better. Riddick: She seems nice. She told me that Schizo introduced you to her. Orlock: Yes, and he regretted it later. Still, he wished me luck and told me not to mess it up. Riddick: Did you steal his girlfriend?
Max 39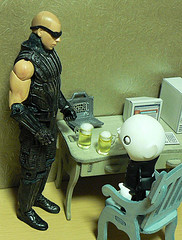 Orlock: She wasn't his girlfriend. He was just hoping it would come to that eventually. Riddick: But she chose you. Are you and Schizo still friends? Orlock: Yes. He said it would be madness to let something like this ruin our friendship. I think he's already got his eyes set on someone else. He's like that, you know. He just moves on.
Max 40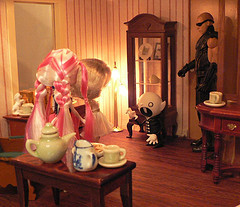 Riddick: Seen everything? Blythe: Oh, yes. You have a wonderful house. - So, what were you two up to while we were looking around? Orlock: Nothing much. Just talking. Blythe: Riddick, I take it that your room is out of bounds for women? At least Kitty didn't suggest that we look in there. Riddick: Well... Blythe: Don't worry, I quite understand.