Max 61
Kitty: Are you sure you don't want anything more? Mary: Quite sure, thank you. I couldn't take another bite. - You're so nice. I... I didn't expect... Kitty: It's not your fault if your parents made mistakes. Besides, he was so happy this morning. Mary: Really? Last night he said he was in shock. Kitty: Of course he was surprised, because he had no idea. I'm sure you know he loved your mother very much. Mary: Yes. Does it bother you? Kitty: No. It's in the past. Everyone has a past and you must live with it.
Max 62
Mary: What's he like? Kitty: I think it's best that you find that out yourself. But one thing I can tell you is that he won't let you go now that you've found him. He doesn't realize it himself yet, but I know. Mary: I'm sorry if I'm messing up your life. Maybe I should have stayed away... Kitty: Don't worry. I'm sure everything will be fine.
Max 63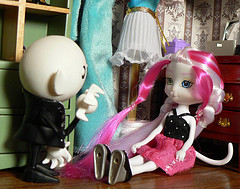 Later: Orlock: Kitty, what are you doing sitting on the floor? Are you all right? Kitty: What...? Oh, it's you. I was just thinking... Orlock: What's going on? Have you been fighting with Riddick? Where is he? Who was that girl last night? Kitty: Slow down, Max.
Max 64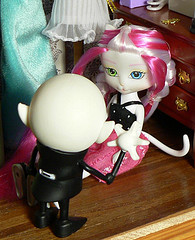 Orlock: I can see something is wrong and last night everything was fine. What happened? Kitty: That girl... Her name is Mary. She's Riddick's daughter. Orlock: Daughter? I didn't know... Kitty: Neither did we. - Riddick's with her and Kevin now, sorting things out. Orlock: What things? Kitty: She's going to stay, I think.
Max 65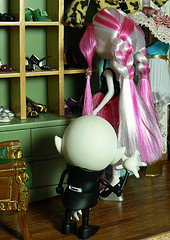 Orlock: Is that all right with you? Kitty: Do I get a choice? Orlock: Does Ruby know? Kitty: Not yet. Don't tell her. I think Riddick wants to do that himself. Orlock: I can understand why. She's not going to like it. Kitty: You think so? You're probably right. Mary is Riddick's daughter for real. But it's their problem, I've got enough of my own right now.
Max 66
Kevin: I'll take care of the paperwork and notify everyone who needs to be notified. I'm sure there won't be any major problems as you are officially Mary's father. I'll let you know how it goes. Riddick: Thank you. I'm really grateful that you agreed to handle this. Mary: Does that mean I get to stay? Kevin: Well, I can't promise that, but this seems fairly straight forward case to me. Mary: That's great! Riddick, can we go look around now? I've never been in a theater and I want to see everything. Riddick: Sure. See you later, Kevin.
Max 67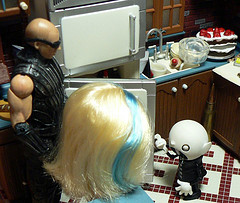 Riddick: Max, this is Mary. Mary, this my friend Max. He was visiting us last night, but I'm not sure you remember. Mary: Yes, I remember. It would be hard to forget those teeth. I'm sorry, I didn't mean... Orlock: It's quite all right. I know they are what people first notice about me, and that's how it should be. Mary: Are you a real one? Cool! Orlock: I think I like you already.
Max 68
Riddick: Max, there's something you should know about Mary... Orlock: Kitty already told me. So, how does it feel to be a father all of a sudden? Riddick: Confusing, but I'm sure I'll get used to it. Mary: You'll have to. Don't worry, it's all new to me too. I never had a father before. Riddick: I just hope you won't be disappointed.
Max 69
Riddick: Max, have you seen Ruby? Orlock: I think she's in her room. Should I go and get her? Riddick: No. I'll go and see her. It's best that we talk in private. Would you keep Mary company? Orlock: Sure.
Max 70
Mary: Who is Ruby? Orlock: Your rival. Mary: Rival? What are you talking about? Orlock: Ruby's parents are dead and Riddick's been taking care of her. Mary: Oh... and now you think she won't like me butting in? Orlock: I can see you are a clever one.
Max 71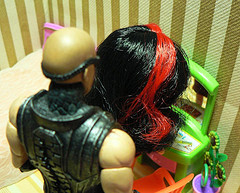 Riddick: Ruby, there's something we need to talk about. Ruby: What is it? I hope it won't take long. I'll be late and Kermit won't like it. Riddick: This won't take long, but I want you to hear it from me before it comes general knowledge. Ruby: You're so serious. Has something happened? Riddick: Yes. Last night...
Max 72
Ruby: A daughter? How could you not know? Riddick: Her mother never told me. Ruby: What's she like? Riddick: Remember the photograph? That's her mother and she looks just like her. In fact, when she came to our door, I first thought it was her mother. The way she was when I last saw her.
Max 73
Riddick: She's here now. Would you like to meet her? Ruby: No. Riddick: All right. But I'm sure you would like her. She's very nice. Ruby: I'm sure she is. I need to get to work. Can I go now? Riddick: Yes. - Ruby, I hope you understand that this does not change anything between us. Ruby: Sure. Just like you moving out didn't change anything. I have to go now.
Max 74
Mary: I don't really know anything about him. What's he like? What does he do here? Orlock: He's in charge of security, which basically means that he makes sure any arguments stay out of the manager's sight. By the way, if you see a frog, he's Kermit, the manager. Mary: Frog? You mean the animal? Orlock: That's right. Although, I wouldn't call him an animal. That's rude. Mary: Oh, thanks for telling. This is all so new to me. I've never seen so many different people in one place. Orlock: Speaking of animals...
Max 75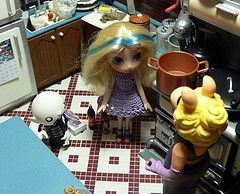 Orlock: Hello, Miss Piggy. Piggy: Who's your friend? I haven't seen her before. Orlock: This is Mary. Mary, this is Miss Piggy. Mary: Nice to meet you. Are you one of the performers? Piggy: I'm more than that. I'm a star. Mary: I've never met a real star before. This is getting really interesting.
Max 76
Piggy: And may I ask you what you are doing here? Are you a new assistant or something? Mary: Oh no, my father just brought me here to see his workplace. Piggy: Your father? Who's that? Orlock: Mary, don't... Mary: His name is Riddick. Piggy: Oh, really? How interesting. I didn't know he had a daughter. Tell me more about it. Orlock: I can't believe this... He's going to kill me. - Mary, I think we should go now. Kitty is waiting for us.
Max 77
Kitty: There you are. I was wondering when you were going to show up. Did Riddick go to see Ruby? Good. - Max, what's wrong? Orlock: We met Piggy. She knows now. Everybody will know before the day is over. Riddick's going to be really mad. Mary: It wasn't your fault. - Kitty, it was my fault. She asked me why I'm here and I told her. I didn't think... Kitty: It's all right. It was bound to come out. Anyway, it's no secret anymore as Ruby has been told. There's no need to panic.
Max 78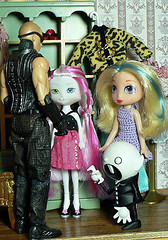 Riddick: Who's panicking? And what for? Orlock: Oh, well, you see... Kitty: No panic. Riddick, it seems that our situation became general knowledge a bit faster than we anticipated. Piggy knows and you know what that means. Riddick: I know. We won't need to tell anyone ourselves. Piggy will take care of that. I guess we can let her have fun once in a while.