Mary and Ruby 1
Mary: I feel bad about invading your room. Riddick: It's all right. Besides, you're not getting the room all for yourself as there's no room for the PC elsewhere, so I need to use it here. Mary: Can I use it too? Or is it just for you? Riddick: You can use the PC, but don't touch the laptop.
Mary and Ruby 2
Riddick: How do you like the bed? It's Kitty's old one. Mary: It's fine. That sofa was a bit short. Are you going to leave it here? Riddick: Yes. I don't think it would be a good idea to take it to the garage. Toby might like it a bit too much. Mary: Who's Toby? Riddick: I'll go and get him. It's time for you two to meet.
Mary and Ruby 3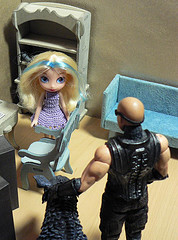 Mary: What...? Riddick: This is Toby. I hope you're not afraid of dogs. Mary: No, not dogs, but that's not a dog. That's a monster. Riddick: He's really very nice to family and friends. And you don't need to worry about anybody getting in here through the garage. Mary: How about me getting in or out that way? Riddick: I would recommend getting to know him better before trying that.
Mary and Ruby 4
Riddick: Now, do you have any furniture or other things we should go and get? Mary: There's something in a storage. Riddick: If you want any of it here, just tell me and we'll go and get it. I take it you have the keys to the storage? Mary: Yes. Mother gave them to me and told me not to give them to anyone or even tell anyone where the storage was. I guess she didn't trust the foster family too much.
Mary and Ruby 5
Riddick: She never trusted anyone. Comes with the territory. Mary: What do you mean? Riddick: You do know she was like me? No parents, no relatives, one foster home after another. I doubt if she ever even trusted me. I guess, in the end, she had no reason to do so. Mary: You mean what you did? Oh, yes. I know. She told me, but she also told me it wasn't entirely your fault that it got out of hand.
Mary and Ruby 6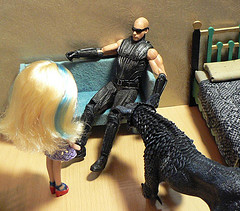 Riddick: There's one more thing we need to talk about: school. Mary: What about it? Riddick: How long have you been absent? Mary: A few weeks. It doesn't matter. I'll catch up soon enough. Just don't put me into a place full of snotty rich kids. It'll only mean trouble. Riddick: What do you mean? Mary: I look like an easy target for bullying. I'm not. The last one who tried ended up with a broken arm.
Mary and Ruby 7
Riddick: How the hell did you do that? Mary: With a baseball bat. Riddick: So, your mother taught you, didn't she? What was she thinking? Mary: That I needed to know how to defend myself. Being this small, my only chance is to use any weapon I can get my hands on. I only do it for self-defense and I would rather skip that sort of thing altogether. Riddick: I see. But what does that have to do with rich kids? Mary: They can always tell who isn't one of them.
Mary and Ruby 8
Riddick: I'll talk with Kitty about the school. I'm sure she knows more about that than I do. - By the way, there's something you should know about Kitty's family. Her mother is mostly all right, but her grandmother won't like you and it will not be your fault. Mary: So, she hates you? And she will hate me, because I'm yours? Riddick: To put it bluntly, yes. Just try to be polite, there's no need to go any further than that. It doesn't matter what she thinks of you.
Mary and Ruby 9
Riddick: Kitty, we haven't really had time to talk about this... Are you sure this is all right with you? Kitty: I admit this isn't how I imagined our life would be, but do you really think I could throw her out? She's a sweet kid and she already lost her mother. Still, it's going to take a bit of getting used to, but I'm sure we'll manage.
Mary and Ruby 10
Kitty: Riddick, how do you feel about all this? Not being told until now and missing all those years? Riddick: I don't know. I've been thinking of everything I have missed, but then again, I'm not sure I could have been any kind of a father for her before this. The way I used to be... maybe it's better that she didn't know me then. Why are you asking? Kitty: I've been thinking of my own father. I was so harsh.
Mary and Ruby 11
Kitty: What if he really has changed and wants to make up for everything? Riddick: I can't help you with that one. You need to make that decision on your own. Kitty: Yes, I realize that. Riddick: There's one thing I am going to say, though. Don't trust your mother's opinion blindly. You can't know everything that went on between them. She may not be very objective.
Mary and Ruby 12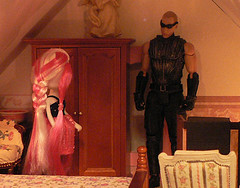 Kitty: There's another thing... I know I promised not to ask about the past, but there's something I need to know. Riddick: What's that? Kitty: Mary found you and she's no expert on that sort of thing. Who else can we expect to come knocking at the door? And will they be as harmless as she is? Riddick: I've been thinking about that myself. I don't think there are that many who would bother, but you never know. So, it would be a good idea to keep your eyes open.
Mary and Ruby 13
Next day: Mary: Are you sure it's all right for me to come here? I don't want to cause you any trouble. Riddick: It's quite all right. You can go and look around, just don't bother people when they are working. Mary: I won't.
Mary and Ruby 14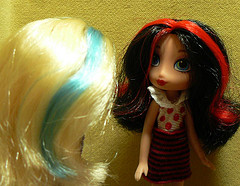 Mary: Hi, I'm Mary. Are you Ruby? Ruby: Yes. Mary: I was looking forward to meeting you. Ruby: Why? Mary: Well, obviously we're both going to be part of his life, so it would be sensible for us to get at least on speaking terms, don't you think? Ruby: Not really.
Mary and Ruby 15
Mary: All right, as you wish. - I'm not going to take him away from you, if that's what you're afraid of. Ruby: I'm not afraid of anything. Mary: Good for you. - I heard you have an uncle. A rich one. Ruby: So what? It's none of your business. Mary: I don't have rich relatives. In fact, I have no relatives at all, except Riddick, and I don't even know him yet. But I will, because I am here to stay. So you can be as selfish as you want and it won't change anything.
Mary and Ruby 16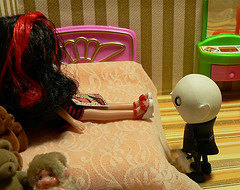 Orlock: Is something wrong? Why are you looking like that? Ruby: Max, am I selfish? Orlock: Why are you asking that? Ruby: I met Mary. Orlock: Oh. Ruby: Is that all you're going to say? Orlock: If I say what I think, you're going to be mad at me.
Mary and Ruby 17
Ruby: What do you think? Honestly? Orlock: Have you looked at Riddick? Ruby: What do you mean? Orlock: Have you ever seen him so happy before? You want him all for yourself, but you're not thinking straight. He has never had a family before. Would you really want things to be that way forever? You're not going to need him for very long and what then? Have you thought about that? Ruby: I think you should shut up now. Orlock: I knew you would be mad.
Mary and Ruby 18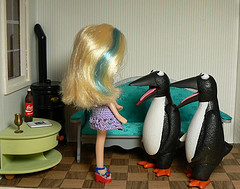 Penguin 1: Hello. You're new. Penguin 2: Are you an assistant? Or a performer? Mary: Neither. I'm here with Riddick. He said I could look around as long as I don't bother anyone. Penguin 1: With Riddick? So, you're that one. Penguin 2: Miss Piggy's been telling everyone about you. Penguin 1: Did she give you fashion tips or what's with all this "blonde in a lilac dress" thing? Mary: What do you mean? Is there something wrong with my dress? Penguin 2: Oh no, not if you're into that kind of thing. Personally, I don't much care for pastels.
Mary and Ruby 19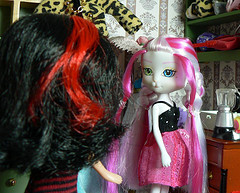 Ruby: Kitty, what do you think about Mary? Kitty: I like her. She's the kind who is easy to like, which makes things a whole lot easier. You see, no matter how much he loves me, if I started making trouble about Mary, things could go really badly wrong. Ruby: What are you trying to say? Kitty: You must understand that she is his daughter, even if they have lost all those years and are just getting to know each other.
Mary and Ruby 20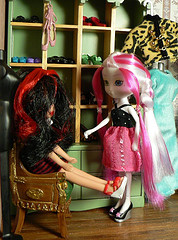 Ruby: I'm not sure I should tell you... Kitty: What is it? Just say what's on your mind. Ruby: Riddick told me not to tell you, but... He's got a photograph of Mary's mother. I saw it when I broke into his room. We talked about it and it seemed to me that he was still missing her. He told me not to ask anything about her. Kitty: I know all I need to know about Caroline, the rest is none of my business, nor yours for that matter. We all have a past and we just have to live with it.