True Crimes 41
Mary: Am I ever going to get little sisters or brothers? Kitty said you haven't decided what to do. Riddick: Are you saying you would want to? Mary: Yes. Kitty said they probably wouldn't be my kind, our kind, but I wouldn't mind. Would you? Is that the problem? Riddick: I wouldn't mind. But it isn't that simple. I guess you know that, having met that big cat. Mary: You can't let something like that stop you. You can't give in to some lunatics who think they have the right to say what you can or cannot do. You can't! Riddick: Calm down. We are only considering what we want, not what others think.
True Crimes 42
Riddick: Concerning those lunatics... I guess Kitty told you they could be dangerous. Mary: She said they are violent. And that's really one of the reasons why I wanted to get my stuff. You see, it's not only my stuff in that box. Look at the bottom.
True Crimes 43
Riddick: Well, the blades aren't yours. They're mine. I thought I'd never see them again. Mary: Mother said they were too valuable to throw away. You can have them back now. Mom tried to teach me to use them, but there's one big problem. You need to let the opponent much too close. Gun is better. And I do know how to use it. - I know what you're going to say... Riddick: No, you don't.
True Crimes 44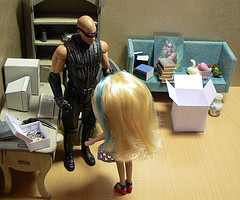 Riddick: Kitty and I were just talking about getting you something for self-defense. Mary: Really? Riddick: Yes. From what she said, I got the impression that there is a real danger. We must act accordingly. Now, about the ground rules. The first one is that you must not kill any of them. Use the gun only if absolutely necessary and only to stop them. Killing one of them would mean a whole lot of trouble. Still, if you happen to accidentally do that, you must run, if there are no witnesses. And there shouldn't be. Kitty said they always make sure there is no evidence.
True Crimes 45
Kitty: Is everything all right? Mary: Yes. I've got a gun and I know the rules. I just hope I won't have to use it. Kitty: So do I. Could you two go out for a couple of hours? I have invited Tommy for a visit and it's best that I take care of him alone. Riddick: What are you going to do? Or shouldn't I ask? Kitty: Don't worry. We need to get that problem sorted quickly because of the other problem, so plain old-fashioned blackmail will have to do. Kevin delivered some very interesting material today. It's a pity to let Tommy off the hook that easily, but we have to consider priorities.
True Crimes 46
A little later: Kitty: I invited you here, because I think we need to talk. Tommy: Have you changed your mind? Kitty: No, but I think you will. - Please take a look at those photos. And if that's not enough, have a look at the papers as well. - You know, the girl in those photos is really pretty, but that's about all that's pretty about them.
True Crimes 47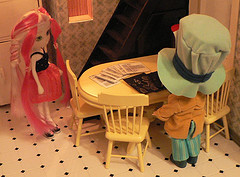 Tommy: No... How...? Kitty: What I would like you to consider very carefully is this: Do you want the whole world to see those photos and read those papers? - I have heard of a great deal of strange sexual preferences, but that's something I could never have imagined... I suppose very few could. Tell me, would that be legal even within the confines of your own home?
True Crimes 48
Tommy: You can't... Kitty: Can't I? Why not? I told you it was a bad idea to go messing about my family. Tommy: All right. You win. You really are a b... Kitty: Don't say that. Wrong family. - Do you have any idea how easily you're getting off the hook? You're still healthy and sane... well, as sane as you can call someone doing what's shown in those photos anyway. You can still write your book. All you need to do is choose something else to fill that one chapter. It isn't really that bad, if you consider the alternative.
True Crimes 49
Riddick: How did it go with Tommy? Kitty: There won't be a word about Chase or any of us in his book. He really had no idea how lucky he was that I had other, more pressing problems. Of course, I could have told Marv about him, but that would have been an overkill. Riddick: What do you mean? Kitty: If Marv had heard about the book plan, it is very possible that the police would have been fishing bits and pieces of Tommy in the river very soon. Marv has had enough of publicity, you see. - If you want to see what made Tommy change his mind, the photos are there on the side table.
True Crimes 50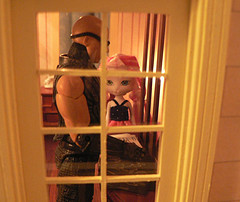 Riddick: How did Kevin get these? Kitty: From a small-time blackmailer, who thought that selling them to Kevin was easier than going through all the trouble himself. More profitable too as Tommy isn't rich. He had no idea grandma would have paid double the money he asked for those. - Tommy forgot a few of the basic rules. Such as "keep it inside your own home" and "make sure your partner is reliable" and, most importantly, "make sure you pay enough." Although, with the kind of money grandma was willing to invest, he really had no chance.
True Crimes 51
Riddick: Were these taken where I think they were taken? Kitty: Yes. Fortunately, it's wrong denomination. Our family grave is elsewhere. Riddick: You know, I've seen a lot, but I would never... Kitty: I know. It's going to take a little while for me to have an appetite again.
True Crimes 52
Riddick: Did Kevin manage to find out what's the matter with the loonies? Kitty: It seems that they've been scaring a lot of people lately. Anyone who's got anything to do with the likes of me. I guess they're getting desperate. Even though my kind are intolerant, the line is drawn in violence. Social isolation is fine, physical violence is not. So, the loonies, as you call them, aren't really very popular. Riddick: Desperation sounds bad. It makes people do crazy things.
True Crimes 53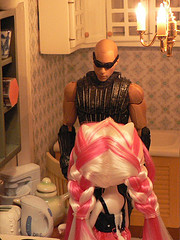 Kitty: Where did you leave Mary? Riddick: She wanted to go and play those games again. I don't understand what's so fascinating about them, but I guess it's none of my business. At least it's a harmless hobby. Kitty: Are you sure she will be safe? Riddick: Perfectly. Safer than in a bank vault. Kitty: What are you talking about?
True Crimes 54
Kat: So, we meet again. With no witnesses. I guess this is my lucky day. Mary: Why won't you leave me alone? I haven't done anything to you. Kat: You exist. That's good enough reason. Mary: For what? Kat: Having a bit of fun. Although, beating up a scrawny little kid like you isn't much of an accomplishment, but on the other hand, it won't take that much effort.
True Crimes 55
Mary: Before you do anything, I'd like you to take a look at this. Kat: Oh, f**k... Mary: It's just a little gun. I'm sure it will hurt just a little.
True Crimes 56
Zeke: Mary, put that gun away. I'll take care of this. Mary: Zeke? Where did you come from? Zeke: We can talk later. Right now, I'd like to have a word with the kitty. You can stay and watch, if you like. Mary: Really? What fun!
True Crimes 57
Splinter: Are you all right? Mary: What...? I'm quite all right, thank you... Could you please wait a moment, I don't want to miss this. Splinter: I take it he's on your side, then. Mary: Oh, yes. Very much so. Splinter: His technique is a bit lacking, but of course, his kind tend to compensate that with brute force. With the emphasis on the word "brute"... Mary: That must hurt. I almost feel sorry for her.
True Crimes 58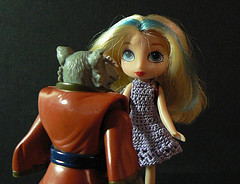 Mary: I'm sorry, I didn't want to be rude, but that really was too good to miss. So, who are you and where did you come from? Splinter: My name is Splinter and I was just passing by when I noticed you three. I wanted to make sure you're all right. I had no intention of interfering with those two. Mary: I'm Mary and that big fellow is my friend's boyfriend. The other one is a real nuisance, who doesn't like the fact that I'm living with someone of her kind. Splinter: I see. I think I know who you are. Mary: Really? How can you know?
True Crimes 59
Splinter: Word travels fast and my kind have always kept an eye on them. Purely for safety reasons, you see. Zeke: Mary? Who's this? Mary: He was passing by and wanted to make sure I'm all right. Splinter: My name is Splinter. I must say that even though your technique could do with a little polishing, it is always a pleasure to see a professional at work.
True Crimes 60
Zeke: And how do you know I'm a professional? Splinter: Your kind usually are. Besides, I'm a martial arts instructor. I can see when someone knows what they're doing. Mary: Zeke, how did you happen to be here? Zeke: It was no accident. Riddick called me and asked me to keep an eye on you. Mary: I see. Thanks for taking care of the problem. It was best this way. And such fun! Zeke: You should go home now.