True Crimes 61
Splinter: May I escort you home, young lady? I'm sure your friend doesn't want to be seen. Mary: Zeke? Zeke: It's all right. You go with him and I'll follow you out of sight.
True Crimes 62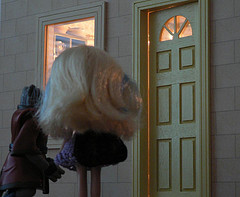 Mary: This is where I live. Would you like to come in? I'm sure my dad would be interested in meeting you. Or is my stepmother a problem? Splinter: Not for me, but I'm not sure how she would feel about me. Although, she is one of the very few of them who doesn't place that much importance on species. Mary: All right then. Come in and have a cup of coffee with us. I'm sure it'll be fine.
True Crimes 63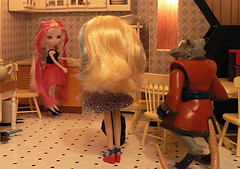 Mary: Um, Kitty... I brought a visitor... I hope it's all right. Splinter: Good evening, madam. I'm sorry if this is inconvenient, but the young lady insisted. Kitty: What...? Splinter: I know my visit is against the conventions... Kitty: No, no, everything is all right. Of course Mary's friends are welcome. I was just surprised. I wasn't expecting anyone.
True Crimes 64
Riddick: What's happening? Mary: Let's start with the introductions, shall we? This is Splinter. And this is Kitty, my stepmother, and Riddick, my father. Before everyone starts asking a bunch of questions, let me explain the situation...
True Crimes 65
Mary: Now, are there any questions? Good, everything is clear then. I promised Splinter a cup of coffee. Is that all right with you? Kitty: Certainly. It's a pity Zeke couldn't come in. - Riddick, will you take our guest upstairs? Mary and I will bring the coffee when it's ready.
True Crimes 66
Mary: Are you angry? Kitty: No, just surprised. You see, I've never met anyone of his kind. I mean, not in circumstances like this. Mary: Really? Does it have something to do with the conventions he mentioned? Kitty: Yes. My kind doesn't usually socialize with his kind. And this time it has nothing to do with us being intolerant. It's more about, um... incompatibility. Mary: I'm sorry, I didn't know. Kitty: Don't worry. This could turn out to be interesting.
True Crimes 67
Riddick: I know. It's all right, I don't care about conventions. If Mary and Zeke think you're all right, that's good enough for me. Splinter: So, you trust her judgment? Riddick: More or less. You see, even before she knew what Zeke is, she noticed he was different. Splinter: Really? Very few can do that.
True Crimes 68
Splinter: You've got a very nice house. Riddick: Thank you. Although, I can't take much credit for it. My wife took care of decorating. Splinter: I thought so. You're not the type to take interest in that sort of things. I suppose the books are hers too? Riddick: Yes. I'm not much of a reader. Splinter: I guess your interests lie elsewhere. Riddick: You could say so.
True Crimes 69
Splinter: How much formal training have you had? In fighting, I mean. Riddick: First in the army and a little here and there after that. Splinter: Would you be interested in updating your skills? I enjoy teaching, but I don't currently have any students with whom I could train effectively myself. Riddick: Sure, why not? It could be interesting.
True Crimes 70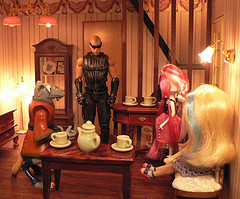 A little later: Mary: How did you know something was going to happen? Riddick: I noticed that feline. She was following us. I thought she wouldn't try anything as long as I was around, so I made other arrangements and made sure she saw me leaving. Of course I could have come back myself, but I wanted to maximize the scare factor. Mary: I'd say you were successful. She tried to escape by climbing into a tree, but he grabbed her by the tail. Then he swung her around a few times and let go. A flying cat, can you imagine? - Oh, sorry, Kitty.
True Crimes 71
Riddick: I hope she's still alive. Splinter: She's alive. He showed remarkable restraint. Really highly unusual for his kind, especially when encountering one of the big cats. Riddick: Good. It was meant to be just a warning for them to leave us alone. We don't want any vendettas, which could follow, if one of them got killed. Kitty: Let's hope they will calm down. - I must admit I would have loved to see it, although just the thought of what he did makes me cringe.
True Crimes 72
Splinter: It was very nice meeting you all, but it's getting late and I should be heading home. Riddick, call me and we'll set up a time. Riddick: I will. Mary: What time? What are you talking about? Kitty: Riddick? Riddick: I'll explain that later.
True Crimes 73
Kitty: So, what was that about time? Riddick: He asked me, if I would be interested in some training. Kitty: You're going to fight with him? Are you nuts? Riddick: It's not fighting, it's training. I need practice and he needs a training partner. He's probably very good, but I'm younger and stronger, so he shouldn't be able to beat me up too badly. Mary: I want to come and see. Riddick: I'm not sure... Mary: I am. I want to see it.