Genes 1
Anika: You should have told me about the other problem. Kitty: How did you find out? Anika: Did you really think I wouldn't? Of course we had noticed the unrest and were keeping an eye on them. Kitty: So, you're aware of the situation? What's going on at the moment?
Genes 2
Anika: Something or someone scared them really badly. We haven't been able to find out what or who, but it must have been something quite formidable. Do you happen to know what it was? Kitty: Me? How would I know? Anika: I just had a hunch that you would. Was it him? Kitty: Riddick? No, they wouldn't get scared of him very easily. He'd have to do quite a lot of damage first, to show them what he's capable of. And doing a lot of damage would be unwise. Anika: Well, I'm happy you understand that.
Genes 3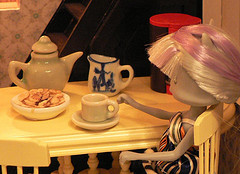 Anika: I hope you have made sure that Mary is safe. Kitty: We're doing what we can. Are you worried about her? I didn't think... Anika: Of course you didn't. She's got nothing to do with this and it's not right, if she gets in the middle of it just because she's part of your family. - It is really most frustrating. All this because your mother had such poor judgment all those years ago. Kitty: Don't start that again. Just when we're starting to see eye to eye.
Genes 4
Anika: So, where are they? Him and Mary? Kitty: His name is Riddick and saying it won't kill you. They went to see a martial arts instructor. Riddick wanted some practice and Mary wanted to watch. Anika: Is it really suitable for a little girl like her to see something like that? Kitty: That little girl is most certainly her father's daughter and wild horses couldn't have stopped her from going with him. I think it's a good thing. They need to spend time together.
Genes 5
Anika: Well, I think little girls should be interested in horseback riding or tennis or something like that. Something civilized. Kitty: Yes, I know what you think. Tell me, how does that fit in with the fact that you and grandfather met at car races where you were both participants? Anika: Don't talk to me about that. It was ages ago. Besides, I gave all that up after a little while. Kitty: Yes, when you decided to become a fine lady after you got married. It didn't stop you from driving like a maniac on public highways, though.
Genes 6
Mary: Hi, Splinter. This is my friend Ruby. She wanted to come and watch too. I hope you don't mind. Splinter: I don't mind. It is very nice to meet you, Ruby. You should both stay here, so you won't be on our way. You will be able to see everything just fine. Ruby: Thank you. It's really very nice of you. I wasn't quite sure I should come uninvited, but... Mary: But you were just too curious not to come.
Genes 7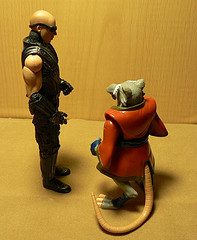 Splinter: So, who's the other one, Ruby? She seemed a bit timid. Riddick: She works at the theater. Her parents are dead and I was sort of looking after her before Zeke entered the picture. Splinter: She's the one? Somehow I was expecting someone, well, a bit amazon-like, if you know what I mean. And she has no problem with what he is? Riddick: None whatsoever. She has experience on monsters and she knows enough to not mix the appearance and what's on the inside.
Genes 8
Splinter: What sort of experience? Riddick: Monsters in the family. Splinter: Ah, I see. But everything is all right now? Riddick: Yes. Quite all right. Splinter: That's good. - Now, are you ready to start? Riddick: I'm ready.
Genes 9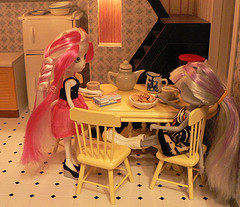 Anika: There's one more thing I wanted to ask you about. I heard you had a visitor the other night. A very unusual visitor... Kitty: Do you have someone spying on us? Anika: Of course not. You know how these things go. Someone saw him coming to your house... Kitty: And immediately ran to you to tell that I'm being unconventional again. What is it with these people? Don't they have a life of their own? Anika: That's irrelevant. What is relevant, however, is that he visited you. How could you?
Genes 10
Kitty: So, a very nice elderly gentleman escorts Mary home after a little incident. Mary invites him in to meet us and to have a cup of coffee, and you expect me to throw him out? What are you thinking? Besides, he's a very nice man. Polite and intelligent and very good company. By the way, it's him Riddick and Mary went to see. Anika: Kitty... What are people going to say? Kitty: By "people" you mean our kind? What they always say. That I'm strange and always will be and anyone in their right mind should keep away from us.
Genes 11
Anika: Wait a minute... You said "incident." What happened? Kitty: It was nothing. Anika: Don't lie to me. Was it them? Kitty: All right. It was, but Mary was never in any danger. We had somebody keeping an eye on her and taking care of the problem. Anika: So you do know! Who, or maybe I should ask what, was it?
Genes 12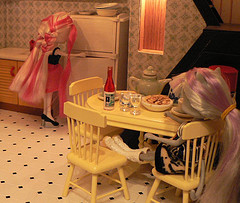 Kitty: Did you ever consider a career in the military or the police forces? They would have benefited greatly from your interrogation skills. Anika: Don't try to change the subject. Kitty: I can't tell you. All I can say is that it was one of the things they do get scared of. Badly. Anika: You mean...? But that's impossible! Kitty: Impossible or not, the problem was solved and I'm quite sure they will think twice before bothering us again.
Genes 13
Splinter: That was most interesting. It's been a long time since I had an equal training partner. Riddick: I'm not sure you can call me equal. You're technically way ahead of me. Would you...? Are you taking new students? Splinter: If you're talking about yourself, any time. I was going to ask you if you'd be willing to perform in front of an audience. I'm sure my students would find it very useful to see some of what we just did. Riddick: Sure, why not? After all, we already had a very demanding audience.
Genes 14
Mary: That was great. I'd like to learn some of that stuff, so I would know what to do when there's nothing that can be used as a weapon. Riddick: Mary... Splinter: Some of my students are girls and they are doing very well. Mary: Dad, I want to. Riddick: Mary, I'd like to have a word with Splinter alone.
Genes 15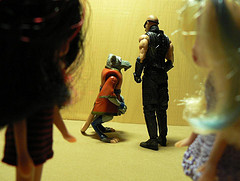 Riddick: You shouldn't encourage her. I'm not sure it's a good idea to teach her to fight. Splinter: It isn't just about fighting, you should know that. Riddick: Yes, I know, but Mary... well, she's different. Maybe I should tell you what happened when she first met Zeke in his other form...
Genes 16
Splinter: Interesting. You would never believe, looking at her. Riddick: It was a surprise to me as well. Splinter: You do understand that teaching her would be exactly the right thing to do, don't you? She needs to learn self-control. Riddick: That's what Zeke said. Splinter: You should believe him, if you don't believe me. He seems to know all about self-control. Riddick: All right.
Genes 17
Riddick: Mary, you can try and then we'll see how it goes. Mary: Great. When can I start? Splinter: Let's go to the office and discuss about the details. And Riddick needs to sign some papers as you're a minor. - How about you, young lady? Are you interested? Ruby: No, thank you. I... I'm not really into that sort of thing. Splinter: I understand. You don't like violence. That's a good thing. Most little girls do best not knowing anything about these things, but of course there are always exceptions.
Genes 18
Late that night: Kitty: Are you really going to let her do that? Riddick: If I won't, she'll go and learn it from somewhere else. This way it's safe and she'll learn discipline and self-control as well. I wouldn't want her attacking anyone else double her size. Kitty: I guess you're right. And you just couldn't say no to her anyway, could you? Riddick: It's sometimes a bit scary how well you know me. Kitty: Someone has to.
Genes 19
Next morning: Kitty: So, did you manage to find out something? Bunsen: Yes, my colleague was very helpful and the information was most interesting. It seems that the only case where you can be 100% sure that the children will be lycanthropes is when both parents are lycanthropes. In the case of your friend, the probability of his birth was something like one in ten. If he were to marry a lycanthrope, his chances of having lycanthrope children would be a bit higher than that. However, if the mother is human, or even a half-breed, the children will almost certainly be human as well.
Genes 20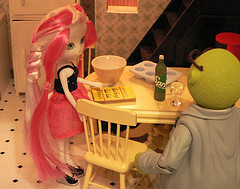 Kitty: How is that possible? They are so... well, superior. Bunsen: In certain ways, maybe, but only when they keep the gene pool clean, so to speak. Kitty: That again. I thought it was just us. Bunsen: They are not quite that strict about it, which explains why there are so few of them left. I must admit I didn't believe they exist, but my colleague assures that they do and he is a scientist to the core. He wouldn't say so without valid evidence. He didn't tell me how he knew, though. Kitty: I can understand that. Are you sure he isn't one of them? Bunsen: Quite sure. He's one of your kind. I think...
Genes 21
Kitty: I asked to have a word with you, because I had an interesting conversation with a doctor who deals with genetics. Zeke: Why would you do something like that? Was it about you and Riddick? Are you going to have children? Kitty: We haven't decided yet, but the part I want to talk about is the one that concerned you. Don't worry, I haven't told him about you, I just described the general circumstances. - How much do you know about what your children would be like?
Genes 22
Zeke: If you're asking whether I know that if I marry Ruby and if we have children, they will be her kind, the answer is yes. There aren't much chances that my kids would be my kind and it's better that way. It isn't always that easy to be what I am. Kitty: I didn't realize... I guess we all have our problems. But I'm happy to hear you're OK with the situation. - Now, I'm going to get even less discrete and ask this. Are you that serious about Ruby? Are you thinking of marrying her? Zeke: That is really none of your business. Anyway, I wouldn't even ask her, at least, not yet. She's too young and too confused to marry anyone.
Genes 23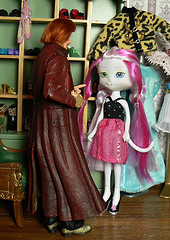 Kitty: Then there's something else... Does Hagrid know about you? Zeke: Of course he knows. He's the type who will know your business before you know yourself. Kitty: What did he say? Zeke: That he trusts I will treat Ruby well, and that if I won't, I will regret it. You know, he said it knowing what I am. Kitty: So, he isn't scared of you? Zeke: No, not a bit. I think if he saw it necessary to deal with me, he wouldn't send someone else to do it, he would do it himself.
Genes 24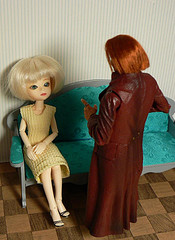 Adel: I swear I wasn't eavesdropping, I just happened to hear your discussion with Kitty... Zeke: Sure. - It doesn't matter, you know the secret anyway. Adel: I heard you saying that your children wouldn't be your kind and I just want to point out that you're forgetting something. Zeke: And what would that be? Adel: Everything you talked about only applies between your kind and humans. You don't need to choose a human to be the mother of your children. There are other options, with very different results.