Henry 1
Mary: Hello. Are you...? Kate: I'm Kate. I came to see Kitty. Is she home? Mary: Yes, she is. Please come in. Kitty: Who was it at the door? - Kate! It has been a long time.
Henry 2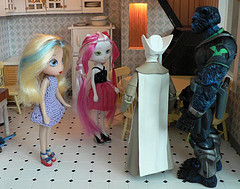 Kate: Yes, it has. Kitty, I brought someone with me. Actually, he's the one who wanted to visit you, but he needed some moral support. Kitty: Well, who is it? - Oh, Henry... Henry: I wasn't quite sure what you would say... Kitty: Of course you're welcome to our house. What made you think you wouldn't be? Henry: Well, your grandmother and my parents... Kitty: Don't you think that situation has been solved? Anyway, we don't need to care about what they think.
Henry 3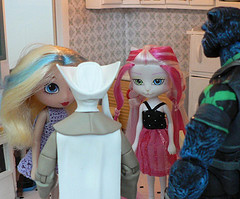 Mary: Kitty... Kitty: I'm sorry, Mary. Kate is my godmother and Henry is... um, a friend of my family. Kate, Henry, this is Mary, Riddick's daughter.
Henry 4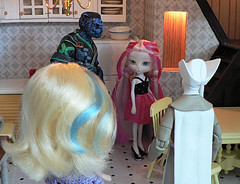 Henry: Kitty, is he at home? I would like to talk with you both. Kitty: Yes, he's upstairs. Mary, we need to talk in private, so... Kate: Maybe I'll stay in here with Mary. We can have a little chat while you're discussing the serious stuff. Mary: That would be nice.
Henry 5
Kitty: Riddick, this is Henry. He's the... um... nice young man I was supposed to marry. Riddick: Oh. Somehow I thought you'd be a bit different... So, what brings you here? Henry: I've been thinking of visiting you, but I haven't had the nerve to do it. Then Dr. Bunsen told me about what Kitty had asked, and later I read about your marriage. So, I thought maybe I could come and see you. Kitty: You're the specialist? I had no idea. You see, I haven't really kept myself up-to-date on what you're doing as I was never going to...
Henry 6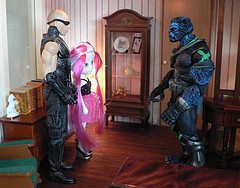 Henry: I know. I always thought you wouldn't. I was hoping you wouldn't. Kitty: Really? Henry: I never wanted the arrangement, but my parents talked me into it. They were certain I would never find anyone myself, or rather that no one would have me, and your family's money would have compensated for you being... you know. Kitty: I know.
Henry 7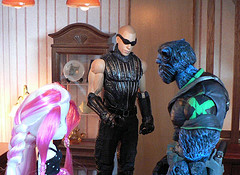 Henry: Later, I understood it was a big mistake, but I saw no way out of it. I'm sure you're a very nice person, Kitty, but I... Kitty: You want to find someone on your own? Well, it seems that Riddick and I did you a favor. You're free to do what you want. Riddick: Everything seems to be in order then. Would you like some coffee or tea? Or something stronger? Visitors of your kind are very rare at our house, with the exception of Kitty's family. Kitty: Riddick, I forgot to mention, there's another one of the same kind in the kitchen. She's talking with Mary.
Henry 8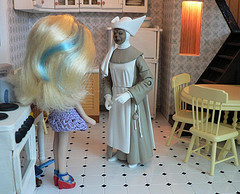 Mary: Why are you dressed like that? I mean... I didn't mean to be rude... Kate: It's quite all right. I belong to an order. We all dress like this. Mary: What sort of an order? Does it have something to do with religion? Kate: In a way, but it's really more about charity.
Henry 9
Mary: Why haven't you visited us before? Kate: I've been working abroad. I only came back a couple of weeks ago. You're the first people I have had time to visit. I came because Henry asked me to come with him. Mary: Is Henry your friend? Kate: He's my nephew. Mary: Why did he want to see Kitty and Riddick? And why couldn't he come alone? Kate: I can't answer your questions. You should ask Kitty.
Henry 10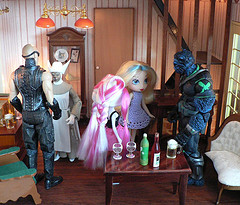 Riddick: It is very nice to meet you. I know this isn't the most polite thing to ask, but... Don't you have a problem visiting us? Kate: I understand why you ask that. One of the main principles of our order is that all people are equal. I'm sure you understand that it is sometimes very difficult for me to explain the actions of my kind to the other members of our order. Mary: What about you, Henry? Don't you have a problem with us? Henry: I'm a scientist. I prefer to keep an open mind.
Henry 11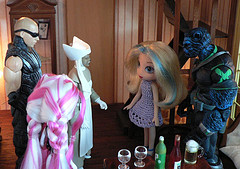 Kitty: Mary had an encounter with the big cats, the fanatical ones. Kate: Oh dear. I was hoping they would have stopped that nonsense already. Henry: They can be rather frightening the first time you meet them. What happened? Mary: It was getting quite bad, but then a friend came to help. He's more frightening than a bunch of them together.
Henry 12
Henry: I suppose you're talking about the lycanthrope. Kitty: How did you know? Henry: Just putting two and two together. Besides, lycanthropes are really one of the very few creatures who can get even them frightened. Kate: Lycanthropes? Are you trying to say they exist? I thought that was just a legend. Kitty: They do exist. We know a couple of them and they are really quite normal people most of the time. Not at all like in the stories.
Henry 13
Riddick: You seem to know about them... One of them seems quite superior, in attitude as well. Are they really invincible? Henry: Not quite, but it does take a lot to beat them. I wouldn't recommend anyone to try it. Even if you win, you're going to suffer a lot of damage. Kitty: But their genes don't seem to be dominant. Those low probability percentages... Henry: All that was about them and humans. Other scenarios are quite a different thing. It's just the human genes that always mess things up.
Henry 14
Kate: So, Kitty, how is Anika? I haven't had time to see her yet. Kitty: She'll be happy to see you. I think she's been a bit lonely. She's getting old and most of her oldest friends are gone already. Kate: I hope she is all right. Kitty: Oh, yes. Harder than ever. Although, she's beginning to see reason at last. Kate: You mean your marriage?
Henry 15
Riddick: I'm not exactly what she wanted for Kitty. Kate: I know. I know about the arrangement. But you seem to be doing very well. I always knew Kitty would end up with someone who isn't our kind. And Henry doesn't mind, do you? Henry: Not a bit. We already talked about that. Mary: What are you talking about? Kate: Kitty, I think you better tell her. Kitty: All right. Mary, we'll talk about it later.
Henry 16
Later: Riddick: Henry was very nice. You know, going along with the arrangement would not have been the end of the world. He would have taken care of you. Kitty: Yes, I can see that now, but it could never have been anything more than an arrangement. And I wanted a lot more than that. Riddick: I hope I can live up to the expectation. - Kitty, are you happy? Kitty: Yes, happier than I ever thought I could be.
Henry 17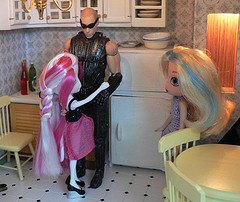 Mary: I'm sorry, I didn't mean to disturb... Kitty: It's all right. You're not disturbing. Mary: Kitty, will you tell me what that arrangement was Kate mentioned? And what is it that Henry doesn't mind? Riddick: I'll leave you two to talk about that. I already know all I need to know about it.
Henry 18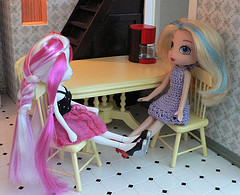 Kitty: You see, Mary... I was supposed to marry Henry. Mary: What? How...? Kitty: There's a tradition of arranged marriages among my kind. It is usually done when there's some reason to suspect that a suitable spouse cannot be found in any other way. In my case, it was because of my father. With Henry... well, you saw him. Mary: How could you agree to something like that? Kitty: I didn't.
Henry 19
Kitty: It was wishful thinking from grandma's side. And as I never agreed to it, I could get away with not going along. Henry couldn't do that, because he made the mistake of giving his consent a long time ago. But he's off the hook now. Mary: That's the most stupid thing I have ever heard. Kitty: You should tell that to grandma. She hasn't forgiven me for embarrassing her. Mary: It's about the rest of your life and she's embarrassed? Kitty: Just forget it. It's all over now. I'm married to Riddick and Henry is free.
Henry 20
Next day: Kitty: So Kate is back. She promised to visit you as soon as she can. - She brought Henry with her yesterday. Anika: Henry? Do you mean...? Kitty: Yes, that Henry. He was really nice. Anika: I told you there's nothing wrong with him. Kitty: I remember. However, he came to thank us. Anika: What are you talking about? Thank you for what? Kitty: For letting him off the hook he inadvertently got on to a long time ago.