Henry 21
Anika: He entered the contract voluntarily. Kitty: He was too young to say no to his parents. He's grown up now. As I said, he's nice. I feel sorry about the things I said about him earlier. He's certainly no dimwit. He's highly intelligent and I'm sure he'll find someone on his own. Anika: Well, with his looks... Kitty: He'll find someone intelligent who can look under the surface.
Henry 22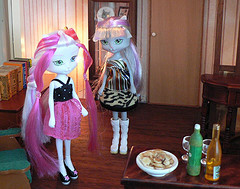 Anika: So, are you saying you're all friends now? Riddick has no problem with him? Kitty: Riddick likes Henry. I'm sure we'll be seeing him again. Anika: How nice. I bet Kate was happy that things turned out this way. Kitty: What do you mean by that? She's happy that things worked out for all of us. Anika: She was always against the arrangement. She said it was wrong.
Henry 23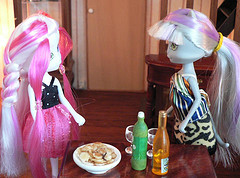 Kitty: Mary said it was the most stupid thing she has ever heard. I must say I agree. Anika: You told her? Kitty... She's just a little girl. You can't tell her that sort of things. Kitty: Why not? She needs to know about us, because she'll be meeting our kind. It's better that she knows about our customs. Otherwise, she could get very confused. Anika: What makes you think she'll be meeting our kind? Kitty: There's you, mother, Kate, Henry, and of course the loonies, as Riddick likes to call them.
Henry 24
Kitty: But there was something you wanted to talk about. Is everything all right? Anika: Yes, although you may not like what I have to say. - You know about the appeals, don't you? Well, Kevin seems to have found some technicality... some error in the procedure and... Kitty: Don't tell me Chase's verdict is going to be overturned. Anika: Well, there seems to be a very strong possibility... Kitty: This can't be happening.
Henry 25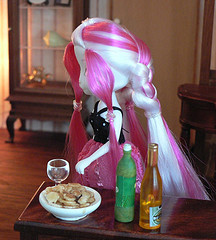 Anika: She's your sister. How can you hate her so much? Kitty: You do know that if she gets out, she's going to do everything in her power to ruin my life, don't you? I'm not worried about Riddick, he can take care of himself, but there are others in my life who aren't as capable of taking care of themselves as he is. Anika: You're talking about Mary, I suppose.
Henry 26
Kitty: Yes. She isn't helpless, but she is not experienced enough to deal with Chase. And then there's Ruby. Her life has been a horrible mess and she's just starting to get it sorted. She doesn't need Chase to appear and make more mess. You see, Chase knows Ruby's boyfriend. You never know what she'll try now that he's grown up. Anika: You're getting way ahead of things. Who knows, maybe Chase has learned something during the time she's been in prison. Kitty: Certainly. Do you have any idea what sort of things people learn there?
Henry 27
A couple of days later: Kitty: Henry is coming for a visit. He'll bring his girlfriend with him. Riddick: So, there is a girlfriend. I'm very interested in seeing her. Kitty: Are you? Why? Riddick: She must be quite special. Kitty: Yes, I see what you mean. Well, we shall see very soon.
Henry 28
And so: Henry: Kitty, this is my girlfriend Kat. Kat: Henry... You should have told me. Kitty: Is something wrong?
Henry 29
Mary: Kitty, who was it... Oh, it's you. What are you doing here? Henry: Do you two know each other? Mary: I guess you could say so. Kitty: Would someone explain to me what's going on? I just felt the temperature drop several degrees. Henry: I would like to have an explanation too. Kat: Henry, why didn't you tell me who your friends are? I would never have come, if I had known.
Henry 30
Henry: Kat? Is it Kitty's background that's bothering you? I told you I don't discriminate. Mary: But your friend here does. - Now what was it you said to me? Hmm... I think it was something along the lines of "you're not worth the trouble, just stay out of my way." Well, I'd say you stay out of my home. Kitty: Are you saying she's the one...? Mary: Yes.
Henry 31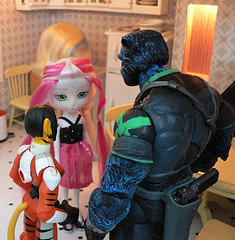 Kitty: Henry, I really am sorry, but I think you should leave. I invited you, but this is also Mary's home and under the circumstances... Henry: I understand. I had no idea. - Kat, you never told me you were involved in something like that. Kat: Yes, well, you see... Henry: I think we better go now. Kitty, I am sorry about this. I hope you're not angry. Kitty: No, I'm not angry. I'm sorry too.
Henry 32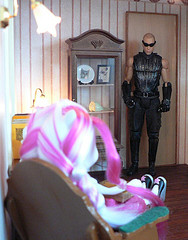 Riddick: Wasn't Henry supposed to come with his girlfriend? Kitty: Yes, he was. And he did, but they had to leave. I really feel sorry for him. Riddick: What happened? Kitty: His girlfriend turned out to be very special indeed. She's the one who was harassing Mary. Riddick: What?! How could he...? Kitty: He didn't know. I think they are going to have a long discussion about the subject tonight. Riddick: I'll go and see how Mary is doing. I hope she isn't too upset.
Henry 33
Mary: Henry is so nice. How can he be with someone like her? Riddick: You shouldn't hold it against him. He didn't know. I'm sure she can be very charming to her own kind. It's just others that bring out the worst in her. Mary: But still... Riddick: Nobody's entirely bad. It would be easier to think people are either good or bad, but even the persons you consider bad usually have some good qualities.
Henry 34
Mary: Is Kitty going to invite her here again? Riddick: I don't think so. At least, not unless she improves her manners. After all, this is your home too. But I hope you have nothing against Henry coming alone. Mary: Oh no, he's nice. I like him. Although he did seem a bit scary at first. Riddick: I'm sure he did. It would be interesting to know how he got to be the way he is.
Henry 35
Kitty: How is she? Riddick: Fine. Just having some difficulty understanding how Henry could like someone like Kat. Kitty: I must say I don't understand it either. What did you say to Mary? Riddick: That even bad people aren't entirely bad and it was probably the nice part Henry felt attracted to. Kitty: Do you believe that yourself? - Speaking about bad people, there's something you need to know. It's about Chase...
Henry 36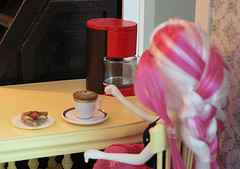 Kitty: ...and today grandma called and confirmed it. I didn't tell you sooner, because I was hoping it would all end up being a bad dream. - What are we going to do? Riddick: I guess there isn't much we can do. We need to tell Mary. I know you have already told her some of it, but now she needs to know everything. Kitty: Well, I think that's up to you. I have told her my side of the story. You need to tell her yours.
Henry 37
Riddick: Do you think Chase is going to cause trouble? I won't mind it, but Mary... Kitty: Don't forget Ruby. There's another potential problem. Chase knows Zeke. He was too young then, but he's all grown up now. Riddick: I think Zeke can take care of both himself and Ruby. Kitty: I hope you're right. Riddick: Kitty, you shouldn't worry about it so much. We'll take care of the problems as they occur. Who knows, maybe Chase has learned to control herself. I don't mean any sort of reformation. I just mean that I doubt she'll ever want to go back behind the bars.