Riddick's Party 1
Splinter: So, where are the ladies? Do they know about this? Riddick: They are visiting Kitty's grandmother and will be home very late. I didn't bother mentioning to them that I had invited some guests of my own. Orlock: You better clean up the place yourself then. Kitty won't like it, if she has to do that. Riddick: I will, don't worry. Besides, a few bottles and glasses isn't much of a mess anyway.
Riddick's Party 2
Riddick: Henry, this is Splinter. I know your kind do not really mix... Henry: It's all right. As I have told you, I prefer to keep an open mind. Splinter: I have heard about you. You have some very strange friends and I've heard that your own people sometimes have a problem with that. Henry: That's right, but there's nothing they can do about it. They don't even dare to talk about it to me, only behind my back.
Riddick's Party 3
Henry: I have never met anyone of your kind before. Orlock: Isn't that a bit odd? Mary told me you're specialized in rare species. We are very rare. Henry: I guess that's why I have never had a chance to meet your kind. Of course I knew about your existence. Orlock: You don't look that ordinary yourself. Are you really one of Kitty's kind? Henry: Yes. Some of my ancestors were big cats, I mean very big cats. It was a long time ago and that lineage is now extinct, but some genes still pop up occasionally. Orlock: You're talking about saber-toothed cats? Cool.
Riddick's Party 4
Mr. M: You certainly have interesting friends. Riddick: I have never cared much about social status. I prefer to have real friends. Mr. M: Yes, I know what you mean. - That big fellow... Is he really a feline? One of Kitty's kind? I didn't know they could be that huge. Riddick: He's pure-bred all right, but he is very nice in spite of his looks. I'll introduce you to him, so you can see for yourself.
Riddick's Party 5
Splinter: Riddick, there's something I've been meaning to ask, but I'm not sure... Riddick: Go ahead. What do you want to know? Splinter: Well, Mary seems to be very attached to you, but she has never mentioned her mother. Also, most of the time she doesn't call you dad, just Riddick. And I was wondering... Riddick: Her mother died some time ago. I didn't even know about Mary until she was standing outside my door one day after her mother's death. Splinter: I had no idea it was like that.
Riddick's Party 6
Henry: You work in the prison? Then you must know about Kitty's sister. Mr. M: Yes, I have met her several times. Henry: I heard she's getting out. Any truth in that or is it just gossip? Mr. M: It is true. Just imagine, one little signature missing. No one had noticed that, but the lawyer managed to find it somehow and out she walks. Henry: You think she's guilty? I must say I agree. And I'm a bit worried for Kitty.
Riddick's Party 7
Orlock: Why are you worried? She's her sister. Surely... Henry: Being part of the same family is no guarantee of loyalty or affection. Mr. M: Forgive me for asking, but what's your interest in the matter? Henry: My aunt is Kitty's godmother and there were some other ties as well. Also, Kitty and Riddick did me a favor, which I haven't yet paid for. So, if there's anything I can do to help them, I will do it.
Riddick's Party 8
Riddick: Henry, I'd like to have a word. - About your girlfriend... Henry: Ex-girlfriend. Riddick: I'm sorry. Henry: No need. It was a good thing I found out. I don't understand how she ever thought I could accept something like that. I told her we could go on, if she was ready to start acting like a sane adult, but she just threw a fit and called me with some very unpleasant names. - I think you should warn Mary.
Riddick's Party 9
Riddick: Do you think she's going to blame Mary for what happened? Henry: She's unbalanced enough to do that. I'm not saying she will definitely do that, but there is the possibility. Riddick: Did Splinter mention what he does for living? Henry: No. What does that have to do with this? Riddick: He's a martial arts instructor. He's been teaching Mary for some time now. Henry: I see. That will certainly help, but you must not forget that our kind are always armed. Even the worst offenders do not get declawed as it is considered a cruel and unusual punishment.
Riddick's Party 10
Mary: You shouldn't have started arguing with her. Kitty: She's my grandmother, but she has no right to try to run my life. Mary: But she was only suggesting that you should try to reconcile with your sister. Why don't you even want to try? I wish I had a sister... Kitty: You wouldn't want a sister like Chase. - Do you hear that? It's coming from upstairs. It can't be Riddick alone. Mary: Maybe he's got a visitor.
Riddick's Party 11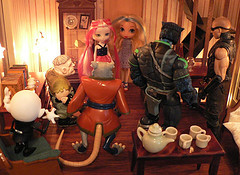 Kitty: Good evening, gentlemen. I see at least someone is having fun tonight. Riddick: What are you doing home so early? Kitty: Grandma and I had some differing opinions and I thought it better to leave. I would have come earlier, if I had known there's going to be a party. Or is this for men only? Splinter: Of course not. It's nice to see you again.
Riddick's Party 12
Henry: We were just talking about Chase. So it is true that she's getting out? Kitty: Yes. Mr. M, have you seen her lately? How does she seem to you? Mr. M: She seemed very excited when I saw her the last time. It was after she had met her lawyer, so I guess she had just heard the good news. Kitty: Good news, hmm... I'm not sure I agree. Henry: Well, it was good news for her. Have you told Mary about it all? Kitty: Of course. Mary knows all she needs to know about Chase. As for the other way round...
Riddick's Party 13
Mary: So, why was this such a big secret? You didn't tell us you were planning a party. Riddick: You were going to see Anika, so I thought I might as well have a few visitors of my own. Mary: I wish you could come with us when we visit her. Riddick: I'm afraid the visits would be cut even shorter than this time.
Riddick's Party 14
Splinter: Are you saying she still doesn't accept you? Riddick: We get along when we have to. Splinter: But she has no problem with Mary? Riddick: If she has, she's very good at hiding it, but I don't think so. Mary would notice it and she would have told me. No, I think Anika likes Mary. Splinter: It would be hard not to. She's a very nice girl - as long as you keep her away from dangerous weapons.
Riddick's Party 15
Riddick: What do you mean? Of course, there have been those couple of incidents, but... Splinter: You don't know? She can be quite ferocious when she lets herself loose, but I guess she tries not to do that when you're around. When you're watching, she wants to be daddy's little girl. I suppose it's because she thinks that's what you expect. Riddick: What are you trying to say? Splinter: It's the other side of her and if you thought that you could just make it go away, you were wrong. In time, she will learn to keep it under control, but it's not going to go away.
Riddick's Party 16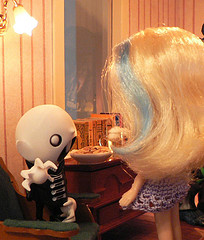 Mary: Have you spoken with Henry? Orlock: Yes. He seems to be very educated, although you wouldn't think so looking at him. Mary: He does look kind of scary. Did you know Kitty was supposed to marry him? Orlock: What?! Are you serious? Mary: Quite serious. You see, there was this arrangement, but then Kitty fell in love with Riddick and it didn't happen. Orlock: Arrangement... Yes, I've heard about those. We do it too sometimes. Mary: Really? Do you have a fiancée somewhere?
Riddick's Party 17
Orlock: No! No, there isn't anyone. Could have been, but there isn't. Mary: What do you mean "could have been?" Max... Orlock: Riddick! I think I need to go now. I just remembered something... Riddick: All right. I'll see you tomorrow.
Riddick's Party 18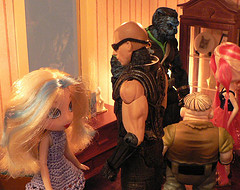 Riddick: What did you do? Mary: What do you mean? I didn't do anything. We were just talking about the arrangement and he said his kind sometimes have those too and then I asked if he has a fiancée somewhere... Riddick: Mary... You shouldn't ask people that sort of things. Those are private matters. Mary: But there's no harm... I didn't mean anything... I just... Riddick: I know and I'm sure Max understands that too, but it seems to be something he doesn't want to talk about, so you should forget it. Don't talk about it to him anymore. All right? Mary: All right, I won't.
Riddick's Party 19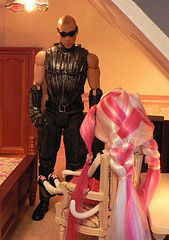 Later: Kitty: You could have told me. You don't need to go sneaking behind my back, if you want to invite your friends here. If you want to have parties just for guys, tell me and I'll stay out of the way. Riddick: I wasn't sneaking. It just seemed like good timing. But I will tell you from now on, if that's what you want.
Riddick's Party 20
Riddick: What was the difference of opinion you mentioned? Kitty: Grandma thinks I should try to be nice to Chase. Riddick: I should have guessed. - I suppose Chase is going to live with her when she gets out. Kitty: That's right. So, there won't be much of these visits in the future. Riddick: What does your mother think about the situation? Kitty: She's happy that Chase will be free again, but she still understands my point of view.
Riddick's Party 21
Riddick: Kitty, there's one thing... Does Marv know? Kitty: Not yet, unless he's heard the rumors. I'm going to talk to Piggy about it. I hope she'll be able to keep Marv from doing something stupid. Riddick: Good idea. Although, there is the possibility that Piggy might do something, if she meets Chase. Kitty: Of course, but that's not my problem. I care about Marv, but Piggy... well, it's not the same thing.