Facts of Life 1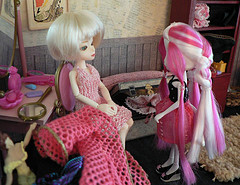 Kitty: Ruby told me about you and Sleepy. You shouldn't really tell her about that stuff. She's confused enough as it is. Adel: What do you mean? I'm not going to start lying to her. If she asks something about my kind, I will tell her, if it is something I can tell. Kitty: I guess it's up to you, but I really wish you would tone it down a bit. Adel: I'll try, but I'm not going to lie.
Facts of Life 2
Kitty: About Sleepy... I know why you're interested, but don't you think... I mean, isn't it a bit unfair...? Adel: No, not really. He says he understands how things are. What's unfair about that? Kitty: What if he turns down someone because of you? Someone with whom we might have a future. I know that's not an option with you, although I've never understood why. Adel: Most do not understand. It's the way we are. Do you have any idea what it's like to watch the other one get old and maybe even die, if you stay long enough for that to happen? And I don't mean just once, but over and over again. It's easier to leave before that.
Facts of Life 3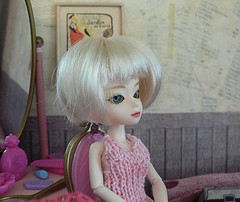 Kitty: I haven't thought of it like that. Adel: Of course you haven't, because it's not going to happen to you. You and Riddick will both grow old and then one of you will die and the other one will be too old to start it all over again. Or even if you do, it's not going to last as long as it did the first time, because you won't have that much time left. Kitty: Adel, how old are you really? Adel: Don't ask. I never tell.
Facts of Life 4
Mary: Ruby, can I ask you something really personal? Ruby: All right. What is it? Mary: Are you sleeping with Zeke? Ruby: What? That is certainly really, really personal. Why do you want to know? Mary: I was just wondering... you know... I mean, I have never... Ruby: Consider yourself lucky then.
Facts of Life 5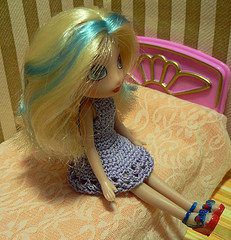 Mary: What do you mean? I don't understand. You see, mother told me the about it, but that was basically a biology lesson. There must be more to it or people wouldn't be so obsessed about it all. I just want to know what it's like. Ruby: Would you tell me why you're really asking? Mary: Well, do you remember that crazy big cat? It turns out that she was Henry's girlfriend. Remember Henry, the huge guy I told you about? So, anyway, Riddick tried to tell me that maybe Henry was attracted to her good side, but I've been thinking that maybe it was about... you know... that thing.
Facts of Life 6
Ruby: I guess it's possible. - Mary, I'm sorry, but I'm not the right person to answer your question. Mary: Do you mean you have never...? Ruby: I wish it was so. - No, that's not what I mean. I mean I don't know anything about how it is when it's like it's supposed to be. Mary: You're getting me all confused. Ruby: I'm sorry. I didn't mean to, but I really don't want to talk about it. To get back to your original question, I'm not sleeping with Zeke, not the way you mean. We decided to wait. Mary: Wait for what? Until you're married? Ruby: No, I don't think so. Just until it feels right.
Facts of Life 7
Ruby: If you really want to know, why don't you ask Kitty? Mary: I can't. It would be too weird. You know, her and Riddick... Ruby: Yes, I guess it would be weird. What about Adel? She's got more experience than all the other women here put together. And she's so natural about that sort of things. Mary: I can't ask her something like that. I don't know her that well. Ruby: We'll go together. I can ask her. But you better not tell Kitty about it. Mary: I'm not going to tell anybody. The only reason I asked you is that I knew you would understand and not make a horrible fuss about it.
Facts of Life 8
Ruby: Adel, are you busy? There's something we'd like to ask you about. Adel: I'm not busy. What is it? Ruby: Well... you see... you have had a lot of boyfriends and we thought... we thought maybe you could tell us... Adel: Stop squirming and just ask the question. I take it you want to know about sex. What do you want to know? Ruby: What is it like? We both know the biology side of it, but what is it like really? Adel: Oh dear. Kitty is going to kill me, if she hears about this...
Facts of Life 9
A lot later: Mary: You know, I still don't understand what's so great about it. It sounded kind of gross to me. Ruby: Well, it can be that, and worse. But Adel is intelligent and very nice, she wouldn't like it if it really was gross. And I certainly got the impression that she likes it. Mary: Ruby, there's something you're not telling me. Why? What's wrong? Ruby: You're better off not knowing. It's not a nice story, although it does have a happy ending, sort of.
Facts of Life 10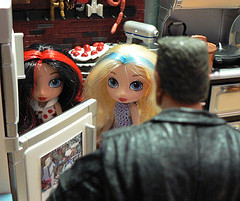 Marv: Good evening, ladies. - I'm sorry, I didn't mean to startle you. Ruby: Marv, what are you doing here? I mean... Marv: Relax. Piggy asked me to wait here while she's getting ready. Did I interrupt something important? Mary: No, we were just talking about... you know... stuff... Marv: Stuff? I guess that means it's something you don't want me to hear. Ruby: Yes, well, it is sort of personal... We'll continue some other time.
Facts of Life 11
Mary: So, where are you taking Miss Piggy? Marv: We're going to have a dinner in a nice restaurant. Well, the nicest one that allows me in, anyway. Ruby: What do you mean? Are there places that won't allow you in? That's stupid. Marv: It's very nice of you to say that, but I'm sure you understand, looking at me... Mary: There's nothing wrong with the way you look. Marv: You're in a minority then. Most people don't think that way.
Facts of Life 12
Marv: Talking about looks... When I came in, I saw a real looker. A tall woman, dark hair, pony tail, black leather, and curves in all the right places. Any idea who she is? Mary: It can't be! How did she get out? Ruby: Mary, calm down. Mary: I've got to find Riddick.
Facts of Life 13
Marv: What was that about? Did I say something? Ruby: I think the person you described is not one of Mary's favorites. She's an old business partner of Riddick's. Marv: Business partner? Yes, she did look like she's that sort. Why was Mary so upset? Ruby: That woman, Annie, said something about Mary's mother last time she was here. It really hurt Mary's feelings and then Mary hurt Annie's backside. With a shovel. Marv: Shovel? Really? Riddick's been teaching her bad habits.
Facts of Life 14
Riddick: Annie, what are you doing here? How did you get out? Annie: The charges were dropped. Freddy just wanted me back and that's why he reported it to the police. So, I promised to go back and he told the police it was a misunderstanding. Riddick: Freddy must be some sort of a masochist. Annie: He loves me. He's a bit possessive, but he's no match to me physically, so it doesn't get too bad. Riddick: I should have guessed. I don't think I ever saw you with someone bigger than you, or even someone your own size.