Facts of Life 15
Riddick: You didn't answer my question. What are you doing here? It's not a good idea. Kitty and Mary aren't that fond of you and neither is Wendy. Annie: That little girl... She really is something. I've never had anyone like her attacking me. Riddick: She once attacked a monster worse than you. Except, he wasn't a monster, he just looked like it. With you, it was always the other way round. Annie: And you never were exactly polite, but that's what I like about you. You say things the way they are, or rather, the way you see them.
Facts of Life 16
Riddick: And the way I see it is that you should stay away from Mary. She loved her mother very much and you're not going to tell her any more of your opinions on Caroline. Annie: Don't worry. I'm not stupid. The next time she could come after me with a gun. I'm sure she would be capable of that. Riddick: Maybe, but she wouldn't have to. I'd take care of you myself before it ever came to that. Annie: You really are serious about that. Riddick: Yes, I am, and I want you out of here, right now. I don't want anything to do with you or your plans.
Facts of Life 17
Mary: What's she doing here? Riddick: She's leaving. Right now. Annie: Come on. Just when things are getting interesting. - Mary, I'm sorry I said those things about your mother. I guess Riddick has told you it wasn't true. Mary: Don't try anything. You're not sorry and you meant everything you said about mother. There's no point trying to make me be less angry at you. I'm not going to, you know. Annie: Even more perceptive than I thought. Pity.
Facts of Life 18
Annie: Maybe I should be going then. The atmosphere is getting a bit too hostile to my taste. Riddick: I will show you to the nearest exit. Annie: I know where it is. Riddick: I want to see you get out of it.
Facts of Life 19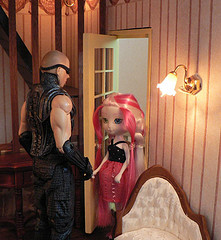 Kitty: Mary told me Annie showed up again. Riddick: Yes, she did, but she didn't stay long. Kitty: I thought she was in trouble with the law. Riddick: The case was dropped. The boyfriend just wanted her back. Kitty: You know, it never ceases to amaze me how stupid some men can be. Chase, Annie... what do they see in those manipulative b...? Riddick: Calm down. That's not your problem, it's theirs.
Facts of Life 20
Riddick: Speaking about Chase, what's the situation now? Kitty: She's out. Grandma is overjoyed and is taking her to a fancy restaurant to celebrate. Riddick: Are we to expect a visit any time soon? Kitty: I hope not. She still doesn't know about Mary, unless grandma has told her. I have no idea how she's going to react.
Facts of Life 21
Mary: Look who's here. Damien: Good evening. Kitty: Oh, Damien... This is too much, please excuse me...
Facts of Life 22
Damien: I hope I didn't come at an inconvenient time. Riddick: Don't worry. Kitty is still a bit upset about the statue business, that's all. I'm sure it'll pass. Damien: I'm sorry. I didn't mean to upset her. Maybe I should not have come. Mary: Of course you can come to see me. Isn't that right, dad? Riddick: Yes, but maybe Damien should use the other exit at least for now. Damien: Sure, no problem.
Facts of Life 23
Kitty: Did you send him away? Riddick: No. Kitty: Just couldn't say no to Mary? I knew it. You said I was right. Why did you change your mind? Riddick: Do you have any idea what would happen, if I told Mary that she can't see him? If I just let her see him, she'll soon get bored with his obsession over those statues.
Facts of Life 24
Next day: Damien: Are you sure it's all right for me to come here? I don't want to cause any trouble. Mary: It's fine. We just need to stay out of the way and not bother anyone. - I want you to meet my friends. Let's go and find them.
Facts of Life 25
Mary: Hi, Max. This is Damien. Damien, this is Max. Damien: Nice teeth. Orlock: Nice to meet you too. Are you the weirdo? Mary: Max! Damien: It's all right. I take it you have told him about the angel. Orlock: Well, Ruby told me first and then Mary filled in the gaps later on. You have a strange and dangerous hobby, my friend.
Facts of Life 26
Ruby: Max, Kermit wants to see you. Orlock: All right, I'm on my way. Ruby: Mary, who's your friend? Mary: This is Damien. Damien, this is Ruby. She was with me when I took those pictures of the statue. Ruby: So you're the one who's seen more of them? Aren't you scared? I heard they aren't safe, and they are certainly creepy.
Facts of Life 27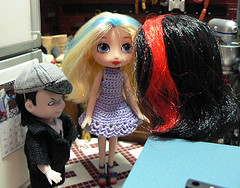 Damien: I'm not scared of them. I find them fascinating. And one day I will find out their secret. Ruby: Are you sure they are going to let you do that? Mary: Let's not get too morbid here. Ruby: But if they are alive... Oh, well, I need to get back to work. It was nice meeting you, Damien. Damien: It was very nice to meet you too.
Facts of Life 28
Later, after Damien has gone: Ruby: So, you have a boyfriend now? Mary: No, I don't. He's just a friend. Ruby: Just when I thought that all those questions were because of him. Mary: Ruby! Ruby: I'm just teasing you. Don't take it so seriously.