Facts of Death 16
Mary: Riddick! Riddick: Mary, are you all right? What has happened? Mary: I just met someone. It was another angel. They really are dangerous. It said.. it said... Riddick: Calm down. Take a deep breath and start from the beginning. Slowly. Mary: All right. - I met one of them. It was a messenger this time and it said...
Facts of Death 17
Riddick: That is really bad. I'm sure you understand that the chances of getting Damien to stop are very slim. I'm not saying he won't believe you. I just fear he won't believe them. Mary: But if he doesn't stop... Riddick: I know. All you can do is try to make him stop. After that, it's his choice. You must understand that. You are not responsible for him. Also, I'd like you not to see him anymore. Mary: But dad...
Facts of Death 18
Riddick: He likes you very much, doesn't he? When you tell him what they want, tell him also that if he doesn't stop, you can't see him anymore. Maybe that will at least make him think hard about what he wants. Mary: That's not fair. Riddick: You want to save his life. Anything is fair that helps you do that. Besides, the only way I'm ever going to let you near him again is that he does what they want. If he won't, it will be much too dangerous to be around him. I'm sure you understand that. Mary: Yes... I understand.
Facts of Death 19
Mary: Damien, there's something I need to tell you. Please just listen to me and don't interrupt. This is important, probably the most important thing ever in your life. Damien: What are you talking about? Mary: Please just listen. I met another one of those angels. It was a messenger and it was looking for me. Damien: For you? What...? Mary: I said don't interrupt. It said they prefer to talk to me, but the message was really for you and it was this...
Facts of Death 20
Damien: You're lying. What are you trying to do? Mary: Believe it or not, I'm trying to save your life. You know what they can do. If you don't stop, they'll come after you and there's nothing anyone can do to stop them. You're the only one who can prevent it from happening. Please just stop. Damien: I don't understand what's gotten into you, but I'm certainly not going to stop now. I have gotten so much new information...
Facts of Death 21
Mary: I think that is what has made them so concerned. You're getting too close. Damien: I would never have believed you could do something like this. Mary: I'm sorry to hear that's what you think. You said you love me. Damien: I do love you. That hasn't changed. Mary: Riddick says that if you won't do what they want, he won't let me see you again. I'm not sure I would even want to see you again. I don't want to be there to see you die. And I'm certainly not going to die myself because of your stubbornness.
Facts of Death 22
Damien: You're getting all hysterical. All this talk about dying... Mary: That's what it comes down to. It said "if we need to come back, we will not be bringing a message." You know what that means. Why won't you believe they are serious? Damien: I'm so close to a breakthrough... Mary: Do you understand what you just said? Damien: You go and hide behind your daddy's back. I'm going to see this through, even if it kills me. Mary: I'm afraid that's exactly what it's going to do. - Goodbye, Damien. I'm sorry.
Facts of Death 23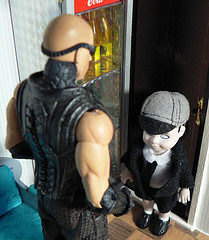 A few days later: Riddick: What are you doing here? Damien: Mary won't listen to me. When I call, she just asks if I have changed my mind and when I say no, she hangs up. I want to talk to her. Riddick: Stay away from her. You made your choice. I won't let you put her in danger. Damien: You're blowing this out of proportion. Riddick: No, I'm not. Somehow I thought you of all people would understand how serious this is.
Facts of Death 24
Damien: I don't get it. A big guy like you getting scared of them. I thought you wouldn't be scared of anything. Riddick: Common sense isn't the same as fear. I'm not stupid, but it seems to me that you are. Get out of here and do not try to contact Mary again.
Facts of Death 25
Angel: Young man, you should have listened to your friend. Damien: Finally. I've been wanting to speak with you for a long time. Angel: I know. Is there anything in particular you'd like to ask? Damien: You're going to answer my questions? Why now? You have been so elusive before. Angel: You won't get a chance to tell anyone, so there's no harm fulfilling your last wish. Damien: Last wish? Are you saying...? No, please don't. I'll do anything... Angel: You were given a choice. That's more than most people get. When you made your choice, you accepted the consequences.
Facts of Death 26
And so: Ruby: Mary, are you all right? Has something happened? Mary: Damien. He's gone. Ruby: Did he dump you? I thought he wasn't your boyfriend. Mary: No. He's dead. Ruby: Dead? When? How? What happened? Mary: He wouldn't believe me. I told him those things were dangerous. Ruby: You mean... one of them did it? I think I'm about to have a panic attack.
Facts of Death 27
Mary: I told you what we found out. It seems that Damien had found out a little more than what he told us and they didn't like it. They told him to stop. If only he had believed... Orlock: What's going on here? Why the long faces? Did someone die or something? Ruby: Yes. Damien. Orlock: Oh. I'm sorry. I didn't mean... Mary: I know.
Facts of Death 28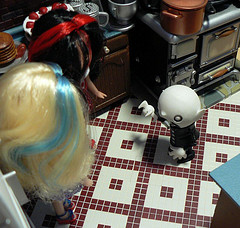 Orlock: I told him he had a dangerous hobby. You just don't go messing about with them. They are relentless. You see, they just follow orders. There's no use pleading. Mary: Max! None of us told you that. Why haven't you told us you know about them? Orlock: I was once given a choice: "Forget or else..." I chose to forget. I suggest you do the same. Forget you ever saw them and if you see one of them again, look the other way. Mary: Why did they give you a choice? Orlock: They said they liked me, but I guess it had more to do with them not wanting to go through all the trouble. We don't die that easily, you know.
Facts of Death 29
Riddick: It wasn't your fault. You did all you could. It was his decision. Mary: But maybe if I had... Riddick: No. He was aware of the risk and he took it. It is possible that he didn't believe they would actually do what they threatened to do, but that was his problem, not yours. You can't save someone who doesn't want to be saved. Mary: I guess you're right.
Facts of Death 30
Mary: Max knows about them. It seems that he was once given the same choice as Damien and he chose to forget. He said we should forget we ever saw them and if we ever see another one, we should look the other way. Riddick: Very wise. But then again, Max isn't a fool. I suspect he's seen quite a lot of weirdness during his life. His kind usually do. Mary: How old is he? Riddick: I have no idea. Sometimes he's like a little kid and sometimes... - Mary, don't ask him. No matter how much you want to know, don't ask him.