The Breaking Point 21
Riddick: I called the police. Max told me he called Henry and Henry promised to go out with Chester to look for Bea. Kitty: What do we do now? Ruby: Maybe you should go home. I'll call Zeke. Finding people is his speciality. Kitty: Riddick, what are you going to do? Riddick: Go looking for her, what else? You go home and wait with Mary. She shouldn't be alone. - Kitty, we'll find her. I promise.
The Breaking Point 22
A few hours later: Chester: Bea, what are you doing here? Everybody's looking for you. Bea: Go away. Chester: No. Now that I've found you, I'm going to see to it that you get home safely. Bea: Why? What do you care? Chester: You're a nice little kid, not the type that would last long as a runaway, but I'm sure you understand that yourself. - Come on. It's getting late and it isn't safe out here.
The Breaking Point 23
Bea: All right. I guess I don't have a choice. Chester: That's more like it. Would you tell me why you took off? Don't you like living with Kitty and Riddick? Henry told me you like them. Bea: I do, but they don't like me. Not really. Chester: What made you think they don't? Bea: Kitty's sister said so. Chester: Oh, I see. What exactly did she say? Bea: That they took me because of money...
The Breaking Point 24
Chester: I've only met Kitty once, but she didn't seem to me to be the kind of person who would do something like that - or marry someone who would do something like that. Bea: Are you saying Chase was lying? Chester: I'm not saying anything, except that you should not draw too hasty conclusions. Come on, let's get you home and get this thing sorted.
The Breaking Point 25
A little later: Kitty: Bea! Oh, I was so worried! Where were you? Fozzie: Kitty, it's nice to see you again and even nicer to bring such good news. Kitty: Where did you find her? Fozzie: Well, we didn't. This gentleman here did. Kitty: Chester! Thank you for getting her home. Fozzie: I need to go. I trust everything is all right now. Kitty: Oh yes, we're fine. Thank you for everything.
The Breaking Point 26
Kitty: Bea, where were you and why did you go off like that? Bea: I'm sorry. Chester: Kitty, could I have a word with you in private? Kitty: Sure. Let me first call Riddick. Chester: He's on his way, the officer called him. And Henry promised to call your friends at the theater to let them know that Bea has been found. Kitty: Oh good. Then everything is in order. - Mary, would you get Bea something to eat?
The Breaking Point 27
Kitty: What did you want to talk about? Chester: I had a word with Bea about why she took off. I'm telling you this, because she probably wouldn't tell you the truth. Kitty: What do you mean? Why not? Chester: Because she thinks you love your sister and you wouldn't believe her. And of course she also thinks that what your sister said was true.
The Breaking Point 28
Kitty: What did Chase say? If this is her fault, I'm going to skin her alive. Chester: On second thought, maybe I shouldn't tell you. Kitty: Yes, you should. I know what my sister is capable of and I need to know what she did this time. I don't mind the things she's done to me, but Bea... Chester: I understand. All right, what she said was this...
The Breaking Point 29
Riddick: Bea, we were so worried about you. Why did you run away? Bea: I'm sorry. Mary: Dad... Riddick: I'm not angry, but you need to promise me you never do anything like this again. Bea: I... Kitty: Riddick, is that you? Would you come up here? We need to talk.
The Breaking Point 30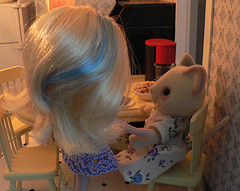 Bea: I guess it was stupid. Mary: Why did you go away? Don't you like living with us? I thought you wanted to be my little sister. Bea: I do. It's just... I just... Mary: All right, I won't ask any more questions. Bea: Are they angry? Mary: No, not angry. They're happy that you're back safely. Do you have any idea what could have happened? Everybody's not as nice as Henry and Chester.
The Breaking Point 31
Riddick: What is it? Oh, hello. We haven't met before, but you must be Chester. Chester: Quite right. I won't ask you how you guessed. Kitty: Riddick, Chester is the one who found Bea. He also managed to find out why she took off. It was Chase's fault. Riddick: Chase? What did she do? Kitty: Chester, would you tell him? I don't think I can. I'm too busy planning all sorts of torture scenarios in my head at the moment. Chester: Sure. What Bea said was this...
The Breaking Point 32
Riddick: Is she out of her mind? What would make her say something like that to Bea? Kitty: I have no idea. But one thing is sure, she's going to pay for this. Riddick: Kitty, we all need you here, not behind the bars like Bea's mother. So, try to calm down and find a legal way for the revenge. Chester: Excuse me, but does that mean there is going to be a revenge? Kitty: Oh yes. I don't know yet what it's going to be, but it's going to hurt. A lot. Chester: Well, if you need any help, just let me know.
The Breaking Point 33
Kitty: Chester told me what Chase said to you. It isn't true, she twisted it. We wanted you in any case, money had nothing to do with it. Bea: Do you really mean that? Riddick: Yes. You are part of our family now. Bea: So she really was lying? Why did she do that? Kitty: I don't know, but you don't need to worry about that. You won't see her anymore. Riddick: You should go to bed now. It's late and it's been a hard day, for all of us.
The Breaking Point 34
Kitty: I can't stop thinking of all the things that could have happened... Riddick: But nothing happened. She's back with us safely and everything is all right again. Kitty: Chase won't be all right after I'm finished with her. Riddick: What are you going to do? I prefer direct action, which basically makes my solutions unusable. We need to keep it legal, everything else is too risky.
The Breaking Point 35
Kitty: I'll tell grandma. If we're lucky, she'll kick Chase out in no time. It's one thing to be mean to me, but quite another to do it to a small child who cannot defend herself. Riddick: And then? That's just the starters. Kitty: I'll need to get in touch with Marv. He might have something useful. Riddick: That sounds interesting. Anything else? Kitty: Oh yes. I'm going to call a certain person, who's going to do exactly what I want, because it'll make all her colleagues die of envy, in addition to getting her at least a huge salary raise, possibly even promotion.
The Breaking Point 36
Kitty: I asked you here, because we need to talk. Chase went too far this time. Anika: What has she done? Kitty: If you happened to notice, there were a whole lot of police cars around last night. They were looking for Bea and it was Chase's fault. Anika: You can't be serious. Kitty: Unfortunately I am. - The good news is that Bea is fine. A friend of ours found her and took her to the police who brought her home. He also managed to find out what the problem was. Chase had told her that...
The Breaking Point 37
Anika: I can't believe this. Has she gone crazy? Kitty: I don't know. You tell me. She's living with you. Anika: Not for long. Kitty, I'm sorry I haven't believed you in the past. It's just... it's so hard to accept that she's... Kitty: Just say it. She's bad. She enjoys causing havoc. I can deal with it, but we have to protect Mary and Bea. Anika: I understand.
The Breaking Point 38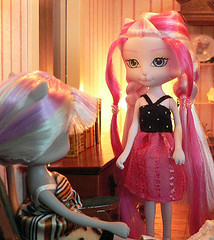 Anika: You do what you have to do. I don't want any part in it, but I'm not going to try to stop you either. Just keep it legal. Consult Kevin, if you're not sure. Kitty: And what if I will cause a scandal? Anika: Then you will cause a scandal. One more or less won't matter that much. Kitty: Are you all right? Anika: Nothing has gone according to the plan. I had such high hopes for you both. Kitty: You can't choose for us. We both made our own choices and at least I'm happy with mine. I don't care how Chase feels about hers.
The Breaking Point 39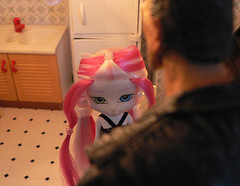 And so: Kitty: Marv, I need your help. Marv: What do you want me to do? I'm not in the bone-breaking business anymore, but I can make an exception for a friend. Kitty: Nothing like that. I was thinking about certain mementos. Do you still have all your stuff? Nothing got lost while you were in? Marv: It's all there. What sort of mementos are we talking about? What's going on? Kitty: Mementos of Chase. You see, she pulled an unforgivable stunt...
The Breaking Point 40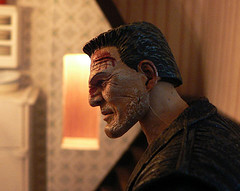 Marv: That's really disgusting even from her. Has she gone crazy? Kitty: I've heard a lot of that lately. I don't really care if she's crazy or not. All I know is that she crossed the line and this is war. Marv: You're thinking of causing a scandal, aren't you? What will your grandma say? Kitty: She said "go ahead." I think she's getting old. She looked so tired.