The Breaking Point 41
Marv: Chase is going to get really mad, if you're thinking what I suspect you're thinking. Kitty: Are you saying you won't help me? Marv: Of course I'll help you. She deserves everything she's going to get. - Is the little one all right? Nothing happened? Kitty: She's fine, although I think she got a little scared afterwards when she realized how dangerous it really was to be out all by herself so late. Marv: That's good. It means she won't be doing it again.
The Breaking Point 42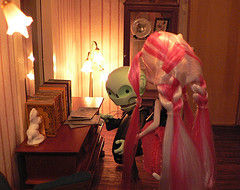 Next day: Kitty: Kevin, I need your advice. Kevin: Anika told me you might. She's paying the bill, but she doesn't want to know anything about it. It will all go under "legal consultation." Now, what do you want to know? Kitty: Take a look at those photos. What happens when I sell them to the highest bidder who guarantees that they will be published? Kevin: Kitty, are you sure you want to do this? Kitty: Quite sure. She started this. She should have left my family alone.
The Breaking Point 43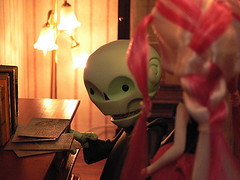 Kevin: I take it these are not yours? Kitty: No. I got them from a friend. Kevin: Then she won't be able to link them to you. Of course, she'll know it was you, but there's no easy way to prove it. Kitty: What about the legal consequences? Will she be able to sue? Kevin: Yes, if she can figure out who to sue. I would suggest that you don't sell these to a magazine. All you need to do is put them into the web and let others take it from there. They'll spread faster than in any magazine and she won't be able to get them out of circulation.
The Breaking Point 44
Kitty: What a great idea! Now, how do we protect the person who gave me the photos? Chase will want to sue somebody. Kevin: Well, he or she could say they were stolen. Were the photos stored somewhere where it would have been easy for someone to take them? Kitty: They were in a rented storage and my friend didn't visit there for several years. Kevin: Perfect. Your friend can say that anyone could have picked the lock and taken anything during that time.
The Breaking Point 45
Later that night: Kitty: Is everything all right? Are the kids sleeping? Riddick: Everything is fine in there. Kitty: Want to see something interesting? Riddick: Sure, what is it? Kitty: Just some photos. There, beside the books. This is going to be so good. Riddick: What are you up to?
The Breaking Point 46
Riddick: When...? Kitty: It was a long time ago. I'm sure you can see how young she is. Riddick: Yes. Kitty, can I ask you something? Kitty: Of course. You can ask me anything. Riddick: Is something like this is going to come up one day? Pictures of you? Kitty: Oh darling, of course not. I have always kept my clothes on when cameras have been around.
The Breaking Point 47
Riddick: How are you going to...? Kitty: Kevin suggested putting them in the web. Harder to find out who did it and much faster and wider circulation. Riddick: Just don't do it from our computer. Use one that cannot be traced to us. Kitty: Of course. I'm very good at covering my tracks. Undoubtedly Chase will know who did it, but she'll have hard time proving it. And the person I got these from is going to say that the pictures were stolen, if anyone ever asks about it.
The Breaking Point 48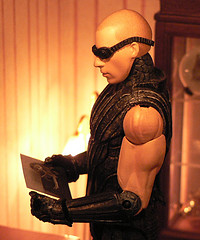 Kitty: May I ask you something now? Riddick: Of course. Kitty: Would you stop staring at that photo? It's a nude picture of my sister and I'd appreciate it, if you put it away. Riddick: Oh, sure. Sorry.
The Breaking Point 49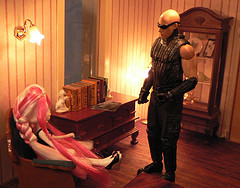 Riddick: Anika is going to have a fit. Kitty: No, she isn't. She told me to do what I have to do. She has given up. That worries me a bit. Riddick: Do you think there's something wrong with her? Kitty: I've never seen her surrender that easily. I think she's getting old. Riddick: Well, that would be quite natural, given her age. Kitty: No, I don't mean that kind of old, I mean it's as if she didn't care anymore.
The Breaking Point 50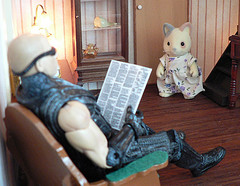 A few days later: Bea: She's here. Riddick: Who? Bea: Kitty's sister. Riddick: Is Kitty with her? Then it's all right, she'll take care of it. They won't come up here. And even if she did come up here, I wouldn't let her be mean to you. Bea: Promise? Riddick: I promise.
The Breaking Point 51
Bea: Why is she so mean? Riddick: I don't know. Maybe she's unhappy and wants others to feel bad too. Bea: Why? Riddick: So she wouldn't be the only one who's unhappy. Bea: That's stupid. Riddick: I guess it is, but that's what some people do. Bea: I don't. Riddick: I know you don't and that's what makes you a very good person.
The Breaking Point 52
Kitty: Would you mind not rushing in like that? You scared Bea. Chase: Never mind her. I know you did it. Kitty: Did what? What are you talking about? Chase: Photos. Those damn old photos of me. Where did you get them? Was it Marv? Kitty: You really are not making any sense today. Care to explain what you're talking about? Chase: Don't try to look so innocent. I know you did it. And you did something else too. Kitty: Like what?
The Breaking Point 53
Chase: Grandma kicked me out. She said the only way she'll ever take me back is if you agree to it. Like that's ever going to happen. Kitty: Don't blame me, it was all your own doing. I just told grandma why we had the entire police force of the city looking after Bea one night. Chase: What? Kitty: After your little enlightening talk with her, she went missing. What were you thinking? Everyone who has heard about it has asked if you have gone crazy.
The Breaking Point 54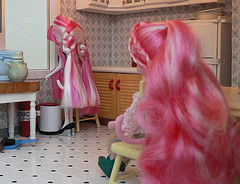 Chase: What does "everyone" mean? Kitty: Grandma, Riddick, Henry, his friend who found Bea after she went missing, Kate, Faith, and mother too. She called me after grandma had told her what you had done. Chase: It was just a joke. Kitty: Do you understand what you did? There are people even worse than you out there. She was out all alone late at night, just because you told her we didn't really want her. - You know what I'd like to do right now? I'd like to lock you into our garage with Toby. I'm sure you have noticed that he's got a suprisingly good memory.
The Breaking Point 55
Chase: You really mean that. Kitty: I mean it and Riddick isn't very fond of you either. But he is fond of that little girl and he also takes his responsibilities seriously. By the way, he's upstairs. It's his day off. Should I go and ask him to come down here? Chase: No need. I think I should go now. Kitty: You were talking about some photos. What was that? Chase: It was nothing. Just forget it. Maybe some other time.
The Breaking Point 56
Kitty: She's gone now. Everything's all right, Bea. Riddick: What did she want? Kitty: It was about the photos, but I'm sure you already guessed that. Bea: What photos? Kitty: You don't need to worry about that. - I'll start making the dinner. Mary should be home soon from the practice. I'm sure you two can figure out something to keep yourselves entertained in the meanwhile.
The Breaking Point 57
Bea: Do you know any good stories? Riddick: I'm not that good with the make believe stuff. Bea: It doesn't need to be make believe. Tell me a real story. Tell me about your mom and dad. Riddick: I didn't have any. Bea: At all? Riddick: They left me when I was a baby or maybe they died, nobody knows.
The Breaking Point 58
Bea: Mom left me. Riddick: That's not the same thing. She didn't want to leave you, but she had to. Bea: She was bad and that's why she had to leave me. Riddick: She just made a mistake. We all make mistakes and then we have to pay for them. Sometimes paying for your mistakes means you have to leave those you love. Bea: It's not fair. Riddick: Maybe it isn't, but that's how things are.
The Breaking Point 59
Riddick: You know, I think I do have a story I can tell you. It's a real one, not make believe. It's about a very pretty lady called Veronika. I used to work for her. Bea: Was she really pretty? Riddick: Yes, she was and still is. Bea: So what's the story about? Riddick: It's about how she grew up in a poor family, but ended up being rich and famous. Bea: I love stories like that.
The Breaking Point 60
Next day: Branigan: Kitty, I need to know what's going on. There's something wrong with Chase and it has something to do with you, but she won't tell me. I thought maybe you could. Kitty: Yes, if you really want to hear. It may be better that you know before you make any decisions concerning your future with her. What's wrong is this...