Conflicts 1
Bea: Kitty isn't at home. She went to see our neighbor. Chase: Are you saying she left you home all alone? Bea: I'm not a baby. I can take care of myself. Besides, she said she'll be back in ten minutes. Chase: I see. Will you let me in? I promise I'll behave. Bea: Okay.
Conflicts 2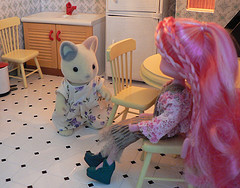 Chase: Bea, I... I'm sorry for what I said to you earlier. It was mean and it was a lie. Bea: I know. Chase: Will you forgive me? Bea: I don't know. I want to think about it. Chase: All right. I guess that's fair.
Conflicts 3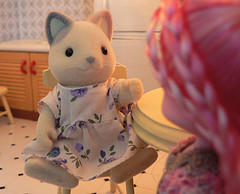 Bea: Aunt Chase? Chase: I'm not your aunt. Bea: Why not? You are a relative. Chase: That's a bit of a stretch. My grandfather was your grandfather's brother or something of that sort. I never even saw any of that lot. Before you, I mean. Bea: Does it matter? You can still be my aunt. Chase: Don't you hate me? Bea: No. - Aunt Chase?
Conflicts 4
Chase: Yes? Bea: Are you sad? Chase: What...? Why do you ask that? Bea: You look sad. - Would you like to hear a story? Chase: What story? Bea: About saber-toothed cats. Henry told me about them. It's a good one. Chase: Why would I...? - All right. Why not? Tell me about them.
Conflicts 5
Kitty: Chase? What are you doing here? How did you get in? Chase: I came to see you. Bea let me in. Kitty: Bea? Bea: I know you said not to open the door, but I saw it was aunt Chase... Kitty: Aunt Chase? Chase: Is there something wrong with that? Kitty: No... I guess not. - Bea, would you go upstairs. I think aunt Chase and I need to talk.
Conflicts 6
Kitty: What was all that? Chase: What do you mean? If she wants to call me aunt, it's fine by me. You know, she's kind of nice. Kitty: What's gotten into you? Chase: Could we forget about that? I wasn't mean to her and we had a nice little chat. That's all there is to it.
Conflicts 7
Riddick: I guess you could blame me for that. I told Bea that Chase is mean because she's unhappy. You know what Bea is like. I suspect she was trying to make Chase nice by trying to make her happy as Henry shot down the other option. Kitty: What other option? Riddick: Becoming a saber-toothed cat and scaring Chase to be nice. Kitty: It's a pity you can't do that. But trying to make her happy... That's more work than Bea could ever do. Riddick: Maybe, but is there any harm in letting her try? Provided we keep an eye on them.
Conflicts 8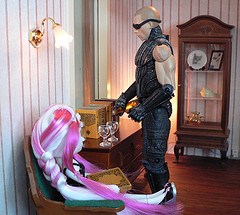 Riddick: Anyway, as it seems we can't get rid of Chase for good, isn't it better that they get along? At least Bea isn't scared of her anymore. Kitty: You may be right. All right, I guess we can let Bea try, but I think you should talk about that with her. Try to make her understand that if she doesn't succeed, it won't be her fault. And before you ask, I want you to talk to her, because I think you have at least some possibility to appear neutral on the matter.
Conflicts 9
Zeke: Hello. Chase: What do you want? Zeke: There's no need to be so hostile. I only wanted to know how you're doing. - Don't you remember me? I'm Zeke. Chase: Zeke? Are you saying you're that kid...? Zeke: That's right. Although that was a long time ago and I'm not a kid anymore. Chase: I can see that.
Conflicts 10
Zeke: So, have you been to the woods lately? Chase: What?! Don't tell me it was you... Zeke: Right again. Chase: Why didn't you tell me? Zeke: You were upset and I just wanted to get you out of there. - Chase, will you promise me you won't do it?
Conflicts 11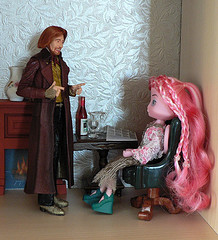 Chase: Why do you care? Zeke: You were both my friends. I'd like to see you make up with Kitty and be like you used to be. - Will you promise? Chase: All right. I promise. Zeke: Good. Now, I came here for a dinner. Would you like to join me? Chase: Well... sure. But I must warn you. People are going to look at you funny. Zeke: Who cares? I can have dinner with anyone I like.
Conflicts 12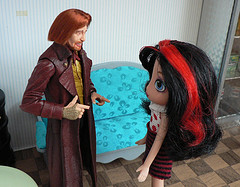 Next day: Ruby: Zeke, is there something you should tell me? Zeke: What do you mean? Ruby: I'm going straight to the point. Why were you out to dinner with Kitty's sister? Don't you know what she has done? Zeke: I know. I also know what she was about to do. Ruby: And what's that? Zeke: I can't tell you.
Conflicts 13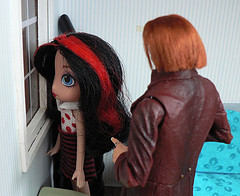 Zeke: Ruby, I love you and I would never do anything to hurt you. I'm just trying to stop something bad from happening. Ruby: If you say so, but I still don't like it much. Zeke: I won't be making a habit of it. It's just until she gets things sorted. Everybody needs a friend. She used to be a friend and I'd like to see things like they were then. Ruby: I don't understand you. Zeke: You don't need to understand. All you need to do is trust me.
Conflicts 14
Later: Riddick: Max told me you were looking for me. Is something wrong? Ruby: I think I need advice. Riddick: What kind of advice? Ruby: It's about Zeke. He's been acting a bit strange. I'm worried. You see, it's about Chase...
Conflicts 15
Riddick: That does sound a bit strange, but it also sounds like he knows something we don't. So, what is the question? Ruby: Should I tell him not to see Chase? I'm not comfortable with him seeing her. Riddick: Do you trust him? Ruby: Yes. Riddick: Then I think you should leave it for now. He knows how you feel about it. Let him think about that. Just keep an eye on what's going on, but don't start pestering him about it.
Conflicts 16
Next day: Riddick: Hi Zeke. Could we have a word before you go to see Ruby? Zeke: Sure. What's up?
Conflicts 17
Riddick: Ruby told me about you and Chase. Care to tell me what that is about? Zeke: I can't. It's confidential. All I can say is that Chase needs somebody to talk to right now. I just happened to be on the right place at the right time. Riddick: Ruby is upset. What are you going to do about that? Zeke: I'll do what I can, but she'll be all right even if she does get a bit upset. What I'm trying to prevent is much more serious.
Conflicts 18
Riddick: May I ask what is more important to you than Ruby? Zeke: As I said, it's confidential, but there is one thing I want to ask you. Tell me, would you rather see Chase dead? Be honest. Riddick: What has that got to do with anything? - All right, I guess that would be a bit harsh, even considering everything she has done. But she's all right, isn't she? Zeke: She is, for now. I'd just like to see things stay that way. - Don't tell Kitty any of this. Riddick: Are you trying to tell me Chase would do something...? She isn't that kind. Zeke: How can you know that? - Just don't tell anyone. Let me try to handle this.
Conflicts 19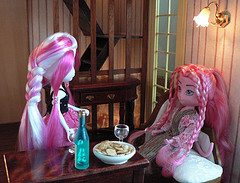 Kitty: What are you doing with Zeke? He's my friend's boyfriend and I think you should leave him alone. Chase: It isn't like that. He's just a friend. Kitty: You must be joking. You? Friends with a guy? Chase: Sure. Do you seriously think I could be with someone like him? Even though I may not be quite as discriminating as our kind in general, there are some limits to what I will do. Canines certainly go over that limit.
Conflicts 20
Chase: I know you thought I was attracted to him then, but I wasn't. It was just friendship. Kitty: And he still wants to be your friend? Chase: Yes. He wants things to be like they were then. Kitty: I guess you know that's impossible. Chase: I suppose so. Kitty, I was thinking that maybe we could try to start all over again. There's too much stuff that has gone beyond repair, but maybe... if we could just leave it all behind... Kitty: I think you really have gone crazy.