Conflicts 41
Kitty: How are you feeling? Riddick: A bit better. Where's Mary? Kitty: Ran out of the door and didn't even remember she was supposed to take Bea to school. She was really upset. And it wasn't about being grounded, it was about you. Riddick: Me? I only told her that we'll talk about yesterday later. Kitty: It was about you drinking and having a hangover. I didn't understand what the problem really was. Riddick: I'll try to talk with her tonight.
Conflicts 42
Riddick: I'll take Bea to school. I think I could use some fresh air. Kitty: I'm sure Bea will be happy about that. But I must warn you, she'll be talking nonstop. Are you sure you're up to it? Riddick: I'll feel better as soon as I get some fresh air. You know, I don't think I want to repeat last night any time soon. Kitty: Are you saying you're getting too old for that? - Just kidding. Riddick: Kidding or not, I think you're right. It just wasn't as fun as it used to be.
Conflicts 43
At school yard: Riddick: Kitty will come and pick you up after school. Bea: Okay. - Is Mary still angry? Riddick: I don't think she's really angry, just a bit upset. You don't need to worry about that. Everything will be fine.
Conflicts 44
Daniel: Who was that? Bea: That's Riddick. He's my dad. Daniel: He can't be your dad. He's not like us. Bea: He is my dad. Lisa: If he's your dad, we can't play with you anymore. Eva: Isn't that a bit stupid?
Conflicts 45
Lisa: You're stupid. My mom says it's because your dad was retarded. Eva: He wasn't! Bea: That was a really mean thing to say. Daniel: You stay out of this. My sister is right. Eva's dad was retarded. Mom said so. Eva: And my mom says your dad left, because your mom had too many boyfriends. Daniel: Shut up!
Conflicts 46
Bea: You hit her! Riddick: Stop it! Right now! Bea: He hit Eva! Riddick: Little boy, don't you know you're not supposed to hit little girls? Go and pick someone your own size to fight with. Daniel: You can't do anything to me. I'll tell my mom. Riddick: And what exactly are you going to tell? That you hit a girl and I told you it was wrong? Be my guest.
Conflicts 47
Riddick: Are you all right? Did he hurt you? Eva: I'm fine. Lenore: What's going on here? Who are you? Eva: It's all right. This is Bea's dad. Riddick: I'm Riddick. Are you Bea's teacher? Lenore: Yes, I'm Lenore. Eva, was it Daniel again? I saw him and Lisa running from here. Eva: They were mean to Bea.
Conflicts 48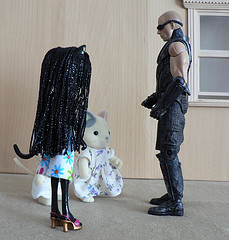 Bea: Not really. They just said they can't play with me, if Riddick is my dad. Lenore: I see. That always seems to be the problem. Riddick: Bea, why did you say I am? You could have told the truth. Bea: No. You're much better than my real dad. Lenore: None of that is really relevant. Daniel's behavior was not acceptable, no matter who Bea's father is. - Mr. Riddick, could I have a word? Riddick: Sure. And it's just Riddick.
Conflicts 49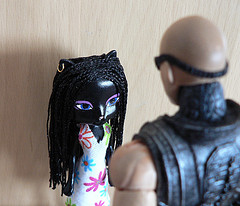 Lenore: I'm sorry about all that. We have all kinds of pupils here and we try to make it work, but unfortunately, some of my kind... Riddick: I know. I have come across it before. - Eva doesn't seem to mind about me. Lenore: Eva didn't really have any friends before Bea came, but things have been much better lately. Riddick: I'm happy to hear Bea has found a friend. I've been a bit worried about that.
Conflicts 50
Lenore: There's no need to be worried. Bea is doing fine. And I suspect Daniel has a problem with Eva, not Bea. It's just that Bea is Eva's friend and so she gets her share of the fallout, so to speak. - Well, I think it's time to go in. It was nice meeting you. Riddick: It was nice to meet you too. I'm glad you're not one of the close-minded ones. Lenore: How could I be? I'm a black cat. - I see you don't understand. Ask your wife about it. She'll explain.
Conflicts 51
Later that day: Bea: What were you talking about with Miss Lenore? Riddick: Just small talk. She told me you and Eva are good friends. - Would you mind telling me why Daniel hit Eva? Did she say or do something? Bea: She said her mom had said that Daniel's mom has too many boyfriends and that's why his dad left. Riddick: That was a bit cruel, don't you think?
Conflicts 52
Bea: He started it. He said Eva's dad was retarded. That was mean too. Riddick: Yes, it was. - Bea, has Daniel ever hit you? Bea: No. I'm too big. Riddick: Are you saying he's a coward? Bea: I don't know. Eva says it's all about estimating how much damage you can do and how much damage you are going to suffer. She says it's because of the claws. Riddick: She seems to know a lot about it.
Conflicts 53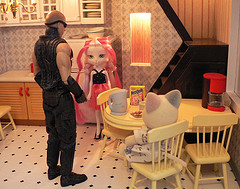 Kitty: Riddick, would you leave Bea and me alone for a few minutes? There's something we need to talk about. Riddick: Is everything all right? Kitty: Don't worry. I just saw grandma today and I need to talk about that with Bea. Maybe you could go and talk with Mary. Riddick: All right, I'll try.
Conflicts 54
Riddick: Mary, I think there's something we need to talk about. Mary: Like what? Riddick: Whatever it is that got you so upset this morning. Mary: It was nothing. Riddick: I don't believe you. - You know, not talking about it isn't going to make it go away. What's the problem? Or should I ask who? Mary: You figured out that much. I should have known.
Conflicts 55
Mary: All right. His name was Bob. I think mom was in love with him. I thought he was OK. He bought mom nice things and took us to restaurants and all that. Riddick: So, what went wrong? Mary: I saw him once when mom was at work. He didn't see me, but I saw him. He was drunk and he was with someone else. Riddick: I see. Did you tell your mom? Mary: I didn't have to. Someone at her work did. There was a terrible row and he left. Mom was unhappy for a long time.
Conflicts 56
Riddick: And you think I'm going to go with someone else and ruin everything? Mary, I would never do something like that. I may get a bit out of control when I get drunk, but not that much out of control. Mary: Are you quite sure about that? Riddick: Quite sure. - You know I love Kitty. And I love you and Bea. I want us to be a family and I wouldn't do anything to ruin that. Besides, I don't think I'll be drinking that much any time soon. It wasn't as much fun as it used to be.
Conflicts 57
Kitty: It's such a relief that things are back to normal again. - Were you really serious about not drinking again? Riddick: To a degree. I'm not going to quit entirely, but I'll drink less. I don't want to get Mary upset. Kitty: I don't mind you having fun occasionally, but I must say I'm glad to hear that. Riddick: Kitty, there's something I've been meaning to ask you. I met Lenore this morning and I didn't understand something she said. She said you would be able to explain...
Conflicts 58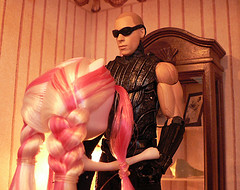 Kitty: Black cats? Don't you know? It wasn't that long ago that they were considered witches. Some even got burned for it. Fortunately, that is history, but there are a lot of people who do not quite accept them into the community. She could never be a teacher in an all-feline school. Riddick: Not again. I'm getting so tired of that... that... Kitty: Calm down. It's not worth it. But if you can take some more of that stuff, I can tell you what grandma told me about Bea...
Conflicts 59
Next day, after school: Daniel: Well, you two really are a perfect pair. A retard and a mutt. Lisa: Tee hee. A mutt. Bea: There's nothing wrong with Eva. And I'm not a mutt. I've got a pedigree. Daniel: What? Bea: Don't you know what that is? It means everyone in my family is pure-bred. It's all in the books and it goes back several hundred years.
Conflicts 60
Daniel: Are you winding me up? What about your dad? Bea: I'm quite serious. Riddick is my dad, but he is not my biological father. - Please leave us alone now. Lisa: You're lying. You can't be... Bea: Oh yes, I am. But if you really want to see a mutt, you should turn around.