Family Matters 1
Kitty: There's something we need to tell you. It's good news. I hope you will think so too. Mary: You're being very strange. What's going on? Riddick: How would you feel about getting a little sister or brother? Mary: Kitty, are you going to have a baby? Kitty: Yes. Mary: I knew you wouldn't let those stupid people stop you.
Family Matters 2
Kitty: Bea, is there something you want to ask? You look like there is. Bea: Is the baby going to be like you or like Riddick? Riddick: We don't know. We'll just have to wait and see. Mary: Who cares? I'm sure the baby is going to be much cuter than Chester anyway. Kitty: Mary... Bea: What's Chester got to do with it?
Family Matters 3
Mary: Oh, it was just a joke. Bea: I don't get it. Kitty: It doesn't matter. Is there anything else you want to know? Bea: Is it a boy or a girl? Riddick: Does it matter? Bea: I want another sister. Kitty: We'll just have to wait and see.
Family Matters 4
Riddick: There is one more thing. We need to make some arrangements. - Would you two mind moving to the upstairs bedroom, so Kitty and I could use your room? Bea: Why? Kitty: Well, it's not a problem yet, but later it would be easier for me to have less stairs to climb. Mary: Of course we'll do it. Right, Bea? Bea: Right.
Family Matters 5
Next day: Bea: Do we get to keep the bed? Kitty: Yes, it comes with the room. It was hard enough for the movers to get it up here. Don't worry about us, I'm sure we'll figure out something. Did you know that when Riddick was living at the theater, all he had was a mattress on the floor in his room in the basement? Bea: No bed at all? Kitty: No bed. He said he didn't need it. So, I'm sure we'll manage. Mary: I'll go and get my stuff. This is so cool.
Family Matters 6
Bea: Kitty... I've been thinking... Will you still want to keep me? Even after you have the baby? Kitty: Did you think...? Oh Bea, of course you will stay. You're part of the family. Bea: I was bad. And when you're bad, you have to go away. Kitty: You were not that bad and you already got the punishment. That matter is solved and there's no reason to think about it anymore. - Bea, we love you and you're going to stay no matter how many babies we get. Bea: Is there going to be more than one? Kitty: Well, not this time, but you can never know about the future.
Family Matters 7
Ruby: Mary told me that Kitty is going to have a baby. Is it really true? Riddick: Yes, it is. Have you told anybody? Ruby: Well... I did tell Max... and Adel... Riddick: So, it is fair to assume that by now everybody knows about it. Ruby: I'm sorry. I just had to tell somebody. It's so great! Riddick: I understand. It's all right.
Family Matters 8
Ruby: Do you think it's great? Riddick: Yes, of course. Ruby: You're going to need a bigger house. Riddick: There's enough room for some time. Now that Kitty and I have the bigger bedroom, there's enough room for the baby in there. Ruby: Are you sure about that? I mean, you do plan to sleep sometime during the first year or so? Riddick: Sure. If it gets too bad, I can always go to the garage. I'm sure Toby won't mind having company.
Family Matters 9
Toffee: Where are the girls? Kitty: Upstairs, in their new room. I thought they wouldn't like moving into a smaller room, but they love it. Of course, the reason for moving may have something to do with it. Anika: I thought you wouldn't have children of your own now that you've got Bea. Kitty: This wasn't exactly planned. Anika: Do you know already...? I mean, did the doctor...? Kitty: You want to know what the ultrasound showed? I'm sure you know that the distinguishing features won't show this early. We'll just have to wait.
Family Matters 10
Kitty: So, how do you feel about becoming a grandma? Does it make you feel old? Toffee: Not really. It was bound to happen, although I thought Chase would be the one having a baby. Kitty: She'll need to find a suitable guy first. That won't be easy in the current situation. Toffee: Don't you know? Kitty: Know what? Toffee: Chase went to see a doctor and they had to do some tests. She was otherwise all right, but they found out that she can never have children.
Family Matters 11
Kitty: So, there is some justice in this world after all. Anika: Kitty, I know you're still angry at her, but isn't that a bit harsh...? Kitty: If she had any children, she'd be the winner of the unfit mother of the year award. It's best for everybody that she can't have any. Toffee: Are you ever going to forgive her for what she has done? Kitty: I guess I'll have to. You see, Bea wants Chase to be her aunt. I'm just afraid that Chase will let her down at some point.
Family Matters 12
Anika: What are you going to do with the house? Kitty: What do you mean? Anika: It's not big enough. Kitty: We'll think about that later. We'll have quite enough room for some time. Anika: I was just thinking... If you need more money, just tell me.
Family Matters 13
Kitty: Are you serious? What's going on? Anika: You know I like Mary and Bea, but this baby is going to be part of the family for real... Kitty: I see. I hope you'll keep that observation to yourself. We are going to have three children, all treated equally, no matter how they happened to become members of our family. Understood? Anika: I understand. Do you think you can do that? Kitty: We'll do our best.
Family Matters 14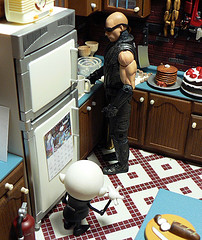 Orlock: If you're not careful, you're going to have a really big family. Even three kids is a lot nowadays. Riddick: I'm sure we'll manage. Orlock: I know it's none of my business, but... Aren't you worried about what the baby will be like? Riddick: Not really. You've met Chester. He's the worst case scenario, and with Kitty and me, there are just two kinds involved. I'm sure everything will be fine. Orlock: Is Kitty worried?
Family Matters 15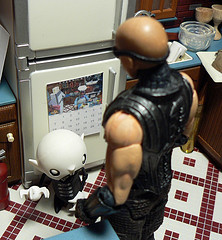 Riddick: I don't think so. You know, you could go and visit her. Bea has met you, so that isn't a problem anymore. In fact, Bea has been asking about you. Orlock: Why? Riddick: I think she's fascinated, because you're an adult, but you're the same size as her. But you shouldn't tell her anything about what you are. Orlock: Like you needed to tell me that. Of course I won't tell her. She's much too young to know anything about my kind.
Family Matters 16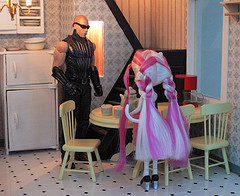 Late that night: Riddick: How did it go with your mother and grandma? Kitty: Fine. They are a bit worried, but it seems that any baby is better than no baby at all. Riddick: What does that mean? Kitty: It means Chase cannot have children. Suddenly, I'm their only hope. I'm not sure I like it any better than the way things were in the past. Riddick: Chase can't have children? I guess Zeke could have been right...
Family Matters 17
Kitty: What about Zeke? Riddick: Nothing. Kitty: Riddick. You're not going to get away that easily. Let's hear it. What is it you know that I don't? And what's it got to do with Zeke? Riddick: Zeke told me not to say anything to you. - All right. You know he's been talking with Chase. He seems to think that there is a possibility that Chase might do something to herself. Kitty: Chase? Never. Riddick: That's what I said too, but can you ever truly know something like that?
Family Matters 18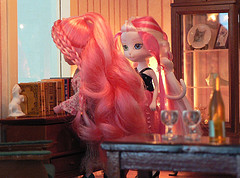 Next day: Chase: Grandma told me the news. Kitty: And I heard about you. Chase: Do you think there's some sort of universal justice? You know, karma and all that stuff? Kitty: I don't know. Why do you ask? Chase: I've been thinking that this is the punishment for everything I've done.
Family Matters 19
Kitty: Chase, I've been thinking about what you said. You know, starting all over again. Maybe we could try, but you need to be serious about it. I can take the disappointment, if you fall back to your old ways, but I'm not sure Bea can. You are not going to let her down. Do you understand? Chase: I understand, and I promise I won't let her down. - So, what's the baby going to be like? Kitty: We'll just have to wait and see. Chase: What will Riddick say, if it's a feline? Kitty: He doesn't mind. You know he loves Bea and she isn't even his own.
Family Matters 20
Kitty: Max, I was waiting for you earlier. Orlock: I saw her coming here and decided to wait for her to leave. Why do you let her into your house in the first place? Kitty: She's my sister and we have decided to try to patch things up. I know it sounds hopeless, but I have to try. - You know, I need to go and get Bea from school. Would you like to come with me? Orlock: Sure, if you think it's all right. I don't want to cause any trouble. Kitty: It'll be fine.