Family Matters 21
Bea: Max! I didn't know you were coming. - Eva, this is Max. He works at the theater. Max, this is Eva. She's my best friend. Orlock: It is very nice to meet you, Eva. Don't worry, I'm perfectly harmless. Eva: Why do you have such big teeth then? Orlock: Not again. Kitty: Eva, I don't think it is very polite to ask something like that. - Bea, I need to go and talk with Miss Lenore. Wait here with Max, I'll be right back.
Family Matters 22
Daniel: Well, well, you've certainly got strange friends. Who's the weirdo? Bea: Daniel... Orlock: Young man, where are your manners? That is not a proper way to talk about older people. Daniel: Older...? Come on, you're smaller than me. Orlock: No manners and ignorant too. You're not going to get too far in life. Daniel: Bea, is this your idea of a joke? Who's the kid?
Family Matters 23
Kitty: Max, is everything all right? You look like you're going to burst a vein. Orlock: Would you tell this ignorant little boy that I am an adult? Kitty: What? Are you saying...? - You're Daniel, aren't you? Listen to me carefully. I know all about feline distaste of anyone different, but you really should know by now about the smaller kinds of people. Mr. Orlock works at the theater and he's older than me, so you should treat him respectfully. Do you understand? Daniel: I'm sorry. I thought they were just winding me up.
Family Matters 24
Back at home: Orlock: Bea, what was wrong with that boy? Why did he think it was a joke? Bea: He thinks everybody's out to get him. Eva says he's got para... para... oh, I forgot the word. Kitty: Paranoia, a persecution complex. I doubt it's that serious. Orlock: Whatever it is, the kid's got a huge chip on his shoulder.
Family Matters 25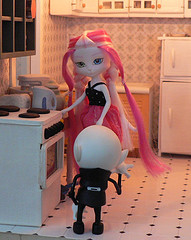 Orlock: So, how are you doing? Is everything all right? Kitty: Max, I'm not sick, just pregnant. Orlock: I know, but I got the impression that this is a bit of a special case. Kitty: Everything should go quite normally. All we're unsure about is what kind the baby will be. Probably mostly feline. Orlock: Let's just hope it isn't going to be a bald feline. Kitty: Max!
Family Matters 26
Ruby: Riddick, can I ask you something? Riddick: Sure. What's on your mind? Ruby: Uncle Hagrid's been saying that I should go back to school. You know, finish my education. Riddick: Sounds like a good plan. What's the problem? Money? Ruby: No, not money. Uncle Hagrid has promised to pay everything. It's just... Riddick: What?
Family Matters 27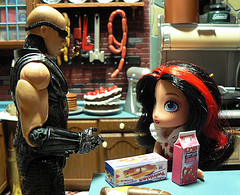 Ruby: Do you think I could do it? Riddick: I'm quite sure you can. Is it what you want? You shouldn't skip it just because you're afraid, but you shouldn't do something you don't want to do either. But you need to figure out what you want to do with your life. You can't stay as Kermit's assistant forever and you should not rely on Hagrid supporting you financially, even if he is willing to. Ruby: Would you like to know why he wants me to go back to school? Riddick: What do you mean? Is there more than just wanting you to do well in life?
Family Matters 28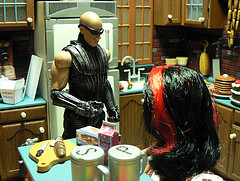 Ruby: Oh yes. He wants me to study management and all that, so I can go work for him and possibly take over his business when he retires, if I'm good enough. Kevin won't be able to do that, so I'm the only one of the family left. Riddick: I see. What do you think about it? Do you want to do it? Ruby: I don't know. It is sort of tempting, you know, being offered all that if I do what he wants, but on the other hand... Riddick: It's a good offer, but you shouldn't do it just because of him.
Family Matters 29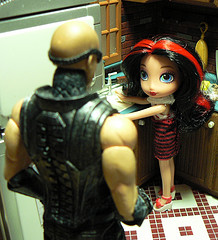 Ruby: He didn't have much education. He started with a small business and learned everything by himself. Riddick: Yes, it can be done that way, but it would probably help to know the theory as well. You know, if you want the business, but not school, why don't you just ask him to teach you? You can learn the theory from books. Ruby: I hadn't thought about that. I'm not sure what he would say about it, but I guess there's no harm asking.
Family Matters 30
A couple of days later: Riddick: Hagrid. I haven't seen you for a long time. How's it going? Hagrid: I guess it was your idea. Riddick: What...? Oh, you mean Ruby? Yes, she asked my opinion, so we talked about it. Is there a problem? Hagrid: My way was hard. She really should go to school. She's bright and she's got what it takes. I want her to do better than her mother. And better than me. Riddick: I understand that, but you must understand that school may not be what she wants.
Family Matters 31
Riddick: You know what her life's been like and you want her to be happy. Don't make her do something she doesn't want to do. Because she will, if you press hard enough. Hagrid: Are you saying I should do what she wants? Teach her myself? Riddick: Why not? As you said, she is bright. I'm sure she can learn everything necessary that way. And you'd get to spend more time with her. Hagrid: Well, I guess we could try that, although it means she'll have to start from the bottom. Riddick: I'm sure she understands that. Hagrid: I'll talk with Ruby. - See you later.
Family Matters 32
Abby: I had no idea you know the boss. Riddick: Boss? Do you mean he owns this place? Abby: Sure. I thought you knew. Riddick: What's he like? As a boss, I mean. Abby: He's all right. Doesn't interfere too much as long as things are going smoothly. And things usually are, because nobody wants to see what happens when he gets angry. We got a sample of that when he fired the previous manager over some "creative" accounting. I can still see him roaring: "The first rule of stealing from me is: Do not get caught!"
Family Matters 33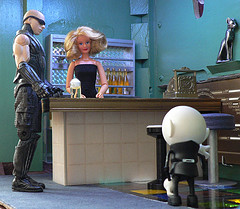 Orlock: Hi Abby. Abby: Hi Max. The usual? Orlock: Sure. And for my friend here another one of whatever it is he's drinking. Riddick: Thanks, Max. - Need any more help upstairs? Orlock: Thanks, but I can manage. It was just those paintings and other stuff that needed hanging on the walls. Of course I could get a ladder... Riddick: No need for that. Just tell me, if you want anything else done.
Family Matters 34
Riddick: I just heard that Hagrid owns this place. Orlock: He owns the whole building. That's why all the apartments were converted for little people. Riddick: What do you mean? Orlock: He knows how to maximize profit. You see, you get several apartments for little people in the space of one regular sized apartment. Even though our rents are lower, you still get better money from four little apartments than one big one. Riddick: I guess I should have known.
Family Matters 35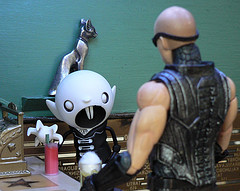 Orlock: I need to go now. Mary and Bea are coming for a visit. Riddick: Kitty mentioned about that. Bea will love your home. It's all in a size suitable for her. Orlock: You're probably right. However, I was thinking... you know, the paintings... Riddick: Don't worry. That guy on a horse doesn't look much worse than Henry or Chester. The main thing is you haven't got a coffin there. Orlock: Oh no, that's in the basement. I've given up the old tradition, but I just don't seem to be able to part with it entirely.
Family Matters 36
Orlock: So, how do you like it? Mary: It's... different. Orlock: You don't like it. Bea: I think it's great. Mary: Max, don't take this the wrong way, but are you sure your interior decorator isn't color blind? Orlock: Quite sure. I have designed everything myself. Mary: Oh... I'm sorry.
Family Matters 37
Orlock: It's all right. It's not your fault. Mary: What isn't? Orlock: That you don't know anything about proper interior decoration. Your kind hasn't for ages. You need proper colors, not just pastels and pale earth colors. Mary: But red walls... Orlock: Red is our traditional color. Although I have selected a bit different shade than normally.
Family Matters 38
Mary: What's under there? Bea: It's the bathroom. It's really pretty. Mary: Looks very small. Orlock: If you need to use the bathroom, you can use the one in the bar downstairs. Just tell them you're visiting me. Mary: Doesn't it bother you living above a bar? Isn't it noisy? Orlock: You forget that I mostly sleep during the day. It's very quiet downstairs at daytime.
Family Matters 39
Mrs. Splinter: Oh, I'm sorry. I didn't know you had a visitor. Orlock: It's all right. This is Mary and the small one in the bathroom is Bea. Mrs. Splinter: Nice to meet you. I'm Mrs. Splinter. Actually I work downstairs, but as it's only a part-time job, I also clean some of the apartments. Mary: Splinter? My martial arts teacher is called Splinter. Mrs. Splinter: He's my husband.
Family Matters 40
Bea: Hello. Mrs. Splinter: Um... hello. - Max, you didn't mention she is... Orlock: Don't worry, Bea is very nice. Mary: What's the matter? Oh... You know, our family isn't a very typical one. Kitty isn't very keen on all that purity stuff and Riddick, my dad, isn't a feline. Mrs. Splinter: Riddick? Splinter told me about him. He was impressed and that is a rare occasion. Bea: What are you all talking about?