Epilogue: Bad Doggie 1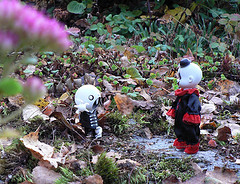 Schizo: So, what are we doing here? Orlock: We are looking for a very bad doggie. Schizo: What are you talking about? Have you lost your mind completely? Orlock: I'm talking about the furry fellow. Schizo: Why didn't you say so right away? What did he do? Orlock: Have you seen Ruby lately? Schizo: Ruby? No, I've been meaning to, but I've been a bit busy. Did he dump her? I knew it would happen sooner or later. They are not to be trusted.
Epilogue: Bad Doggie 2
Orlock: Actually, she dumped him. After he first scared her to death. Schizo: I see. Have you given any thought to the fact that he's huge? He'll rip you apart. Orlock: No, he won't. You know what we are like and I bet he knows too. Schizo: You may have something there. So, what's the plan? Orlock: An arm or a leg should be enough. Schizo: Well, you're not too modest. Do you really think you can pull it off? No pun intended. Orlock: I can try.
Epilogue: Bad Doggie 3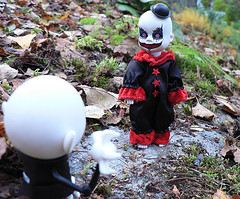 Schizo: What am I doing here? Orlock: You're sort of... moral support. Schizo: Hahaha! I guess there's first time for everything.
Epilogue: Bad Doggie 4
Cherry: Who are you and what are you doing here? You don't belong here. Chase: Neither do you. Or is that supposed to be the latest outdoors fashion? Cherry: No, it isn't. I came here to see a friend. Chase: Well, so did I.
Epilogue: Bad Doggie 5
Zeke: When you're done with the argument, would you mind telling me what you're doing here? Both of you. Chase: Zeke! I'm so glad you're all right. I was worried. What did Ruby do to you? Cherry: Zeke? Do you know the kitty? Oh my, I never would have believed... Zeke: Cut it out, Cherry. Why are you here? Cherry: I heard you've been planning the future again. Don't you know you're supposed to learn from your mistakes?
Epilogue: Bad Doggie 6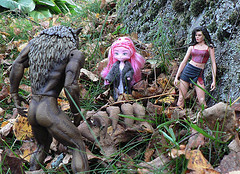 Chase: Don't get all cryptic on me. What are you two talking about? Zeke: Chase, meet Cherry, my former girlfriend. Cherry, meet Chase, an old friend. I think I knew Chase before I ever met you. Cherry: So, a very old friend. Chase: What's that supposed to mean? Cherry: Nothing. Zeke: Cut it out. Both of you.
Epilogue: Bad Doggie 7
Zeke: Would you both just go away? I came here to be alone. Chase: I'm not going anywhere before you tell me what's going on. Cherry: I want to have a word with you too. I made the effort to come here and you're not getting rid of me just like that. Zeke: All right. I guess I don't have a choice. Cherry, would you wait while I talk with Chase? Cherry: Of course. I'm sure she's much more important than I am. Zeke: Don't start that, all right?
Epilogue: Bad Doggie 8
Schizo: Hello, what have we here? - Are you lost or something? Do you need help? Cherry: No. You just mind your own business. Who are you? Schizo: I'm Schizo. Have you seen a big hairy dude? You know, looks kinda like a werewolf. Cherry: Don't you know it's lycanthrope nowadays? The W-word is old-fashioned. Schizo: I know, but he's a mutt anyway. - So, have you seen him?
Epilogue: Bad Doggie 9
Cherry: Sure. He's talking with a little pink kitty, but I'm sure she'll be going away soon. Then it's my turn. You can wait. Schizo: Oh yes, we'll wait. It's better that he does any necessary talking before my friend meets him. Cherry: Your friend?
Epilogue: Bad Doggie 10
Orlock: Any luck? - Hey, where did you come from? Schizo: She found what we're looking for. She just wants to talk, so she gets to do her bit first. Join the queue, Max. Cherry: Is this the friend? Schizo: This is Orlock. We and the hairy dude have a mutual friend. Someone called Ruby. Cherry: I've met her. And I know what he did. What are you going to do? Schizo: My friend is going to have some fun and I'm going to watch. From a safe distance.
Epilogue: Bad Doggie 11
Zeke: You shouldn't have come here. Chase: Kitty said you got into trouble. It was Ruby, wasn't it? What did she do? Zeke: Leave Ruby alone. I made a mistake. None of it was Ruby's fault. Chase: But you are coming back, aren't you? Zeke: No. At least, not for some time. It wouldn't be safe for anybody. Chase: But...
Epilogue: Bad Doggie 12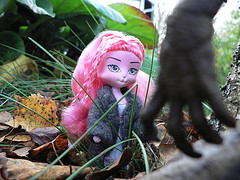 Zeke: Chase, I can't come back right now. You see, I really love Ruby. And that is why I want you to stay away from her. Chase: All right, if you insist. Zeke: You should go now. You don't belong here. I do, maybe more than I've ever realized. Chase: You... you're not going to stay like that permanently? Zeke: I don't know. Maybe. It's a huge forest out there. It would be easy to disappear into it.
Epilogue: Bad Doggie 13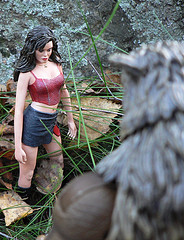 Zeke: Cherry, I sent Chase away... What are those two doing here? Cherry: Looking for you. Either that smaller fellow has a huge ego or you're in real trouble. Which one is it? Zeke: Trouble. Maybe. Cherry: Well, they promised to wait until I have talked with you. Care to explain how you still can't control yourself after all these years? You were supposed to be the master of self-control. And did you think that because Ruby is a sweet little girl, unlike me, she would agree to anything you say? Zeke: I can't explain it. It just happened. - Cherry, would you go? There's nothing you can do.
Epilogue: Bad Doggie 14
Zeke: So, here I am. What now? Orlock: You tell me. An arm or a leg? Which one will it be? Zeke: Cherry said you've got a huge ego. Do you really think you can hurt me? You know I can hurt you. Orlock: I know, but we both also know you can't kill me. The other way round... Now that is a much more interesting question. Remember the secret your kind never tell outsiders? That isn't quite true. Zeke: What...? Orlock: The thing is, I don't like pain. It makes me angry. Do you want me to get angry? Zeke: I guess not. Not if you know.
Epilogue: Bad Doggie 15
Zeke: Could we just skip all this? If I promise I won't come back unless Ruby wants me to, would you just go away? - Does she know about this? Orlock: Of course not. Zeke: What do you think she would say, if she knew? Orlock: All right, I guess we can forget about this. For now. - Maybe I should add that Riddick isn't very pleased with you either. Zeke: I know. I really screwed up this time.
Epilogue: Bad Doggie 16
Schizo: How well do you know him? Cherry: Well enough. I used to date him. - You know, you and your friend aren't exactly the kind of people I'd expect Ruby to be hanging around with. Schizo: She's not prejudiced. - As you don't seem to be that prejudiced yourself, judging from your ex-boyfriend, how about a drink when we get out of here? I take it you're not going to stay and console him. Cherry: Listen, shorty, I told you to mind your own business.
Epilogue: Bad Doggie 17
Schizo: Max, why did you just let him go? Orlock: I realized this isn't what Ruby would want. Cherry: You know, Mr. Orlock... there's something I don't understand. Zeke seemed to be intimidated by you, but you're so... Orlock: Just say it. I'm small. But I'm sort of a special case. Very special. - Why don't you call me Max? There's no need to be so formal. What do you say about a drink? I could use one. Cherry: Sure, why not? I'd like to hear a bit more about you.
Epilogue: Bad Doggie 18
Orlock: Schizo, are you coming? Schizo: I'm coming! What's the rush? - (muttering to himself) I really don't get it. I must be getting rusty. Well, it's not as if she's a blonde or anything...