Rosie 1
About a year after the events of the previous story: Riddick: Annie, what are you doing here? Annie: It's been a long time, and I wanted to see your house... Riddick, are you babysitting? How cute! Whose baby is that? Don't tell me you and Kitty... Riddick: Don't get too close. Annie: I just want to take a look at her. She's so cute. Not at all like you.
Rosie 2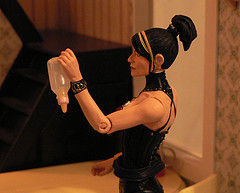 Annie: Hey! Quit it! Riddick: I told you not to get too close. Rosie doesn't like to be disturbed at feeding time. - You're getting slow. She almost got you. Annie: Well, she's certainly yours, no matter how she looks. Riddick: You're lucky it was just the bottle and not its contents.
Rosie 3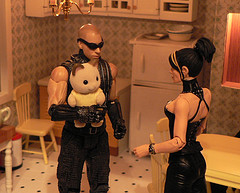 Riddick: What do you want this time? Annie: Me? Want? Why do you always think I want something? Riddick: Because you do. What is it? Annie: Well, since you asked... I'm broke again and I was thinking, you know, as I've been a good girl and kept my mouth shut about certain events, you might want to show your gratitude in some tangible way... You said your wife is rich...
Rosie 4
Bea: Riddick? Annie: Who's this? Oh my, you have been busy. Riddick: Bea, please go to your room. Annie: No need for that. - You are a very pretty little girl. Will you come down here to say hello? Bea: No. Annie: I see you've been teaching her manners. Never mind. So, how about it? Riddick: Certainly not. - Bea, please go now. I need to talk with Annie.
Rosie 5
Annie: You've got a nice life here. It would be a shame to ruin it. Riddick: Are you familiar with the term "statute of limitations?" Annie: Oh, has it been that long already? - But there's no statute of limitations on murder. And you have killed a man. Riddick: Have I? I don't remember doing anything like that. Annie: Don't try that. I know where the body is.
Rosie 6
Riddick: Really? Hmmm... you say there's been a murder, and you're the one who knows where the body is. Very interesting. I'm sure the police would love to hear more about that. Annie: What...? Now don't you try anything... Riddick: I won't say a word. Don't you think you should go now before I change my mind?
Rosie 7
Riddick: Bea? Is everything all right? Bea: She wasn't nice. Riddick: No, she isn't nice at all, but she's gone now. Bea: Will she come back? Riddick: I hope not.
Rosie 8
Billy: Two beers and two whiskeys please. Ruby: Oh dear... Billy: Okay, guys. Time to get the IDs out. Ruby: I'm sorry, I didn't mean... Billy: Yes, you did. Don't worry, we're used to it.
Rosie 9
Ruby: You all have the same last name. Are you related? Billy: Brothers. Ruby: Really? You don't look alike. Daniel: We're used to hearing that too. Actually, we're half-brothers. Same mother, different fathers. Ruby: Oh, I didn't mean to be rude or anything. Daniel: What's rude about facts of life? Carl: Another fact is that we are all single and available. So, if you're interested... Billy: Shut up! - Could we get the drinks now? Ruby: Of course.
Rosie 10
Billy: Don't pay too much attention to what they say. Ruby: It's all right. I'm used to hearing all sorts of things. Billy: Really? You can't have been working here for long. If you had been on this side, I would have said you're too young to be in here. Ruby: I've been working here for over a year.
Rosie 11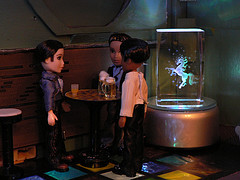 Carl: Did you notice? Daniel: Well, of course we noticed. She's just his type. Andy: I'd say this time he could even have a chance. She's not that tall and she seems nice. Carl: So, she'll tell him very nicely that he's too short. Andy: You think all girls are like that. Carl: They are. They may say it's something else, but it always comes down to the fact that they want the guy to be taller.
Rosie 12
Riddick: It's very nice of you to come on such a short notice. I must get to work and Kitty can't get back home in time. Toffee: You know you only need to ask. In fact, mother and I had an argument about whose turn it is. She insisted that she should come, but as you asked me... Riddick: I didn't realize you were taking turns. Anyway, Rosie has just eaten and Bea is upstairs doing her homework. And I'm sure Kitty will be back soon. Toffee: All right. You just get to work, we'll be fine.
Rosie 13
Toffee: Hi, Bea. Riddick had to go to work, so I'll stay with you until Kitty gets home. - Is there something special you'd like to do? Bea: Tell me a story. Toffee: Again? A fairy tale or a real story? Bea: It doesn't matter as long as it's good. Toffee: Hmm, let me see... Oh yes, I know a good one.
Rosie 14
Toffee: ...and then they got married and she promised never to drive a racing car again. And she never let him forget that she had won the race. Kitty: Mother, what are you doing? Toffee: Telling a story. A very good one. Don't worry, it's all make believe, right? Bea: It was great. I love stories where girls get to do exciting stuff. Kitty: As long as you remember it's just a story.
Rosie 15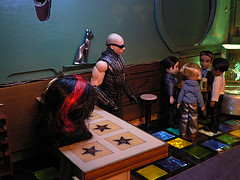 Riddick: Who are those guys? I haven't seen them before. Ruby: They're all right. And old enough. Riddick: I had no doubt about that. If you don't let the height distract you, it is possible to determine their age just by looking. Ruby: It is? I had to check their IDs. Riddick: Of course. It is always best to make sure.
Rosie 16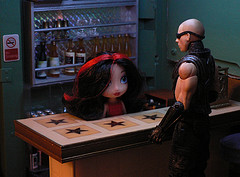 Ruby: How are things at home? Riddick: Fine, although we're still worried about Rosie. Ruby: Still nothing? Riddick: Not a sound, but at least we know now that there's nothing wrong with her hearing. Ruby: What does the doctor say? Riddick: He hasn't got a clue. And the other one just said all we can do is wait and see. Ruby: I'm sorry. She's such a sweet little baby.
Rosie 17
Ruby: I've been thinking... I'd like to have a family one day. Riddick: And you can. There's nothing to stop you. Ruby: But... how do I make sure I won't end up like mom? Riddick: By taking your time and following your instincts. Ruby: Instincts... - Do you think I overreacted with Zeke? I've been thinking about that too. Riddick: That's something you need to figure out yourself. So you're still thinking about him? Ruby: Yes. I don't want to talk about it. Riddick: As you wish.
Rosie 18
A little later: Ruby: I noticed you've got your girlfriend with you again. Orlock: How many times do I have to tell you? She's not my girlfriend. We're just friends. Ruby: Just teasing. - The usual? And gin and tonic for her? Orlock: Of course.
Rosie 19
Ruby: I see you're not the only short person who wants to be her friend. Orlock: What do you mean? - Oh, who are they? Ruby: I haven't seen them before. They say they are brothers, but I'm not so sure about that. Orlock: It doesn't matter, Cherry can take care of herself.
Rosie 20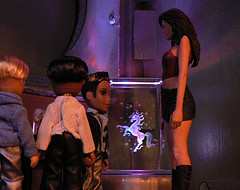 Carl: Hello, I'm Carl. Cherry: So? Carl: I thought maybe I could buy you a drink. Cherry: My friend's already taking care of that. What's going on in here anyway? A boy scout meeting? Carl: We are all adults as you should have realized, because we're in here. Haven't you heard of the little people? Cherry: Little people... well, you are certainly short.