Rosie 21
Carl: So, you're one of the prejudiced ones. I knew it. Cherry: Prejudiced? When did stating a fact become prejudice? Don't you think you're a bit too touchy about the subject? I'm going to join my friend now. You should try to relax a little. And find someone of your own age.
Rosie 22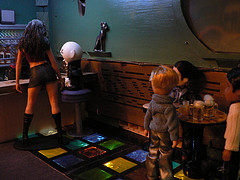 Carl: What did I tell you? Andy: Before you start using that as a proof of your theory, maybe you should take a look at her friend. Carl: What...? Billy: Nice theory, Carl. Fortunately, it doesn't hold.
Rosie 23
Next day: Anika: Where's my favorite girl? Where's little Rosie? Kitty: Grandma, how many times do I have to tell you? Anika: All right, all right, but you're really blowing it out of proportion. - There you are, Rosie. Won't you say something to grandma? Kitty: You know quite well... Anika: I know, I know, but I'm sure she'll start speaking any day now.
Rosie 24
Anika: Kitty, has she just been drinking milk? Kitty: Yes. Maybe you should not lift her up right now. Anika: That's just what I was thinking. - So, any news? Kitty: Didn't mother tell you? The doctor we went to for a second opinion said that because of the "unique circumstances," there were bound to be some problems. Anika: Doctors don't know anything. I'm sure she'll be just fine.
Rosie 25
Mary: Bea, I have told you that you shouldn't pay any attention to that. She's not our grandma. Bea: I know. Mary: She's an old lady and old ladies go all funny with babies. Bea: I know. Mary: Have you noticed that Rosie isn't that keen on her? Bea: Really?
Rosie 26
Mary: The other day, when Rosie puked all over her, she did it on purpose. Bea: Teehee. How do you know? Mary: I could swear she smirked. Don't tell Anika. - Come on, let's go downstairs.
Rosie 27
Ruby: Oh, hi Billy! Where did you leave your brothers? Billy: We're not inseparable, you know. I thought it best to come alone. - Ruby, I know you just met me, but would you go out with me? You know, movies or dinner... anything you like. Ruby: I'm not sure. Are you talking about a date? I don't go on dates. Billy: We don't need to call it a date. We'll just go out and have some fun. Nothing more. Ruby: In that case, sure, I'd love to.
Rosie 28
Billy: May I ask what's wrong with dates? Is it because of what I am? You don't date our kind? We little people are very much like your kind, just shorter. Ruby: Oh, no, it's nothing like that. I just don't want anything even remotely serious right now. Billy: All right, we won't be serious. I promise.
Rosie 29
Schizo: Hi, Ruby. Who was the blondie? Ruby: His name is Billy. Schizo: New boyfriend? Ruby: No, certainly not. Although... he did ask me out and I promised to go as long as it isn't a date. Schizo: That's good. You need to move on. But why not a date? Ruby: I don't want him to get the wrong idea.
Rosie 30
Schizo: A date is just a date, not a promise for anything else. You just go out with a guy, have some fun, let him pay for everything, and go out with another guy the next day. Ruby: I don't think it's fair. Schizo: Sorry, I forgot you're one of the decent ones. Anyway, I hope you'll have fun with Billy boy. He looks very normal. That should be interesting after all us freaks. Ruby: You're not a freak. Schizo: And you're much too kind for your own good, did you know that?
Rosie 31
Anika: Mary, be careful! Mary: It's all right. Rosie loves this and I'm not going to drop her. Anika: Kitty, how can you let her do that? Kitty: Do what? Amuse Rosie? What kind of a question is that? Anika: She's just a child herself. What if something happens? Mary: I'm not a child. There's a girl in my class who already has a baby of her own. Anika: What!? Kitty: Mary, I think grandma is a bit too old to hear about certain facts of life.
Rosie 32
Bea: What was Kitty like as a baby? And aunt Chase? Anika: They were difficult babies, much more difficult than their mother. Kitty: Grandma... Anika: I'm not going to lie about that. Your mother was a much easier baby. You know, happy and content. Very obedient, too. - Kitty, on the other hand, was always going to places she shouldn't have gone. And Chase... well, you could say her being silent was an exception.
Rosie 33
Anika: Kitty, you have no idea how easy you've got it. Rosie is such a happy baby and doesn't keep you up all night. Kitty: I wouldn't mind a bit of that.
Rosie 34
Anika: You would after not sleeping for a week. Bea: I don't understand. Why wouldn't Kitty sleep? Anika: Well, you see, normal babies... Kitty: Maybe we shouldn't go into that. Bea, we can talk about that later. Bea: Isn't Rosie a normal baby? Is that what you're trying to say? Anika: I'm saying no such thing. Rosie is a perfectly normal baby.
Rosie 35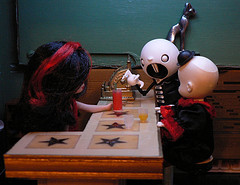 Schizo: Max, where's the lovely lady? I hear you've been going out with her quite often lately. Orlock: Don't you start that too. We're just friends. Schizo: Whatever you say, my friend, but I wouldn't pass an opportunity as good as that one. Although I still haven't been able to figure out what it is she sees in you. Ruby: Don't be rude. Of course she likes Max. Everybody likes Max, because he's nice.
Rosie 36
Schizo: Still, if you think of the difference in height... It does present some problems. Problems of a very practical nature. Ruby: Max, what is he talking about? Orlock: Something that isn't good for his health. Schizo: Relax. I'm just thinking of it hypothetically. - Ruby, can you imagine Max kissing her? Ruby: Oh, I see. Yes, I guess it would be a bit difficult. Orlock: Will you stop that already? I'm not going to kiss her.
Rosie 37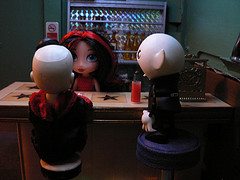 Schizo: Maybe we should talk about something else. - Where's Riddick? And that lovely boss of yours, Abby? Ruby: Abby is in the back room, going through some papers. And Riddick has the evening off. Schizo: Enjoying quality time with the family, I imagine. I'd like to see their baby, but I'm not sure the baby would like to see me. Max, have you seen her? Orlock: Not yet, for the same reason. Ruby has seen her though. Schizo: Ruby, what's she like? Is she a feline?
Rosie 38
Ruby: Yes, although she doesn't have a tail. She's so cute. You wouldn't believe she isn't all feline. She's so perfect... well, maybe not perfect, but still adorable. Schizo: What does "not perfect" mean? Is there something wrong? Ruby: She doesn't speak. There's nothing physically wrong with her, she just doesn't speak. Schizo: Well, I'm sure it's temporary. Maybe she hasn't yet figured out anything worthwhile to say. Orlock: Why do you always have to make jokes about everything? This is serious. Schizo: What's so serious about it? They've got an otherwise healthy baby. That's more than some people get.
Rosie 39
Bea: Why does Rosie get to sit on your lap? Riddick: Because she's a baby and because she likes it. Bea: It's not fair. Riddick: Is that what's been bothering you? That's easy to fix.
Rosie 40
Mary: What's going on? Riddick: Equal treatment in action, so to speak. Mary: I see. Well, in that case... Just joking, I'm a bit too old for that. Riddick: Me too. These two are heavy enough.