Rosie 81
Mary: Bea, would you go upstairs for a moment? I'd like to talk with grandma alone. Bea: Okay. But she didn't answer me. Mary: I think she needs to think about it a little. Wouldn't you agree, Anika?
Rosie 82
Mary: I heard what you were talking about. Anika: Were you eavesdropping? Mary: No, I was coming down and I heard you. I'd like to hear the answer too. I know all about that blood relations stuff, but Bea is related to you, isn't she? Anika: Well, not exactly. She's from my husband's family, so she's related to Toffee, Kitty and Chase, but not to me. Mary: Do you have any idea how stupid that sounds?
Rosie 83
Anika: How dare you talk to me like that! Mary: Why not? You're just an old lady who's talking nonsense. It's not as if you were my grandma or anything. Right? Anika: I... You can't... Mary: Did you know that Rosie is very good at figuring out how people feel? Anika: Of course she is, all feline babies are like that. What's that got to do with this? Mary: It seems to me she's noticed that you're upsetting Bea and she doesn't like it. She loves Bea. Of course she loves me too, but it's different with Bea, maybe because they're both felines.
Rosie 84
Ruby: Adel, can I ask you something really personal? Adel: Of course. You know I won't mind. I may not answer though. Depends on what you want to know. Ruby: Well... I thought you wanted to have children and that's why you're with Sleepy, but... Adel: But I'm not pregnant and you're wondering what's taking so long. Ruby: Um... I wasn't going to put it like that. Adel: I know, but that's what it comes down to, isn't it?
Rosie 85
Adel: The simple answer is that we're trying, but it doesn't always happen just like that. Ruby: Are you saying there's something wrong? Adel: No, it's just that with my kind it always takes some time. You see, with a lifespan like mine, you're better off if you don't get pregnant too easily. - It's my turn to ask a question. Why are you so interested in the matter? Thinking about babies of your own? Ruby: No! Well, maybe... I'm not sure... Adel: Was that the doorbell? Are you expecting a visitor?
Rosie 86
Ruby: Billy? You're a bit early. Billy: Not too early, I hope. I brought you some flowers. Ruby: Thank you. And no, it's not too early. It's just that Adel is still here, but she'll be happy to see you. I hope you don't mind. Billy: Why would I? I'm interested in meeting your friends.
Rosie 87
Adel: So, you're Billy. I'm Adel. Billy: Nice to meet you. I hope I'm not disturbing. Adel: Not at all. In fact, I was just about to leave. Ruby, maybe you can continue our conversation with Billy. I'm sure he would be interested. Ruby: Adel... Billy: What conversation was that? Ruby: Nothing.
Rosie 88
Kitty: Keep your voice down, Rosie fell asleep. - Why are you alone here? Where are the girls? Anika: Upstairs. Kitty: What happened? Anika: You should teach Mary some manners. She was very rude. Kitty: I suppose you said something stupid. Anika: I only explained why I'm not actually related to Bea, and then...
Rosie 89
Kitty: I must say I agree with Mary. Anika: I should have guessed that. You and Riddick are spoiling that girl. Kitty: No, we're not. Do you understand that she's almost an adult? We can't tell her what to think. Besides, I suspect she's a great deal more intelligent than you or I. And she is right about Rosie and Bea. Mother has no problems with being fair. Anika: Is that why you asked her first? Kitty: Yes, and she will remain our first choice for a babysitter until you come to your senses.
Rosie 90
Anika: You are all making too much fuss about this. Kitty: No, we're not. Bea is part of our family and we don't want to see her upset. By the way, I went to see Kevin the other day about my will. Anika: And? Kitty: After I had explained what I wanted, Kevin suggested that everything should be put into a trust for Riddick, if I die first. After his death, everything will be divided equally between the girls. Anika: You can't mean that. Mary isn't even... Kitty: Shhh, you'll wake Rosie. I told you we will treat them equally and that is how it will be right to the end.
Rosie 91
Anika: I give up. - How did the tests go? Kitty: Fine. Everything's just fine. We have a perfectly healthy baby who is developing just as she should, she just doesn't speak. Anika: So much for the specialist. Some specialist. I could hardly believe my ears when you told me who it was. That little brat... Kitty: Stop hissing, if you want to hold Rosie. I know you never liked Catsy, but she was my friend, and still is. Besides, she used her day off for testing Rosie, because otherwise we would have had to wait for weeks. So, I'd really appreciate it, if you kept your opinions to yourself for once.
Rosie 92
Billy: I hope I didn't scare your friend away. Ruby: Scare? Adel? Not likely. Billy: She's one of the pointy-eared ones, isn't she? Ruby: How did you know? Billy: Just something in her appearance, although she does cover it quite well. How did you get to know her? Ruby: In my previous job. She's a performer there. And she knows my uncle.
Rosie 93
Billy: You know most extraordinary people. Ruby: Not really. They may look different, but they aren't that different otherwise. Billy: So, that ex-boyfriend of yours, what is he? Not your kind, although at first glance you might think so. There was something, he reminds me of someone... Ruby: Billy, please don't ask. I can't tell and you don't want to know, trust me. Billy: That bad, huh? - Wait a minute, he's a shapeshifter! No wonder it took me this long to figure it out. It's been long time since I last met one. You're right, I don't want to know more. They give me the creeps, no matter what they change into. Maybe we better talk about something else.
Rosie 94
Ruby: These flowers are really pretty. They must have been expensive. Billy: Andy's a gardener. I suppose it's a bit cheap to bring flowers I didn't pay anything for... Ruby: No, it isn't. In fact, it's much better that way. I don't want you to spend all your money on me. Billy: What else would I spend it on? I have no expensive habits and no debts. Ruby: Then you should save it. It makes me feel guilty when you pay everything when we go out. Billy: Why? You can't have any more money than I do or you wouldn't be working in that bar. Ruby: It's not that simple. You see, I'm not just working there, I will own it one day.
Rosie 95
Mary: Kitty, I think I was a bit rude to your grandma today. Kitty: Don't worry about it. You have the right to say your opinion. And I'm happy you defended Bea, although it shouldn't be your job, especially when it's about my grandma. Mary: What's she got against Bea? I thought she liked Bea, but she changed when Rosie was born. Kitty: When Bea came to us, grandma thought she'd be the only feline child we'd ever have. Mary: And then Rosie was born and she's the real thing, same blood, although not quite feline.
Rosie 96
Mary: All that keeping track of who's a relative and who's genetically acceptable is so ridiculous. Kitty: Yes, it would be, if it wasn't so serious. Let's forget that for now. I'm too tired to think about it. Mary: How did the tests go? Is Rosie all right? Kitty: She's fine. Perfectly healthy and happy baby. That's what Catsy said. Mary: Do you trust her? Kitty: She's the best there is. If I can't trust her, who then? Mary: I'm sure everything will be all right. You know, you really look tired. Maybe you should go to bed too.
Rosie 97
Kitty: What about Bea? Mary: I'll look after her. Although she doesn't really need that much looking after, she just needs company. She doesn't like to be left alone. Kitty: I know. I guess it's because of her mother. - Mary, I'm not sure this is such a good idea... Mary: You need to sleep. I'll come and wake you, if we need you. Kitty: Well, I suppose it's all right.
Rosie 98
Bea: Where's Kitty? Mary: She was tired and went to bed. Come on, let's go to the kitchen and clear the table, so Kitty won't need to do it in the morning. Bea: I want to do something this time. I'm not too small. Mary: All right, but you're not lifting the tea pot.
Rosie 99
Bea: Kitty was arguing with grandma Anika. Mary: Were you listening? What did they say? Bea: It was mostly about me. Mary, what's a will? Mary: Which one of them was talking about a will? Bea: Kitty. She said...
Rosie 100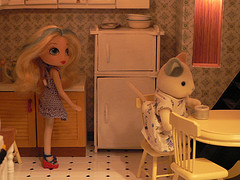 Mary: Maybe I should get the mugs. Bea: No, I can do it. I won't break them. - Mary, why was Kitty talking about dying? What does it mean? Mary: Don't worry about it. Everyone who's got a lot of money needs to make a will. The will explains who's going to get the money after they die. It just a formality. As for what it means, I'd say it means that Kitty loves us all. Bea: I already know that.