Rosie 101
Mary: Bea, don't talk about the will to anybody. We shouldn't even know about it. Bea: I know, I wasn't supposed to listen. I was bad. Mary: You couldn't be bad even if you tried to. Just forget it.
Rosie 102
Billy: What you're saying is that you're going to be a business woman, is that it? Ruby: Yes, I guess that's how it will be. - Billy, is something wrong? Billy: I was just wondering, you know, I'm actually a nobody, and you could do so much better... Ruby: Not again! First Riddick was too scary, then uncle Hagrid, then Zeke was trying to make decisions for me, and now you're thinking you're not good enough. What is it with you men? Why can't you just let me decide what's good and right for me? Billy: I don't understand... Ruby: Just forget all about the business. That's not going to happen in years anyway.
Rosie 103
Billy: Are you angry? Ruby: No, just disappointed. Billy: I'm sorry, but you see, I don't have much money and I'll probably never be anyone important. I don't even want to. I'm happy with my job and there will always be old people who need someone to take care of them, so I don't need to become anything else. Ruby: And I don't want you to become anything you don't want yourself. I like you the way you are.
Rosie 104
Billy: I guess this is where I should shut up. Ruby: I guess so. Billy: I'll just say one more thing. I like you too. Ruby: Well, that's settled then. Shall we go now? What's the plan? Not that raw fish stuff again, I hope. I can understand why felines like it, but... Billy: It's called sushi and I think it's really good, but as you didn't like it, I thought maybe steaks would be a better idea. Ruby: Sounds good.
Rosie 105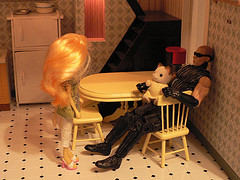 Next day: Riddick: Thanks for coming. Mary and Bea are still at school. Mary promised to bring Bea home, so you don't need to worry about that. Toffee: Are you sure? Isn't Mary's schoolday longer than Bea's? Riddick: Normally, yes, but I called the school and told them she'll be leaving earlier today. Toffee: All right then. How is Kitty? How bad is it? Riddick: Just fever and headache, doesn't look too serious, but try to make her stay in bed.
Rosie 106
Toffee: How are you feeling? Do you want more tea? Or water? You need to drink something. Kitty: Go away. Toffee: I know that tone. Should I call the doctor now or do you want to wait until you feel even worse? You know, the worse it gets, the longer it will take for you to get better and the longer me and mother will take turns staying here with you and the girls while Riddick is at work. Kitty: Call the doctor.
Rosie 107
Later: Bea: Grandma Toffee! Toffee: I'm happy to see you too. Mary: How is Kitty? Feeling any better? Toffee: She will be by tomorrow. The doctor was here and... Bea: Doctor? Why? Toffee: Kitty is sick and needed some medicine. Don't worry, she'll be all right in a couple of days.
Rosie 108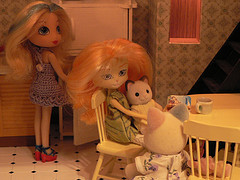 Bea: Can I go and see Kitty? Toffee: Maybe it's better if you don't. She needs to sleep. Bea: Will you stay with us all night? Toffee: I'll stay with you until Riddick comes home, and tomorrow it's grandma Anika's turn. Bea: Will you tell me again about the races? Mary: What races? Bea: It's a good story. You can listen too, if you want. Toffee: I'm sure you'll find it very interesting, Mary. But remember, it's just a story.
Rosie 109
Riddick: Ruby, this is Catsy. She's the specialist helping Rosie and she's also Kitty's friend. Ruby: Nice to meet you. What would you like to have? Catsy: I'll have a Bloody Mary. I have heard that you have a special version. I'd like to try it. Ruby: Are you sure? I must warn you that it is quite strong. Catsy: Oh good. Give me one.
Rosie 110
Catsy: So you know Kitty? Ruby: Yes, we used to work in the same place. Orlock: Hi Ruby. Have you seen Riddick? Ruby: He was here a couple of minutes ago, but I don't know where he went. Orlock: I'll wait. Maybe I'll have a word with Billy's brothers while I'm waiting. Ruby: Max... Orlock: What? I'm not going to tell them anything embarrassing, if that's what you're worried about.
Rosie 111
Catsy: What an odd little man. Who is he? What is he? Ruby: Didn't you see the teeth? His name is Orlock and he lives upstairs. He's a friend of mine and a very nice person. You just need to get used to the way he looks. Catsy: I'm sure you do. He looks scary.
Rosie 112
Ruby: He's scary on the outside, but very nice and kind on the inside. Catsy: And here comes someone who's quite the opposite. Chase: Well, well, look who's here. I thought you'd be too fine to visit places like this nowadays. I guess you can't escape your true nature, no matter how much education you have.
Rosie 113
Mary: It isn't just a story, is it? It's about Anika. Toffee: I knew you'd figure it out. Don't tell Bea. For some reason, Kitty doesn't want her to know. Mary: Probably because Bea would drive Anika crazy with all her questions about it. Toffee: Could be.
Rosie 114
Mary: Are you sure Kitty is going to be better soon? She looked really sick when we put Rosie to bed. Toffee: Don't worry, she'll be fine in a few days. Mary: Do you think it's a good idea for Rosie to sleep in the same room with Kitty? What if she gets sick too? Maybe we should bring Rosie here. Toffee: And then Kitty would wake up in the middle of the night, see Rosie gone and panic. Not a good idea. Besides, the doctor said it's not contagious.
Rosie 115
Mary: Can I ask you something? Toffee: Of course. Mary: You're so nice to Bea, just like a real grandma. I was wondering... Toffee: You're thinking of my mother, aren't you? She's old fashioned in her ideas concerning family. Mary: She said she's not really related to Bea, but that you are. Toffee: So typical of her. I happen to think that Bea is a very nice little girl who deserves a family, and I'm happy to be her grandma. Besides, it's good for Rosie to have a feline sister too.
Rosie 116
Catsy: May I ask what you are doing here? I thought you're rich now. Of course money doesn't equal sophistication, as we can so clearly see. Chase: What do you mean? Catsy: Don't you think it's ironic that with all your family's money, all you have to show is a few murder charges and nude photos in the web, whereas I've got an academic degree and a distinguished career? Chase: You... Chase: Thinking of pouncing? Remember how it always ended up.
Rosie 117
Carl: Is she your girlfriend? How did you do it? Andy: Carl, can't you be civil for a change? Orlock: It's all right, I don't mind. Cherry isn't my girlfriend, we're just friends. Carl: I was right after all. I said girls always want the guy to be taller. Orlock: What? Oh, you think she's the one who's not interested. Carl: Don't try to tell me you turned down someone like her. I don't believe it. Orlock: Believe it or not, that's how it was... Hey, what's going on?
Rosie 118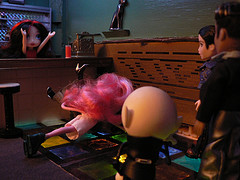 Carl: Cool, a real catfight! Now this is why I like feline bars. Ruby: Riddick! Max!
Rosie 119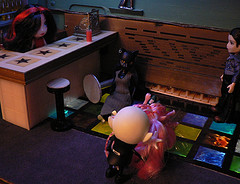 Orlock: STOP IT! Right now! Chase: Get your paws off my hair, you little creep, or I'll take care of you after I've dealt with her! Orlock: Wanna see who's got bigger teeth?
Rosie 120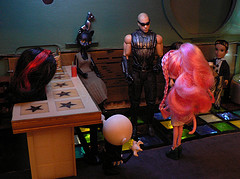 Riddick: What happened? Ruby: It was Chase. She attacked Catsy. Riddick: I should have guessed. Chase, do you have something to say for yourself? Chase: That black tailless b... Riddick: Hold it. I didn't meant something like that. I think you better go now. If you do anything like this again, you won't be allowed in here anymore. Do you understand? Chase: Yes.