Friends 61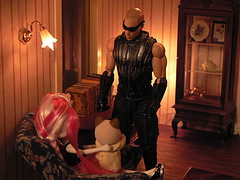 Kitty: What do you think about James? Riddick: He's a bit too old for Mary. Kitty: Darling, may I remind you that Mary's mother was that age when you met her and you weren't any younger than James? Riddick: I knew I shouldn't have told you about it. So, what do you think? Kitty: I think you shouldn't interfere too much, if you want Mary to continue telling you about what's going on in her life.
Friends 62
Kitty: Bea, you look very happy. Any special reason? Bea: I've got the room all to myself until Mary comes home. Riddick: I thought you like sharing room with her. Bea: I do, but I still like having it all to myself sometimes.
Friends 63
Kitty: Why don't you tell me what it is that's really bothering you about James? Riddick: An ex-girlfriend. Much older and married. That's what. Kitty: Oh. But if she's an ex-girlfriend... Riddick: That's what I've been trying to tell myself. Kitty: Most guys have ex-girlfriends, and James seems well-behaved and he has plans for his future, so he's not the worst case scenario. Riddick: No, he isn't.
Friends 64
Riddick: His father is a businessman and mother is making career in writing some sort of self-help books. They are divorced and the father has remarried. The new wife is a lot younger than he is. They are fairly wealthy, socialize with all the right people and are in every way very respectable. James' only dealings with the police have been as a victim of an assault. Kitty: Riddick! Riddick: What? Don't tell me you thought I would let him take Mary out without checking his background.
Friends 65
Kitty: How detailed was this background check? Riddick: As detailed as was possible on such a short notice. I'll continue it, if there is going to be a second date. - Now, Rosie, do you think Bea would like some of these too? Let's go and find out.
Friends 66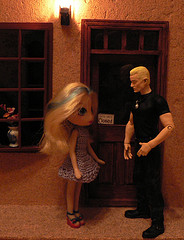 Mary: James, I want to ask you something. James: Then ask. Mary: We've known each other for some time. Why didn't you ask me out earlier? James: I was afraid you'd say no. And partly it was because of your father. Mary: He isn't even half as scary as everybody thinks. James: Of course he isn't, to you. Everyone else is an entirely different matter.
Friends 67
James: Kitty was nice. What's it like having felines in the family? Mary: It's like any other family. Well, of course there's Kitty's grandma who has had some difficulties adjusting, but otherwise it's fine. James: You know, we've got time before the movie starts and I want to show you something. Mary: What? Where? James: Up there. It won't take long. Mary: All right.
Friends 68
Mary: What is this place? Do you have a permission to come here? James: Of course I do. It's my place. Mary: Yours? I thought you live with your father and stepmother. James: I do, but this is where I come to get away from them. Mary: Why would you want to get away from them? James: My father is sometimes a bit... We can talk about that some other time. Let's not ruin a nice evening.
Friends 69
Mary: You've got a lot of books. James: Yes, well, they were my grandpa's. I can't say I've read them all. Mary: You should read at least Dickens. James: I know, but I've got quite enough work with the medical books nowadays. Mary: I suppose those are more important.
Friends 70
Mary: It's like going back in time. Does this work? James: I haven't tried. Mary: So why do you have it? Don't tell me you're interested in interior decoration. James: It was my grandpa's, like everything else in here. He left everything to me. Mary: What's everything? James: The building. It's not worth much, but I like the idea of having something that's mine with no strings attached.
Friends 71
Mary: You know, I may be a bit paranoid about these things, but that tiger painting... Was your grandfather...? James: No, no felines of any size in our family. Grandpa just had a lot of respect for them. Mary: For the big cats? How could he? Didn't he know what they are like? James: He wasn't exactly open-minded himself. The respect didn't come from mutual understanding. It came from getting beaten by a feline in a match more than once. - I think we should go now. I can tell you more about the family history some other time.
Friends 72
Chase: Well, hello. I didn't expect to see you. Mary: Hi Chase. Are you alone here? Chase: No, my companion will be back soon. He said he needed to make a phone call. Aren't you going to introduce me to your friend? Mary: Oh, sorry. This is James. James, this is Chase. She's Kitty's sister. James: How do you do? It seems I'm meeting more of the family tonight than was planned. Chase: So, you met the family. I bet Riddick wasn't too thrilled. Mary: Chase, could I have a word?
Friends 73
Mary: Let me make something quite clear. Dad has met James and has given me permission to go out with him. So there's no need for any remarks of the kind you just made. Chase: Calm down. I didn't mean anything. But you sure know how to pick them. Mary: James is a very nice guy from a good family. Chase: I know he is. Mary, I know I have been a bit... unkind at times, but I wish you luck and I really mean it. You're going to need it. Mary: What do you mean? Chase: If his father gets too troublesome, let me know and I'll take care of it.
Friends 74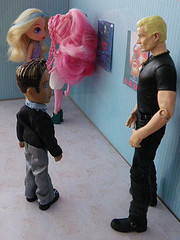 James: Are you with Chase? Carl: Yes. How did you know? And who are you? James: I'm James. Chase said she was waiting for you. I'm here with that girl she's talking to. Carl: Mary? Ruby didn't tell me she had a boyfriend. James: Do you know her? Carl: I've met her briefly. My brother's girlfriend is Mary's best friend.
Friends 75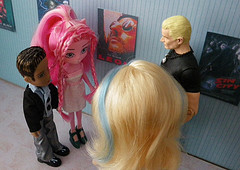 Mary: Aren't you Carl? One of Billy's brothers? I didn't know you and Chase knew each other. Carl: We met at Bastet. You see, there was this little incident... Chase: I think we should forget that. The movie's starting. James: Yes, we better get in.
Friends 76
Next day: Rosemary: So, we meet again. This is Willem, but he prefers to be called Will. Kitty: Hello, Will. I'm Kitty and this is Rosie. Max should be here any minute. Rosemary: Will, say hello to the nice lady. Will: Hi. Kitty: Not very talkative, is he? It's all right, Rosie doesn't talk even that much. Rosemary: I thought you were not planning to have children. Kitty: I'm sure you know that life doesn't always go as planned.
Friends 77
Rosemary: I was so relieved to hear that Faith had found one of Will's kind. Kitty: There aren't many around nowadays. Max was surprised to hear about him. Rosemary: I've been studying a lot of literature lately and every book I have found says that there are no children of his kind. Kitty: So, where did he come from? Rosemary: Nobody knows. Will had been living with an old man and when he died, the police found Will and the social services started looking for a new home for him. I was the only one who agreed to take him in.
Friends 78
Kitty: Why? He seems like a well-behaved little boy, except for being quiet. Rosemary: It's his nocturnal habits that worried most candidates. Kitty: But you're not worried? Rosemary: No. I mostly sleep during the day anyway. I do a late show nowadays. You have no idea what your interview did to my career. The different channels were fighting to get me. Kitty: I'm happy for you. Do you think you'll be able to combine career and being a foster mother? Rosemary: I'll have to. Will needs me, although he is in some ways very independent already.
Friends 79
Riddick: I'm sorry, sir, but we're not open yet. Charles: I'm not here for a drink. I came to see someone called Riddick. Riddick: That's me. Do I know you? Charles: No, but I think you know my son, James. I'm Charles. Riddick: All right then. So, what can I do for you?
Friends 80
Charles: My son never tells me anything. I wouldn't even know about his girlfriend, if one of my business partners hadn't seen them in the movies last night. He told me she's your daughter. Riddick: Mary is my daughter, but you can hardly call her James' girlfriend. That was their first date. Charles: Good. Then there's time to stop it before it goes any further. Riddick: Stop it? Why? Charles: We want James to find a nice, respectable girl from our own circles, not some... Riddick: Think very carefully what you're going to say.