Friends 81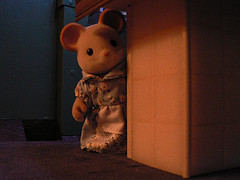 Mrs. Splinter: Oh dear, that tone of voice doesn't sound good.
Friends 82
Charles: I'm sure you understand that it just won't do. Riddick: I do not. Why don't you spell it out for me? Charles: You married a feline. Did you really think that would not affect people's opinions on you? Riddick: I don't care what people think about me. However, Mary is quite a different thing. And to be quite honest, I don't think your son is good enough for her. So I guess we're even. The only difference is that I'm not going to start interfering with something that is none of my business as long as your son treats my daughter respectfully. I suggest you leave now before you say something you're going to regret.
Friends 83
Kitty: This is Max. Max, this is Rosemary and this is Will. Orlock: Well, the kid certainly looks like my kind. Rosemary: I'm sorry to bother you with this, but he really needs the company of his own kind. Orlock: Oh, don't get me wrong, I'm happy to see him. I'm just absolutely amazed. You see, there weren't that many children to begin with, and I don't even remember when I've last seen one.
Friends 84
Orlock: So, Will, what do you think? Are we the same kind? Will: You've got big teeth. Orlock: Yes, I know. So will you one day. Will: Do you mean I'm going to look like you? Orlock: More or less. There are always some differences. You'll probably be better looking than me. Will: I hope so. Rosemary: Will! Orlock: Don't worry. I won't get offended that easily.
Friends 85
Will: If you're really like me, then you're a freak too? Orlock: No, and neither are you. We are both very ancient creatures and if somebody calls you a freak, it's because they're ignorant and have no respect for history. Will: Are you saying it's cool to be like us? Orlock: Yes.
Friends 86
Mrs. Splinter: I didn't mean to eavesdrop. Although, as I was already here, I did peek a little. Riddick: It's all right. At least you can testify that I never laid a finger on him, although the temptation was hard to resist. Mrs. Splinter: He was very rude. Mary is such a sweet girl. He should be happy for his son. Riddick: I think he'd only be happy if he got to choose a girlfriend for James. Mrs. Splinter: I thought your kind don't care about pedigree. Riddick: It's not called pedigree, but I guess that's what it comes down to.
Friends 87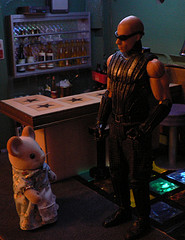 Mrs. Splinter: I hope you're not going to tell Mary she can't see the boy anymore. Riddick: Look, I know you mean well, but this is something I need to sort out myself. Mrs. Splinter: I've got ten children and six grandchildren. I know a lot about the subject. Riddick: Grandchildren? But Mike is so young. Mrs. Splinter: Mike was our little surprise. All his siblings are much older. Riddick: All right. The thing is, I don't even like James that much, but Mary does, and I can't...
Friends 88
Mrs. Splinter: Daughters grow up and eventually find a boyfriend, or in some cases a girlfriend. It's their choice and there's little you can do. Riddick: I know that. I just wonder how much trouble Charles can make. Mrs. Splinter: Maybe you should talk with Mary. Tell her that there might be problems, so they won't come as a surprise.
Friends 89
Mrs. Splinter: Do you think the boy will be able to stand up against his father? Riddick: I have no doubt of that. In fact, that's one of the reasons why I thought he wouldn't be... Abby: Oh, it's just you two. I thought I heard another man's voice. Riddick: I had a visitor, but he left already. Chose to go on his feet rather than head first. Abby: What...? Riddick: Forget it. He's nobody. - I need to go out. I won't be long.
Friends 90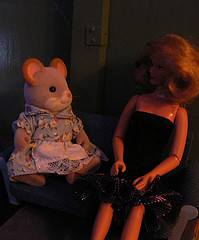 Abby: What was that about? Mrs. Splinter: I'm not sure I should tell you. It was sort of personal. I only heard because I was behind the counter and they didn't see me. Abby: Personal? Is he in trouble? Mrs. Splinter: Oh no, nothing like that. I guess I can tell you a little. His visitor said something about Mary, about her not being good enough for the boy she's been seeing lately. Abby: Well, I'm certainly glad the visitor got out in one piece.
Friends 91
Rosemary: I'm so happy. There are so many things I can't teach Will, because reading about it in the books just isn't the same thing. Kitty: I don't even think everything necessary is in the books. - Max, would you say it's possible to learn everything, or even most, about your kind from books? Orlock: Certainly not. Those books were written by outsiders and they are mostly fiction. Although I must say I envy the imagination of those writers.
Friends 92
Will: Mama said that if we ask you really nicely, you will tell me about others like me. Orlock: Of course I will. There are lot of things you need to learn and as there seems to be nobody else to teach you, I must do it. Rosemary: I don't want you to feel obligated... Orlock: But I am. As you are Will's mother now, I suppose I can tell you some things. And I know Kitty won't talk about this to anybody, so we might as well have the first lesson right away. It will explain my situation.
Friends 93
Orlock: There are very few of us left and to ensure that things don't get any worse, we adopted long time ago the policy of everybody being responsible for everybody else. You could say we form one extended family. Kitty: That's so much more sensible than our traditions. Orlock: Sensible and also a lot of fun. Kitty: Not too much, I hope. You're supposed to be an adult, remember? Orlock: Lesson number two: Acting like an adult isn't kept in a very high regard. It is only required when outsiders are around. And not acting like an adult is much more fun with company.
Friends 94
Late that night: Riddick: Has James told you about his father? Mary: Not really, but I know James doesn't like him very much. Riddick: Are you going to go out with James again? Mary: Yes. Riddick: All right. You can do that, but stay away from his father. He would only make you feel bad. Mary: How do you know? Riddick: I met him.
Friends 95
Mary: So he doesn't like me? Why? He doesn't even know me. Riddick: It's not about you. It's about me and Kitty. Mary: I thought only felines felt that way. Riddick: Anyone can be a bigot, and James' father certainly is one. Mary: James has no problem with felines. Riddick: I know. Then there's another thing...
Friends 96
Riddick: Has James told you anything about his former girlfriends? Mary: You mean the one who was married? James told me about her. He said you know. It is really none of my business as it's been over for a long time. Riddick: So it doesn't bother you? Mary: No. Does it bother you? Riddick: I would have liked to see you date someone... a little less experienced.
Friends 97
Mary: You mean someone my own age. James isn't that much older. Riddick: No, he isn't, but he is still an adult. Mary: We're not going to do anything that would get him into trouble, if that's what you're worried about. Riddick: I'm more worried about you. He can take care of himself, I'm sure. Mary: Like he took care of the situation that landed him into a hospital with broken bones? Riddick: At least he doesn't need to worry about anything like that with you. Mary: Promise?