James 1
Some time after the events of the previous story: Schizo: Good looking, isn't she? Larry: Huh? Schizo: I noticed you were looking at her. She's really something. Larry: Yeah, she sure is. Schizo: If I were you, I would be content just looking. You haven't got a chance. Larry: You're sure? Schizo: I'm sure. Trust me, I know these things. Or if you don't trust me, ask Ruby. She'll tell you.
James 2
Schizo: Ruby! Ruby: Yes? Schizo: My new friend here... sorry, I don't know your name... Larry: I'm Larry. Schizo: I'm Schizo. So, Ruby, Larry would like to ask you a question. Ruby: Sure, go ahead. Larry: I... um... I was wondering if you know that girl over there. Ruby: Cherry? Yes, I know her. What about her?
James 3
Schizo: Larry wouldn't believe me when I said he hasn't got a chance. Will you tell him? Be quite honest. Ruby: Well, you see, she's... how should I put it... Larry: I haven't got a chance. Ruby: I'm sure you're a nice guy, but the thing is, she isn't into nice guys. Larry: How do you know? Ruby: I dated her ex. I know.
James 4
Charles: James? Mary: James isn't here right now, but he'll be back any minute. Come in and close the door. Charles: Who are you? Mary: I'm Mary. Who are you? Charles: I'm Charles. I'm James' father. Mary: Oh, it's so nice to meet you. Charles: I'm not so sure I can say that.
James 5
Charles: Well, I can certainly see how you managed to get my son's attention. Mary: I guess I could take that as a compliment. Charles: It wasn't. If you think you can benefit from our family's money... Mary: Don't be silly. I suppose you don't know the feline community. If you did, you would know that my stepmother is one of the richest women in that community. Why would I care whether James has any money or not? Charles: Don't talk to me about felines.
James 6
Charles: Ouch! What the h...? That brat bit me! Mary: Rosie is not a brat. And if you had talked to me nicely, she wouldn't have done it. Charles: Who is she? What's she doing here? Mary: She's my sister. We're babysitting while Kitty and Bea are shopping.
James 7
Charles: Sister? You call that cat your sister? Mary: Well, she is actually my half-sister, but who's counting. Rosie: Bad! Mary: Rosie! Your first word! Kitty will be so happy. Charles: I can't stand it when people get mushy with babies. Mary: I'll keep that in mind with your grandchildren. - Relax, I was just kidding. Charles: Young lady, you have a very poor sense of humor.
James 8
Larry: You look familiar. I'm sure I would remember if we had met. Have you been in television or something like that? Schizo: Not in television. Nobody's been willing to take the risk of inviting me, although I'd love to be in a talk show. Maybe you've seen one of my performances. I have performed in a lot of places. Larry: You're that bat guy! You did the dove trick with bats. It was awesome! Schizo: Thank you. Finally someone who understands real art.
James 9
Schizo: What do you do? Office job, I suppose, judging from all those pens. Larry: I work in a grocery store. I keep track of the stock and take care of the orders. Schizo: Must be really exciting. Larry: It's deadly dull. Schizo: And so you wanted to get some excitement and decided to visit a feline bar. I suppose you know that felines aren't that keen on your kind. Larry: I know, but as you said, I can always watch.
James 10
Ruby: Schizo, are you coming tomorrow? Schizo: Of course. I want to see your house. Max says it's haunted. Ruby: It's not, Max is exaggerating. Mary and James are coming too. Schizo: James? It'll be interesting to see him. What's he like? Disgustingly normal, I guess. Ruby: There's nothing disgusting about him, but yes, he's very normal. And very good looking. Schizo: Oh my, should you be noting something like that about Mary's boyfriend? Ruby: What do you mean? It's a fact, that's all.
James 11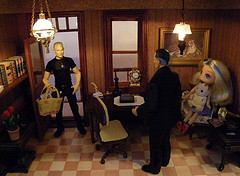 Charles: I suppose I'll have to get a tetanus shot. Who knows where that kid... James: Father. What are you doing here? Charles: I came to talk to you, but I guess that will have to wait. That little monster bit me. I need to see a doctor. James: Rosie is the nicest little girl I have ever seen. What did you do to make her bite you? Charles: So, that's how it is? It's my fault again. Sometimes I don't understand why I bother... James: Neither do I.
James 12
James: What did he say? How bad was it? Mary: Just a lot of nonsense. Did you know that I'm after your money? James: You mean the hypothetical money I might inherit in 30 years or so, if he manages not to go bankrupt before that? I'd call that a long-term plan. - Is Rosie all right? Mary: She's fine. She said her first word. James: Really? What was it? Mary: After she had bitten your father, she said "bad." James: Very apt character judgement. Or maybe she was commenting the taste.
James 13
Mary: So, what did you get us? James: Cookies and chocolate. Mary: Look at that, Rosie. Chocolate. That's not bad, is it? Do you want some?
James 14
Dakota: Hello. Am I interrupting something? James, I decided to pop in for a visit as we didn't have a chance for a proper chat last time. James: Did you follow me again? Get out! Mary: Hi, I'm Mary. Who are you? Dakota: I'm Dakota. Are you a new girlfriend? I'm the previous one, or at least I assume so. James, how many girlfriends have you had since the accident? James: Accident? You know who's going to have an accident?
James 15
Larry: That guy, Schizo, have you known him for long? Ruby: Yes. If he was rude, don't pay any attention to it. He's like that. He doesn't mean anything. Larry: It's all right. He wasn't rude. I guess I should have learned by now that girls like that aren't for guys like me. Ruby: Maybe you should try to find someone more like yourself. You know, a nice girl. Larry: Well, you look like one. What are you doing after work? Ruby: Meeting my boyfriend. Sorry.
James 16
Ruby: Hi, uncle Hagrid. Hagrid: Are you alone here? Where's Abby? And Riddick? Ruby: Abby's in the office sorting out the orders and Riddick should be back soon. Hagrid: They shouldn't leave you alone in here. Ruby: I can take care of things on my own and at this time of the day everybody's behaving well. Hagrid: All right, if you say so, but I still think it's not a good idea. Ruby: There's Riddick. You can stop worrying now.
James 17
Hagrid: I heard you're having trouble with Charles. Riddick: Word travels fast. Hagrid: Not exactly. He told me himself. He was asking questions about you and I wanted to know why. He's otherwise quite reasonable, but there is this thing about felines. How serious is it between Mary and James? Riddick: I'm not sure. All I know is that they intend to keep seeing each other. Hagrid: How do you feel about it? Riddick: I knew there would eventually be somebody, and James seems all right.
James 18
Hagrid: He's a good kid. He has made some mistakes, but he's the sort who learns from them. Riddick: So, you're saying Charles has a problem with felines. I suppose that means there's no way of making him see reason? Hagrid: I suppose so. Riddick: Do you have any idea why he hates felines? Hagrid: There were some rumors, a long time ago. People said he was madly in love with a feline, but it ended badly.
James 19
Mary: James, calm down. She's not worth it. - To tell you the truth, I was expecting someone a bit more... substantial. Dakota: You're not very experienced at insulting people, are you? Don't worry, you'll learn when you grow up. Mary: Maybe you should consult a dictionary. There's one on the shelf behind you. Dakota: What? Mary: Nothing.
James 20
Dakota: James, are you sure this isn't your little sister? James: You know I haven't got any sisters. Mary: You're not that good at insults yourself, but I understand. It must be hard to see that what James really wants is someone his own age. Dakota: You're not his age. You look like a teenager. And who's the kitten? James, don't tell me you're getting a whole family at once. Mary: Rosie is my sister and she already bit one visitor who was behaving badly.