James 21
After Dakota has gone: Mary: I thought you said it has been over for a long time. James: It has. I don't want to have anything to do with her. Mary: Even though she knows a lot of stuff I don't know anything about? I mean, you did sleep with her. James: Uh... well, yes... but it didn't mean anything. Mary, I want to be with you. You didn't let my father scare you, so why do you care about her? Mary: It's not the same thing.
James 22
Hagrid: You shouldn't leave her alone in charge of the bar. Abby: Why not? She's perfectly capable of doing it and she doesn't need a babysitter. I'm here and she can get me any time, if there's a problem. Hagrid: But still... Abby: You can't teach her the business and protect her from everything at the same time. I thought you understood that.
James 23
Abby: I'm teaching her my way. It was part of the deal, remember? The results count and I'd say the results are very good so far. She learns quickly and the customers like her. Hagrid: I guess I should just leave you to it. As always. - Abby, I've been meaning to ask this for a long time. Why do you stay? You could easily start your own place and I'm sure it would be a success.
James 24
Abby: I have thought of it, but this arrangement suits me fine. Besides, I couldn't leave now, not before teaching Ruby everything she needs to know. Hagrid: So you like her? Abby: Who wouldn't? When I look at her, I sometimes think that maybe I should have had children after all. I'd like to have a daughter like her... Did I say something wrong? Hagrid: No. I was just thinking about her mother.
James 25
Mary: Who's going to be next? James: What do you mean? Mary: Well, your father was here and then Dakota. Who's going to come bothering us next? James: Nobody, I hope. Mary: James, I said something to your father. It looked like he was going to explode. He said I have a poor sense of humor, and I suppose it was a bad idea, but he was so mean...
James 26
James: Hahaha! I wish I had been here to see it. Mary: You're not angry? James: No. I'm happy you know how to deal with him. Do you have any idea how many girls he has managed to scare away? I guess that's one reason why I was with Dakota. Mary: I'd say the only way your father could get to her was buying her off. James: Didn't work. I guess he wasn't ready to pay enough.
James 27
Mary: Is your father going to kick you out because of me? James: He won't do that. It would look too bad. What does your father think about the situation? Mary: He said I should stay away from your father. He's going to get mad when he hears about this. James: Maybe you shouldn't tell. Mary: Then I couldn't tell about Rosie and I must. Catsy says we need to pay attention to the situations in which she tries to talk, so I can't lie. And then there's the biting, she has never done anything like that before. James: I understand. Then you must tell, and what happens after that is up to those two.
James 28
Later that night: Riddick: Kitty, what was so important you couldn't tell me on the phone? Mary: I'm sorry, it's my fault. Will Ruby be all right? Is Abby there? Riddick: Marv came for a beer and I asked him to stay until I get back. He had no objections as I said the beer is on me. Sometimes I think we should hire him. He wouldn't even need to do anything, just stand there. Kitty: I think he would be a bit too intimidating. Mary, would you tell us now what this is about?
James 29
Mary: I wanted to wait until Bea went to bed. She doesn't need to know any of it. - Dad, I know you said I should stay away from James' father, but I couldn't. Riddick: What happened? Mary: Don't get mad. It wasn't that bad and I wouldn't even tell you about it, if it wasn't for Rosie. Kitty: Rosie? Did something happen when I left her with you and James? Mary: She was perfectly safe all the time. It was James' father who got a nasty surprise. You see, he came to see James and then...
James 30
Riddick: So she can speak. That's a relief. Kitty: It's wonderful! Catsy said this would probably happen, but I didn't dare to even hope... Riddick: Now, about this biting business. How bad was it? Mary: Not too bad, I think. He was more offended than physically hurt. Kitty: That's all right then. If he makes a big deal out of it, we can always say he was harrassing you. That should shut him up.
James 31
Riddick: I think I'm going to have a little talk with Charles. Mary: Dad, don't. Let me and James sort this out. I'll let you know, if it gets really bad, but right now, we can handle it. Besides, Chase promised to help, if James' father gets too troublesome. Kitty: Chase? Does she know him? Am I missing something here? Who is this guy anyway? Riddick: Hagrid said there are rumors that he was once madly in love with a feline and that's why he hates them now. Kitty: Then it's certainly possible that it was Chase. I just don't remember anyone like that and I think I know about most of her ex-boyfriends. I'll have to ask her about it.
James 32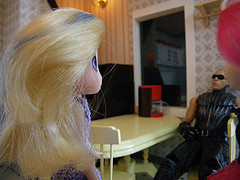 Mary: Dad, will you promise you won't do anything? Riddick: I guess I should let you try, but you must promise to tell me everything that's going on. Mary: I will. Riddick: All right. I should get back to work before the bill gets too high. You know, those beer mugs are like teacups to Marv.
James 33
After Mary has gone upstairs: Kitty: I'm not sure whether I should be asking this, but why are you so relaxed about James? I remember what you were like with Ruby. Riddick: Ruby needed protection, she was so messed up. Mary is different. She's a lot like her mother and I don't want to start a fight with her. I know she doesn't want it either, but she could do it. Kitty: I didn't realize you're that worried of losing her. It's all because of her mother, isn't it? Riddick: Kitty, don't tell me you're going to get jealous now. Kitty: Of course not. It's all in the past.
James 34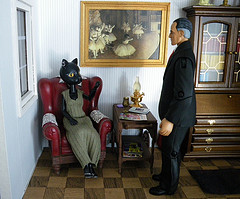 Meanwhile, elsewhere: Catsy: I wasn't expecting you. I'd ask you to sit, but as you can see... Charles: It's all right. Catsy: So, what brings you here? Charles: I heard you're back. I had to see you. Catsy: Why? I wasn't good enough then and I'm still a feline.
James 35
Charles: I still love you. Catsy: You put everything and everyone else ahead of me and married that blonde your parents wanted you to marry. I hope you've been happy with her. Charles: We're divorced. Catsy: I guess you cheated her. That would be so like you. I suppose there's a second wife. Blonde? Charles: Yes.
James 36
Charles: Clara... Catsy: Don't call me that. I'm Catsy now. Clara is forgotten and buried like everything else in the past, including you. Charles: You don't mean that. I understand I made a mistake. I've been regretting it ever since. Can't we just...? Catsy: Forget everything and have a little affair behind your second wife's back? Certainly not.
James 37
Charles: I was thinking more in the lines of getting a divorce. Catsy: I bet that would cost you quite a lot. Charles: Not really. She only gets a reasonable alimony. I'm a businessman. I know a thing or two about agreements. Catsy: Tell me, do you still hate felines? Charles: What's that got to do with any of this? Catsy: I'm a feline. Charles: I love you. I've always loved you, nobody else. I don't care what kind you are.
James 38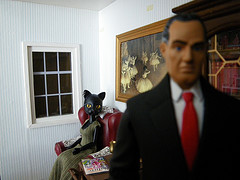 Catsy: I've got a suggestion for you. Get a divorce and then come back as a free man. Then we can continue this discussion. Otherwise, stay out of my sight. Charles: What if you still say no? Catsy: That's the risk you've got to take. I'd never want anyone who needs to secure the next relationship before having the courage to end the current one. Charles: You're still as cruel as ever. Catsy: And that's why you love me. Go now and do what you have to do. Whatever that may be.
James 39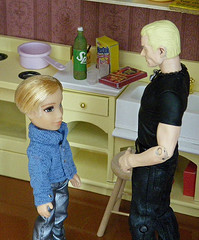 Next day: James: You're a bit short. Are you one of the... small people? Is that the correct term? Billy: Little people. I'm glad you didn't say midget. I take it you've heard about us, but haven't met any of us before. James: I have met your brother Carl. Billy: Oh. Let me just say that he isn't exactly a represetantive sample of our kind. Still, we're not even nearly as odd as some of Ruby's other friends.
James 40
Schizo: Hello, Billy. Who's this? I don't think I've seen him before. Billy: This is James. He's Mary's friend. James, this is Schizo. Don't ask him what kind he is, unless you want a very long and boring lecture. Schizo: It's not boring, you just don't appreciate the art of genealogy. Anyway, it's nice to meet you, young man. You look very normal, just like Billy boy here. That's always the problem. The really nice girls want normal boyfriends, so that leaves me with all the naughty girls. Wait a minute, what am I complaining here? James: Billy, is this what you meant with what you said earlier?