James 41
Ruby: What are you doing here in the kitchen? You should come upstairs. Hasn't Max come yet? Schizo: I think he'll be a bit late. He's got a date. Ruby: Really? Who is she? He could bring her here. Schizo: Not that kind of a date. He's out with Will. You know, Max wasn't acting like a grownup before and he's even worse now. Ruby: So what? He's happy. Besides, when was the last time you acted like a grownup?
James 42
Anika: I told you she would speak eventually. Who is that man? He sounds very unpleasant. Kitty: You don't know him either? I thought you would know anyone who's got that much resentment against us. Anika: If he hasn't said or done anything publicly, it's hard to know. I guess he's clever enough to keep his mouth shut for business reasons. He may not do business with felines, but I bet a lot of his customers do.
James 43
Kitty: I thought he could be one of Chase's ex-boyfriends. That would explain the resentment. Anika: Why don't we leave Chase out of this? She's got nothing to do with it. Kitty: Doesn't she? Then why did she offer to help Mary with Charles? I'd say she knows something we don't. - All right, I won't say another word. Anika: I'm so glad that Rosie is turning out to be a real feline baby. It would be interesting to see how much damage she managed to do. Kitty: She should have bitten someone else. Charles isn't going to be any more pleasant after that. - Rosie, stay out of the fridge!
James 44
Anika: I guess Mary really likes the boy? Kitty: She does and I can see why. He's good looking and very nice. Bea and Rosie like him too and, even more importantly, he likes them. Anika: I bet Riddick isn't thrilled. Kitty: He accepts the situation. Anika: You mean he can't stand the boy... Rosie! Be careful! Kitty, how can you let her do that? Kitty: Do what? Climb onto the chair? She's a feline baby, you said so yourself.
James 45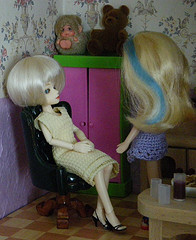 Adel: So, where is James? I'm interested in seeing him. Mary: He's talking with Billy in the kitchen. Adel, please be careful with what you say to him. I don't think he's met anyone like you before. Adel: Don't worry, I'll be nice, and I won't let him know that I'm not your kind. Are you worried he might get scared? Mary: I don't think he would, but it could be a bit too much at once.
James 46
Adel: I've been looking forward to meeting you, James. James: It's nice to meet you too. I really want to get to know Mary's friends. Adel: I think Ruby is the most important one. I'm a bit too old for all that girl talk. James: You can't be that old, although in our age, a few years does make a difference. Adel: A few years? You don't need to try to flatter me, although I've got nothing against it as long as it isn't too obvious.
James 47
Ruby: Max, we've been waiting for you. Orlock: I'm sorry, but I can't stay. I promised Rosemary to look after Will for a couple more hours. Ruby: You can both stay. We're not doing anything that would be unsuitable for him. Besides, everybody's curious about him. Orlock: Well, I guess it's all right. Will, this is Ruby. She's a very good friend of mine. Will: Ruby. That's a pretty name. Ruby: Thank you.
James 48
Ruby: So, did you have fun? Orlock: Oh yes. I'm not sure what the opposition would say, though. Ruby: Opposition? Will: Bunny rabbits. Ruby: Max, what did you do? Orlock: Don't worry, it was perfectly legal. The city park has a rabbit infestation and the authorities are trying to do something about it, so they organized this event that sort of combined a father and son day and pest control. It's been a long time since I've had that much fun.
James 49
Pamela: Are you Riddick? I'm Pamela. Could I have a word with you? Riddick: Depends on the subject. Pamela: Charles and James. Riddick: What have you got to do with it? Pamela: Charles is my husband. Riddick: So, you're the second wife.
James 50
Pamela: I heard about it all. James and your daughter, Charles coming to talk to you... Riddick: And? Pamela: Charles isn't going to just watch his son make a big mistake. Riddick: You think it's a mistake? Pamela: Of course it is. James is going to be wealthy and I know all about golddiggers. Riddick: I'm sure you do. Pamela: Excuse me?
James 51
Riddick: James is an adult. He can decide for himself. Pamela: But your daughter isn't and all you need to do is tell her she can't see James anymore. What do you care about him? Riddick: I care about Mary's happiness and James seems to be making her happy. Pamela: Her happiness is irrelevant! We're talking about James' future here. Riddick: And why do you care? He's not your son.
James 52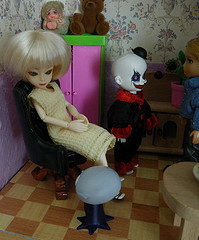 Adel: You must be Max's little friend. I'm Adel. Will: I'm Will. I'm delighted to make your acquaintance. Adel: Oh my, you're a polite one. Will: You're an elf lady. Grandpa Joe said you must always be polite to elf ladies, so they won't get nasty. Adel: Wise man, this grandpa Joe. Did he tell you how he knew that? Will: He told me he once knew an elf lady called Val. Adel: That explains a lot.
James 53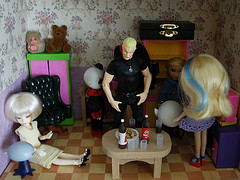 Adel: So, who is grandpa Joe? Will: I lived with him before. Then he got old and died. He said it was natural, because he was human. Adel: That's right. Do you miss him? Will: A little. He said he would go to heaven and then he could see me from there. Our neighbor said he wouldn't go to heaven, because he had taken me in, but grandpa Joe said she was lying. He said it was because she was lonely and that had made her mean. Adel: That's possible. Lying or not, I'm sure she was wrong.
James 54
Will: She said I'm possessed. I don't even know what that means. And what's a demon? Adel: Didn't you ask grandpa Joe? Will: No. I know it's something bad and I didn't want to make him sad. Adel: You really are very sweet and definitely not possessed. A demon is an imaginary creature that's supposed to get inside you and make you do bad things. Note that I said imaginary. Will: So they don't really exist? Adel: That's right. People just make them up, because they cannot face the truth that some people's basic nature is bad. But you are not one of those people.
James 55
Will: You're a nice lady. Why did grandpa Joe say elf ladies get nasty? Adel: Because sometimes we do, but usually only when someone else is nasty to us first. You don't need to worry about any of that. Orlock: There you are, Will. Adel, has he behaved well? Adel: He's a perfect little gentleman. Although you do need to teach him about what can be discussed and where. I don't think there's any damage done, because we're all friends here, but... Orlock: I know what you mean. We haven't got into that yet. There's so much to talk about.
James 56
Abby: Hi, Kitty. You haven't been here for a long time. Kitty: I don't want to leave Rosie, she's still so small, but grandma insisted that I should go out by myself for once. I suspect she just wanted time with Rosie without me being around. Abby: She's right, you know. You need to get out more. What would you like to drink? It's on the house. Kitty: Thanks. If you're not too busy, could you make me one of those fancy ones with different colors? I've always wanted to see how it's done. Abby: Sure.
James 57
Peter: Hello. I hope I'm not disturbing. Kitty: Not at all. Peter: Abby, a beer for me and for the lady, another one of what she's drinking. Kitty: No, thanks. One is quite enough for me. I can't stay that long anyway. Peter: What a pity. By the way, I'm Peter. Kitty: I'm Kitty. I think I have heard about you. My husband mentioned you once. Peter: Really?
James 58
Riddick: Kitty? What are you doing here? Who's with Rosie? Kitty: Relax, everything is fine. Grandma just drove me out of the house. She thinks I need to get out more. Oh, this is Peter. I gather you have already met each other. Riddick: That's right. Peter: Are you...? Kitty: Riddick's my husband. I understand you had some sort of a disagreement, but everything is all right now.
James 59
James: Excuse me... Adel: Yes? James: I heard what the kid said. Is it true? Are you really an elf? Adel: Yes. Mary asked me not to talk about it to you, because she thought all this could be a bit too much for you at once. James: I always thought I would recognize an elf, if I ever met one, but I guess I was wrong. Maybe it's because you're a lot prettier than the elves in the pictures I have seen. Adel: This must be my lucky day. Two polite gentlemen in a row. What are the odds of that?
James 60
James: I also heard what he said about getting old and dying. It was a bit strange. Like it didn't concern him, but surely his kind can't be immortal. I mean, I know they live long, but... Adel: Young man, you are entering a very dangerous territory. That little boy doesn't yet understand that he should be very careful when talking about things like that, but he'll learn in time. Max will take care of that. You are in a very similar position as you do not understand either, but I will fix that right now. Do not pursue the issue any further. It is something you do not need to know about. Do you understand? James: Yes. I didn't mean to offend. I heard what he said about being polite to elf ladies.