One Night in Bastet 21
Ruby: Riddick, you should have explained that dominatrix thing to me. Now I had to ask Abby. Riddick: Did she explain it? Ruby: Yes. It's so strange. I can understand that Lilith does it for money, but the customers... Why would someone like getting hurt? Abby said she didn't know. Riddick: That's just how some people are. Just forget it. It has nothing to do with you.
One Night in Bastet 22
Orlock: The usual. You look tired. Bad night? Ruby: Not really. I'm worried about Schizo. He got really angry. Orlock: Angry? Who mentioned his wife? Ruby: Have you known all this time? Why haven't you told me? Orlock: What do you think? It's the only thing that really gets to him, so I never talk about it. It wouldn't be fair to use it against him. After all, he is my friend, no matter how infuriating he might sometimes be.
One Night in Bastet 23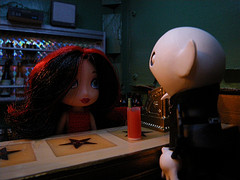 Ruby: How long ago did she die? Orlock: Six, seven years, I think. I'm not very good at keeping track of time in units smaller than a decade. I guess next you'll want to know how she died, what she was like, did they have any children, and so on. - It's all right. I'd be curious too. I'm just not sure whether I should tell you. So, who spilled the beans? Ruby: His friend Lilith mentioned that she had been his wife's friend and then Chester asked Schizo about it and Schizo got really upset.
One Night in Bastet 24
Orlock: Lilith. Great body, kind heart, good with whips, but a bit lacking in the brain department. Ruby: That's not a nice thing to say. Orlock: It's the truth. Celia was the clever one. I guess that's why Schizo fell for her. They had only been married for two years when she died. Hit and run. The police never found out who did it. Ruby: That's awful. It's bad enough to do something like that, but to run away... Orlock: Don't worry, he didn't run far. I said the police didn't find him. And that's all I'm going to say about it. Don't talk about it to anyone, especially not Schizo. He wants to forget, but it's not that easy.
One Night in Bastet 25
Ruby: What about you? Any skeletons in the closet? You already know about me. Orlock: A couple of things I could still get charged for, so I'm not going to talk about those. Ruby: No ex-wives or fiancees? I find that hard to believe. Orlock: Just a few ex-girlfriends, but none of that lasted very long. Somehow I always manage to screw things up. It's all right, I'm used to it.
One Night in Bastet 26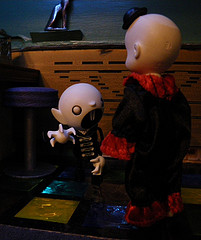 Schizo: Max, would you leave me alone with Ruby? I need to talk with her. Orlock: Sure. I need to go anyway. Try to behave. Schizo: I will.
One Night in Bastet 27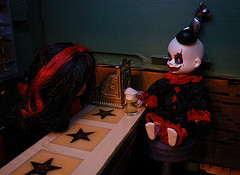 Ruby: Feeling any better? I hope you're not mad at Lilith. She didn't think... Schizo: I know what she's like. She assumed you knew, because you're my friends. My fault. I should have told her not to mention it. Ruby: You don't need to talk about it. You can, if you want to, but you don't need to. Schizo: I just wanted to say I'm sorry. I didn't mean to shout. I don't care about the others, they can take it, but I want you to know that I'm not mad at you.
One Night in Bastet 28
Ruby: My shift will end soon. If you want to talk, we can grab a couple of beers for you and you can walk me home. Schizo: It's late. Are you sure it's all right? What will your neighbors think? And Billy? Ruby: It's quite all right. It's nobody's business who comes for a visit and at what time.
One Night in Bastet 29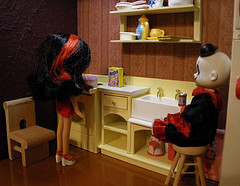 Schizo: I haven't talked about it to anybody in years. Lilith knows some of it, and Max, but that's about it. Ruby: Max told me a little, about how she died. Schizo: Max doesn't know everything. He knows what happened, but not why. - Celia was clever. Some of her money making schemes weren't quite legal, but it didn't matter, because she never got caught. And she only conned people who deserved it. I know it sounds bad, but she wasn't a bad person. She just didn't know any other way.
One Night in Bastet 30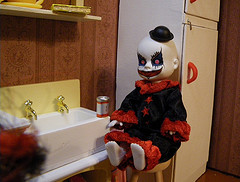 Schizo: She was going to stop it. She had got enough money to set up a legal business and then... everything went wrong. Ruby: Was it a coincidence or did she con someone she shouldn't have? Schizo: You're clever too. It took me some time to figure that out. But that part of the story is best left untold. You know, statute of limitations and all that. Ruby: There's been a lot of that going on tonight. Schizo: Are you talking about Max? He just lost control. You see, he loved Celia too. He gave up the habits of his kind for good after that.
One Night in Bastet 31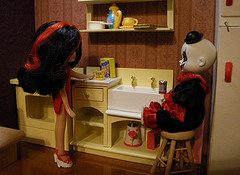 Ruby: If you don't mind me saying so, I like you more when you're like this. Schizo: Don't expect it to last. Tomorrow I'll be my normal obnoxious self again. Ruby: Why? Schizo: Offense is the best defense. I know you don't understand that, but it's because you're a cute girl who gets treated nicely by default. Ruby: It wasn't always like that. Schizo: But it is now. Forget the past. That's what I'm doing the best I can. - I think I should be going now. You need to get some sleep. Good night, and don't worry about me. I'll be fine.
One Night in Bastet 32
Zeke: What were you doing there at this hour? Schizo: None of your business. What are you doing sneaking around her house? Zeke: I just want to make sure she's safe. What were you doing there? I thought she's with that little blonde guy, Billy. Schizo: You can't seriously think Ruby would have me. She didn't even want you and you look normal at least part of the time. - Go away. I know how you feel, but you're just making things worse for yourself. You should do like the rest of us, forget the past, and that means forget Ruby.
One Night in Bastet 33
A little later: Schizo: I know it's late, but we need to talk. Orlock: About what? Don't start raving about how I shouldn't have told Ruby anything. Schizo: I'm too tired for that. Why did you tell her about Celia? Orlock: I didn't tell that much. I just didn't want her to ask you about it. Schizo: How very considerate of you. What do you think she would say about your part in that business? You know, I have never seen such a mess. Not that he didn't deserve it... Orlock: Could we forget that? I haven't done anything like that ever since.
One Night in Bastet 34
Orlock: You love Ruby, don't you? Schizo: Everybody loves Ruby. Well, maybe not that crazy cat, but everybody else. Orlock: I didn't mean that way and you know it. Schizo: I once told you girls like Ruby aren't for guys like us, and that's how it is. We're lucky to be her friends.