It's Not That Simple 1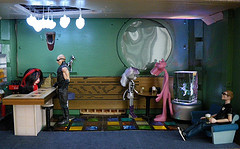 Some months after the events of the previous story: Riddick: What have you been up to with Schizo? Ruby: What do you mean? Riddick: You know what I mean. Don't think I haven't noticed him coming here after his show and leaving with you when your shift ends. I know you're an adult and it's none of my business, but have you thought about how Billy would feel, if he knew? By the way, where is he? I haven't seen him in a while. Ruby: I'm not with Billy anymore.
It's Not That Simple 2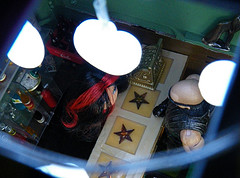 Riddick: What went wrong? Ruby: It's not like that. I liked him and he was nice and kind, but there was just something missing. Riddick: I see. So, what's the deal with Schizo? Ruby: Like you said, it's none of your business. He's just walking me home and we talk about things. He isn't always the way you see him.
It's Not That Simple 3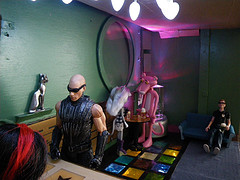 Riddick: Of course he isn't. We all have more than one side. So, what do you two talk about? Ruby: Life and stuff, I can't really talk about that with you. It's private. Riddick: I thought so. What does Max think about all this? Ruby: I don't understand. What's he got to do with it? Riddick: You didn't want him and now you're suddenly close with Schizo. Ruby: Oh, I hadn't thought of it that way, but Schizo and I... we're just friends. Riddick: It didn't look like that to me last night.
It's Not That Simple 4
Ruby: It's none of your business. I guess you're going to say he's too old. Riddick: I don't need to, you said it yourself. Why didn't you just try to work things out with Billy? He's young, he treated you well and he loved you. What else could you want? Ruby: I don't think I loved Billy. He was just... what I'm supposed to want, but it's not that simple. Riddick: No, I guess it isn't.
It's Not That Simple 5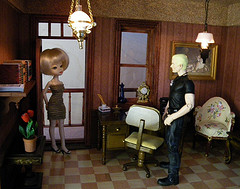 Adel: Hi, James. Are you alone here? I thought Mary was going to be here too. James: She had to go home already. I hope you can still stay. Adel: Certainly. Nice place you have here. I'm sure it makes life a lot easier when you don't need to take your girlfriends to your father's house. I hear he's a bit difficult. James: Let's not talk about my father. Would you like to have a drink? Adel: Sure.
It's Not That Simple 6
Adel: So, was Mary even supposed to be here? James: What do you mean? Adel: Don't be silly. I'm not stupid and I hate beating around the bushes.
It's Not That Simple 7
Adel: You wanted to see me alone, didn't you? James: Yes. Adel: Well, I'm here. What do you want from me?
It's Not That Simple 8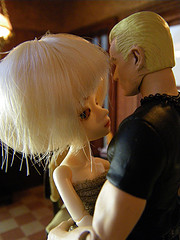 James: I want you. I've never wanted anyone as much as I want you. Adel: I knew you would. I could see it in your eyes the first time we met. That's the one thing I always see. James: You're so beautiful and so sexy... Adel: Sounds good so far. Go on.
It's Not That Simple 9
James: You're so perfect... Adel: That's definitely my favorite. Now shut up and kiss me.
It's Not That Simple 10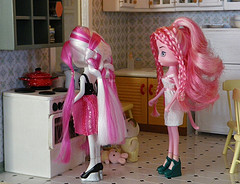 Kitty: You told Mary you could help her, if Charles got too troublesome. What was that about? Chase: Are you saying you don't know who he is? Kitty: Should I? Chase: I guess you weren't that good friends with the black b... with Catsy after all. Kitty: What are you talking about? Chase: This is almost too good to be true. She actually didn't tell you about it.
It's Not That Simple 11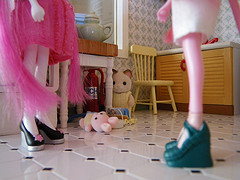 Kitty: Stop gloating and tell me what you know. Chase: She was going to marry him. Of course that was before his parents found out. After that it was exit the black b... cat, enter a cute little blonde selected by his parents. Kitty: You're lying! Chase: No, I'm not! Ask her! I'm sure you can tell, if she's lying about it or not. Rosie: Bad! Chase: What...? Who's bad, Rosie? Not me, I hope. Kitty: I don't think she likes the way this conversation is going. - Rosie, it's all right, we're not fighting.
It's Not That Simple 12
Kitty: So, how exactly are you planning to help Mary with the information? Chase: By threatening to make it public, of course. It was hushed up then and there aren't that many who remember anymore, but it would create quite a stir even now. Kitty: One thing I don't get is why does he hate felines? She didn't dump him. Chase: She wasn't the reason, she was just a very unsuitable love interest for a member of a family with a long history of hatred towards felines. They are raised to it and I'm not sure anyone even remembers how it started.
It's Not That Simple 13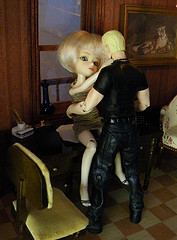 Adel: Wait! James: What? Adel: You've got a great body and I'm sure it would be fun, but I've changed my mind. James: What? Adel: Does it affect your brain when the blood travels to lower regions or what is this sudden loss of vocabulary? Can't you say anything else than "what?"
It's Not That Simple 14
James: You can't... not now. Adel: Sweetie, I can do whatever I like. I just wanted to see, if you really meant to cheat on Mary. James: What?! Adel: Not again. Try saying something coherent, like "I'm a lying, cheating bastard who doesn't deserve anyone as good as Mary."
It's Not That Simple 15
Adel: So, do you do this often? James: What? Adel: Try to seduce your girlfriend's friends? Don't get me wrong, I've got nothing against it in principle, but Mary is special and you're not. I'm surprised she hasn't seen what you are like, but I guess love is blind, or at least short-sighted. James: You started it. You put your arms around me. What was I supposed to do? Adel: Don't start blaming me, you made the first move by asking me here.
It's Not That Simple 16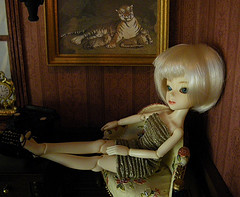 James: Are you going to tell Mary? Adel: If I were you, I'd be more worried about whether her father is going to hear about this. I guess Mary could even forgive you. I've heard about that tall blonde whose husband beat you to pulp. Don't you know you're supposed to learn from your mistakes? James: You're starting to sound like my father. Adel: Maybe you should listen to him once in a while then.
It's Not That Simple 17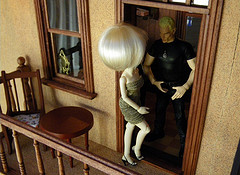 Adel: I'll let you off the hook this time. I won't tell Mary, but you need to start acting like a man. She deserves better. James: I know, but she's so young and not... Adel: Not ready for the kind of fun you were planning to have with me. I'm glad you understand that much. - I'll go now. Try to be a good boy from now on.
It's Not That Simple 18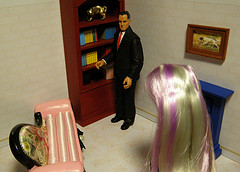 Anika: So, you're Charles. Charles: Yes. What do you want? Anika: You could at least try to be civil, but if that's the tone you prefer... Charles: I don't have any dealings with felines. Who are you? Anika: I'm Anika. I came to talk to you about a matter of considerable importance. It's about Mary. I rarely agree with Riddick, but now I must. Anybody with your blood in him can't be good enough for her. - Mind if I sit down?
It's Not That Simple 19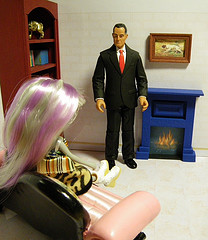 Charles: What about Mary? What's she got to do with you? Anika: Mary is family. I know, I know, she's not a feline. She's still family as she's Rosie's sister. Charles: That little brat. Anika: I heard she tested her teeth on you. She was just defending her sister. I'm sure you know that's how we are. Charles: Enough of the chitchat. What do you want? Anika: I want you to leave them alone. All of them.
It's Not That Simple 20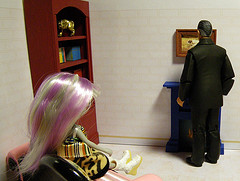 Anika: I thought you'd be happy James didn't go for a feline like you once did. You know, like father, like son, and you don't fall far from the apple tree, or however that one went. Charles: What...? How do you know? Anika: Did you really think nobody knew? Even you can't be that naive. Charles: Who knows about it? Anika: Let's just say that I'm not the only one.