It's Not That Simple 21
Anika: I guess you know she's back. Does your wife know about it? I hear she's a bit possessive. After all, you cheated your first wife with her, and there is that saying about leopard and its spots. Charles: Enough with stupid sayings! Are you threatening me? Anika: Threatening you? I thought we were just having a pleasant little conversation. Aren't you going to offer me tea or something?
It's Not That Simple 22
Late that night: Kitty: How was your day? Riddick: Interesting. It seems that Ruby left Billy for Schizo. Kitty: What?! You must be joking. Riddick: I'm not. I have no idea what she sees in him, but that's just how it is. I suppose it may have something to do with what happened with Lilith. Apparently, Ruby got through his defenses and saw something the rest of us can't see. Kitty: Poor Max. Riddick: He's going to take it hard, if those two really end up together.
It's Not That Simple 23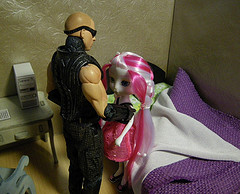 Kitty: How old is Schizo? Riddick: Who knows? Too old for Ruby. Kitty: What do you think Hagrid is going to say? I got the impression that he liked Billy. Riddick: Ruby said that Billy is what she's supposed to want, but that it's not that simple. Kitty: Well, she got that one right. If it was that simple, I'd be married to Henry now. Riddick: I'm glad it's not that simple.
It's Not That Simple 24
Riddick: So, how did it go with Catsy this morning? Kitty: She said Rosie is making good progress, although it is still not guaranteed that she will learn to talk properly. Riddick: Maybe we should ask Charles for a visit. Kitty: Hehe, that's a good idea, but I don't think he would accept the invitation. Riddick: Have you asked Chase about him? Kitty: Yes, but I don't want to talk about it yet. I need to verify her story first. Riddick: I guess that would be a good idea. You never know when she's telling the truth.
It's Not That Simple 25
Next day: Mary: You can't be serious. Ruby: Why not? There's nothing wrong with him. Mary: He's old. Like, you know, really, really old. Ruby: He's not that old, not considering how long he'll live. It's nothing like Adel or Max, but he will live longer than us. - I thought you'd be happy for me. Mary: What about Billy? Ruby: I could have had a nice and safe life with him, but I don't love him that way.
It's Not That Simple 26
Mary: Are you really sure this is what you want? You were quite sure about Billy too. Ruby: All I know is that I'm going to regret it, if I turn him down. Mary: What's your uncle going to say? Ruby: I suppose he's going to think I have lost my mind. I know others think so. You too. Mary: It was just a surprise. I thought he's the type who's not interested in settling down. Hasn't he had a lot of girlfriends before? Are you sure he's going to stop all that?
It's Not That Simple 27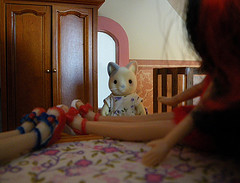 Bea: Hi Ruby. Kitty said you're here. She said I need to ask to make sure I'm not disturbing. Ruby: Of course you're not disturbing. After all, this is your room too and I'm just a visitor. Bea: So, what are you two talking about? Mary: Nothing. Bea: You're talking about boys. You always say "nothing" when you're talking about boys. Ruby: All right, I confess, we were talking about boys. Do you have any good advice on the subject? Bea: Boys are stupid.
It's Not That Simple 28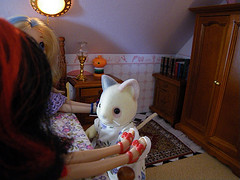 Ruby: Care to tell us what happened? Bea: Nothing. Mary: Come on, tell us. You'll feel better. Bea: Daniel said I'm a retard. He's good at mathematics and he said only retards don't get it. Mary: If I remember correctly, he's the one who said that penguins fly to the South pole in summer. Just because he's good at mathematics doesn't mean he's better than you. Ruby: Bea, I don't know that much about mathematics, but I'm sure Mary and I can figure out what the problem is. Get your books and let's take a look at it.
It's Not That Simple 29
Kitty: I'm glad you came. Catsy: I'm glad you called. I was going out of my mind trying to figure something out. I need a distraction. So, what did you want to talk about? Is it about Rosie? Did you forget to ask something yesterday? Kitty: It's not about Rosie, it's about Chase. I know she doesn't like you and I suspect she was lying just to cause trouble, but I need to know...
It's Not That Simple 30
Catsy: I'm sorry I didn't tell you. I couldn't, we had to keep it a secret. I have no idea how Chase found out. Maybe your grandma told her. She may have known about it. She always knew stuff she had no business knowing. Kitty: So, it's true. I wish you could have trusted me. Catsy: I'm glad you know about it now, because that's exactly what's been driving me crazy and I need to talk to somebody. Or are you mad at me for not trusting you then? Kitty: Of course not. We all have our secrets. How can I help you? Catsy: He came to see me and...
It's Not That Simple 31
Kitty: Are you saying you still love him? Catsy: As much as I hate to admit it, I never stopped loving him. I know it's pathetic, but he's the one for me. Nobody has ever made me feel the same way. Kitty: I can't say anything to that. I don't know him. I guess I'm not being very helpful. Catsy: Yes, you are. Just talking about it helps a lot. I haven't been able to talk about it with anybody before.
It's Not That Simple 32
Kitty: So, do you think he's going to get a divorce? Catsy: I don't know. Do you think it was a stupid suggestion? Kitty: Not at all. If he takes the risk, at least you'll know he's serious. Still, there's that thing his family has about felines. Do you think he can overcome all that? Catsy: His parents are dead, so that's one obstacle less, but it won't be easy. One thing I do know is that I'm not going to stay out of sight this time. It's public commitment or nothing. Kitty: I hope he's man enough to do it. I may not like what I know about him, but if he's the one who makes you happy, go for it.
It's Not That Simple 33
Later that day: Pamela: Hiding again? You've got all the room you need at home. Why do you always come here? James: What are you doing here? Pamela: I wanted to see you. James: I told you it was just that one time. It won't happen again. Pamela: It's not about that. It's about your father. He's been so distracted lately. He's sleeping in his own room and hasn't even... James: I don't want to hear anything about that.
It's Not That Simple 34
Pamela: James, is there someone else? I've never seen him like this. James: Are you worried he might kick you out? I know about the agreement. You're not going to get much, if he files for a divorce. You know, it's almost worth it to tell him what we did. Well, actually, what you did. I was too surprised to say no. Pamela: You can't tell him! James: Why not? I'm sure he would understand. After all, I am his son.
It's Not That Simple 35
Mary: Am I interrupting something? I can wait outside. James: Not at all. Mary, this is Pamela, my... stepmother. Pamela, this is Mary. Mary: It's so nice to meet you. I have already met James' father, although that didn't go all that well. Pamela: You mean what your sister did? Don't worry, I'm sure even Charles understands that babies can't be held accountable for something like that. Mary: That's good. You see, Rosie hadn't done anything like that before, so I didn't expect... Pamela: Everything is fine. I need to go now.
It's Not That Simple 36
Ruby: Schizo, there's something we need to talk about. Schizo: Is something wrong? Whatever it is, you don't need to look so miserable. Just tell me. Ruby: Well, I've been thinking, about those other women, and... Schizo: Don't think about them. Celia was the only one who ever mattered to me before you. The others, well, it was just a bit of fun. I always made sure they knew it too. Ruby: It's not about that. It's about that "fun" part, you see... I'm not sure how to explain it... I'm not good at all that relationship stuff, but I know how it's supposed to be... and I'm not quite sure I can do what I'm supposed to do...
It's Not That Simple 37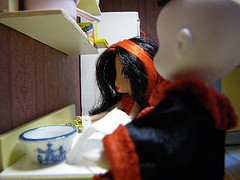 Schizo: You're not getting anywhere with your explanation. Are you trying to tell me you have a problem with sex? That's nothing to be embarrassed about. We all have some sort of problems. Show me a person who claims to be 100% mentally stable and I'll show you a blatant liar. Ruby: But you don't understand... Schizo: Of course I don't, because you're not telling me. Come on, let's hear it. Ruby: Well, you see, I'm not that comfortable with the idea... Schizo: The idea in general or is it just me? Ruby: Oh no, it's not about you. It's me, I... I'd rather not talk about it.
It's Not That Simple 38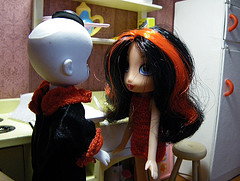 Schizo: You don't need to talk about it with me, if you don't want to, but you should talk with somebody, if it's that big of a problem. Have you ever talked about it with a shrink? Ruby: No. There's Faith, of course, but she's really more of a social worker. And Riddick knows some of it. Schizo: All right, I'll tell you what we'll do. First, stop worrying about me. I told you I love you the way you are, and that includes any problems you may have. Second, you're going to see a shrink. I know a good one. She managed to get my head straight after what happened to Celia. Of course, the results weren't permanent, as you may have noticed, but I'm sure she can help you.
It's Not That Simple 39
Ruby: You make it sound so simple. Schizo: It's never simple, but you can't go on keeping it all in. Ruby: Why are you doing this? Schizo: Because I love you. I thought that would never happen again. I just hope the shrink won't get you fixed too well, because you might snap out of this and realize that I'm just a horrid little creep, who's much too old for you. Ruby: You're not. You shouldn't say things like that. Schizo: I'm sorry. It's just that I keep expecting to wake up to find out this was all a dream.
It's Not That Simple 40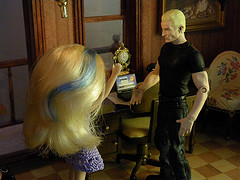 Mary: She looked guilty. What was she doing here? James: Asking questions about father. I think she's afraid she might become the ex-wife number two. Mary: What did she do? She must have done something or she wouldn't look that guilty. And now you're looking guilty too. James: Me? Guilty? You're just imagining. Mary: James, tell me you didn't. Not her. James: It wasn't my fault. She sort of jumped on me and... Mary: Have you ever heard of saying no? She's married to your father! How could you?!