It's Not That Simple 41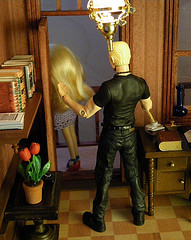 James: Mary, I can explain... Mary: I'm sure you can. You can explain a lot of things, I have noticed. James: Please don't be angry. Just let me explain. Mary: I don't think so. I'm not going to be the next in line. I thought you were nice and I could have accepted a mistake or two, but it seems that mistakes are all you make. James: Please, let me explain... Mary: Explain it to the next bimbo! I'm not interested.
It's Not That Simple 42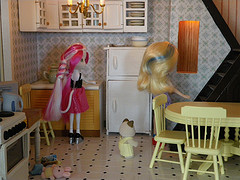 Kitty: Mary? I thought you went to see James. Mary: Don't talk to me about him. He's a jerk. Kitty: What happened? Are you all right? Mary: I'm fine. I want to be alone. Kitty: All right. But are you quite sure...? Mary: I'm fine!
It's Not That Simple 43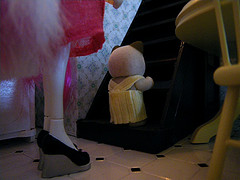 Rosie: Up! Kitty: Rosie, don't go there. Mary is having a bad day. She needs to be alone. I'm sure she'll come down later when she's feeling better.
It's Not That Simple 44
Next day: Mary: Dad, what are you doing up so early? Where's Kitty? Riddick: She's still in bed and so is Rosie. How about Bea? Mary: Still sleeping. What's going on? Riddick: Kitty said you were upset when you came home last night. I thought maybe we could talk about it. Mary: There's nothing to talk about. Riddick: Are you sure? Did James do something? Kitty said you called him a jerk.
It's Not That Simple 45
Mary: He is a jerk. Riddick: What did he do? Mary: It's so... disgusting. Riddick: Mary, did he do something to you? Mary: No, of course not. It's what he did with his stepmom. I know she's not his real mom and she's not that old, but it's still disgusting. Riddick: His stepmom?
It's Not That Simple 46
Mary: I wouldn't mind all the ex-girlfriends. I mean, guys are supposed to have ex-girlfriends, but you're not supposed to do it with your stepmom, right? Riddick: Right. He really is a jerk, if he did that. Are you sure? Mary: He told me. She was there and they were both looking so guilty, so after she had gone, I asked him and he told me. He said she started it, but it's still wrong, isn't it? Riddick: Yes, it is. What did you say to him? Mary: That I'm not interested in his explanations. Then I left.
It's Not That Simple 47
Riddick: Are you all right? Mary: I thought he was nice. How could he do something like that? Riddick: Some guys are like that. They don't think about the consequences, they just take what they want. I hope you're not thinking of seeing him anymore. Mary: I don't know. I really liked him. Riddick: I want you to think about this very carefully. Do you think a guy like that could treat you right? Not go with other girls? Mary: I guess not.
It's Not That Simple 48
Orlock: So, you did it again. Ruby told me. Schizo: Take it easy, Max. I know this is all a bit confusing, but I didn't see it coming either. Orlock: You said girls like her aren't for guys like us. Was that a lie? Schizo: No, I honestly thought so. What are you so angry about anyway? If she had told you she loves you, would you have said no? Orlock: No.
It's Not That Simple 49
Orlock: How about all of your ex-girlfriends? Schizo: I told Ruby what you already know, that Celia was the only one who ever mattered. You know it's the truth. Orlock: I know. Are you going to tell her the rest of that story? Schizo: No. What would be the point of that? It wouldn't change her opinion on me, but she could see you in a bit different light and I want you two to continue being friends. Orlock: Are you sure? Schizo: Of course. You're my best friend.
It's Not That Simple 50
Schizo: Max, I'm sorry it went this way again, but I wasn't trying to make this happen. It just did. Orlock: I know. I hope you can make her happy. Schizo: So, when are you going to make a move? Orlock: What are you talking about? Schizo: Will's foster mother. If she's as good looking in real life as she is in TV, you're mad, if you don't do anything. Ask her out for a dinner or something. Stop being sorry for yourself. Orlock: But I'm the babysitter when she goes out. Schizo: Ask Kitty. I'm sure Rosie and Bea would love to have company.
It's Not That Simple 51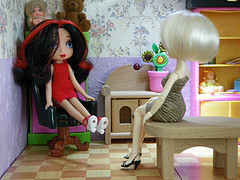 Adel: I had no idea you had it in you. Billy would have been a safe choice and I'm sure he would have taken care of you, but you want more, don't you? Ruby: Are you saying you understand? Adel: Of course I do. I've seen it all. Arranged marriages, marriages of convenience, opportunism, lust, passion, true love. The last one is really rare, you know. Ruby: Everyone else is saying he's too old for me, or if they're not saying it, at least they think so. Adel: And what does it matter what everyone else says or thinks? What matters is that you two are both happy.
It's Not That Simple 52
Ruby: He's been married. His wife died. Adel: I'd be more worried if someone his age hadn't had any long-term relationships. At least you know he's capable of commitment. Is that what you want? Ruby: When I was with Zeke, I was scared that he would ask me to marry him. Adel: Not being ready to get married is normal at your age. There's no hurry. You've got plenty of time to have as many kids as you want, assuming you're not planning on going over a dozen. Ruby: Are you crazy? Who does something like that? Adel: Have you ever seen a mouse family? You should, it helps to put things into a perspective.
It's Not That Simple 53
Adel: So, what do you think about all his ex-girlfriends? I know there have been a lot of them. Ruby: He says they didn't mean anything. He promised to stop all that. Adel: You know, I'm sure he can. I have this thing, I can see it in their eyes, if they can't resist me. He can, and surprisingly easy. I'm sure he can resist other temptations as well. Ruby: It's all a game for you, isn't it? Adel: Of course it is. Ruby: Did you know he's part your kind? Adel: Really? Well, that explains a lot.
It's Not That Simple 54
Ruby: I'll turn on the television. I wouldn't want to miss the show. Adel: Well, you'll need to look very closely or you'll miss me in it. There were a lot of dancers and of course we were just background, and background doesn't get closeup shots. Ruby: But you were still in a real TV show. I think that's great. Why won't you ask uncle Hagrid to help you, if you want to be on TV? He could arrange it. Adel: I'm sure he could, but everybody would know about it. I want people to see what I can do, not who I know.
It's Not That Simple 55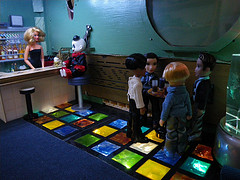 Carl: There's four of us, we can beat him easily. Billy: Why would we want to do that? Andy: Carl, you know Billy hates violence. Why did you even suggest that? Carl: He stole Billy's girlfriend! Billy: It's no wonder you never get any decent girls. Carl: What's that supposed to mean? Billy: Nobody stole Ruby, because Ruby wasn't my property. Besides, you don't know the whole story, so you better just shut up and leave them alone.
It's Not That Simple 56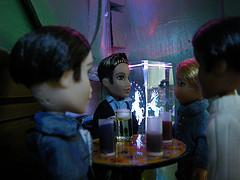 Daniel: So, what is the whole story? Billy: Private and confidential. I'm not going to tell you. Carl: Come on, she dumped you. The least you can do is tell us what sort of skeletons she's got in her closet. Billy: I'd like to think I'm better than that. Andy: That's right. Gentlemen never tell about that sort of things, but of course, that's something Carl wouldn't know anything about. Being a gentleman, I mean.
It's Not That Simple 57
Carl: Max, just the guy we need. Weren't you in love with Ruby at some point as well? Orlock: That's none of your business. Carl: I was just wondering how does it feel to know she's with that creep? Andy: Carl, why don't you just shut up? Orlock: It's all right. Carl, all I want is for Ruby to be happy. I can't make her happy, but maybe Schizo can. Besides, he's my friend and he's a creep only on the outside, not on the inside like you.
It's Not That Simple 58
Mary: When do you need to be at work? Ruby: I've got a free night. I was supposed to go out with Schizo, but I cancelled that after you called. Mary: You didn't need to do that. Ruby: Don't worry. He understood perfectly. Besides, he'll come over later. He asked whether he and Max should go and kick James' ass, but I told him to wait with that. You only need to say the word and they'll do it.
It's Not That Simple 59
Mary: I'm not sure I want that. I wanted to hit him with something myself, but what good would that have done? Ruby: So, did he cheat on you or what? Mary: Not exactly. I mean, it happened before we met, but it was so gross...
It's Not That Simple 60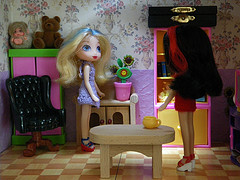 Ruby: With his stepmom? That's beyond gross. Mary: I know. He seemed so nice. Well, I guess his father will be happy at least. Ruby: Maybe not. All it takes is a little phone call. Mary: I can't do that. Ruby: I bet Schizo could. He doesn't have that sort of restraints. I know he'd enjoy the ass kicking a lot more, but making the call would be more fun than not doing anything. You know what he's like. Mary: What's gotten into you? Ruby: What do you mean? Don't tell me the idea doesn't sound good to you.