A Bit Of Fun 21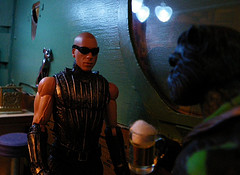 Riddick: Relax. Everything is fine. All I am interested in is that he stays away from Mary. Henry: I'll make sure he understands that. How are things otherwise? How's Rosie? Riddick: She can already say a few words, but she does that only when absolutely necessary. I don't understand it. It's as if she doesn't want to speak. Henry: I'm sure she'll be fine, but in case she won't, have you thought about sign language? Riddick: She's not deaf. Henry: No, but she's not speaking either. It's not giving up. Think of it as a backup. You should talk about it with that specialist. - I better get back to work.
A Bit Of Fun 22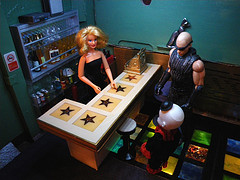 Schizo: Henry's a really big guy. What do you think, if you fought with him, who would win? Riddick: I would never fight with him. He's my friend. Schizo: But hypothetically... All right, I won't say another word. Where's Ruby? Riddick: She's in the back room. She won't be long. Schizo: Well then, Abby, I think I'll have another beer. Riddick: Schizo, what do you really think about Scooter? Were you just trying to put Ruby at ease when you said he's harmless? Schizo: Yes. You too, I suppose. I don't trust him a bit, but at least Ruby will be fine tonight. Riddick: So, you're taking her home? That's good.
A Bit Of Fun 23
Schizo: Has she told you about the furry fellow? That he's been sneaking around? Riddick: Has he? After all this time? I had no idea he's that persistent. Schizo: He says he wants to make sure Ruby is safe. Just think about what he could do, if Scooter starts harrassing Ruby. Riddick: I guess it would solve the problem for good, but it would upset Ruby. Schizo: Exactly. That's why it is best to make sure Scooter stays away. I'd prefer the furry fellow to stay away too, but how do you tell someone like that to beat it?
A Bit Of Fun 24
Ruby: What are you two planning now? Schizo: Planning? Nothing. Just small talk. Ruby: Right. Shall we go now? I'm ready. Schizo: Just a second, I'll finish this. Riddick: Ruby, why haven't you told me about Zeke? That he's still sneaking around? Ruby: Schizo, you didn't need to tell him. Riddick, just leave it. He's not doing any harm, if you don't count scaring my neighbor. I'm sure he'll go away eventually.
A Bit Of Fun 25
Late that night: Kitty: ...and it seems that mother is considering the proposal. Riddick: Good for her. Or do you disagree? Kitty: I know almost nothing about the guy. How could I agree or disagree? Riddick: Don't you think a husband would be a better idea than constantly changing boyfriends? Are you worried that he's after her money? Kitty: It's possible. I guess we'll just have to wait until we've met the guy.
A Bit Of Fun 26
Riddick: Scooter's back. Kitty: How do you know? Don't tell me he's after Ruby. Riddick: Actually, he came to apologize for the way he behaved, but things went wrong when Schizo arrived. Kitty: Damn. How bad was it? Riddick: He got very angry. Apparently, he thinks he's been seeing a shrink for nothing as Schizo wasn't just in his imagination. Kitty: How convenient for him to forget that alcohol was his main problem.
A Bit Of Fun 27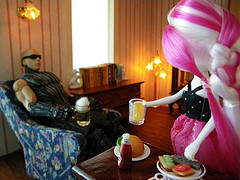 Kitty: How did Ruby take it? Riddick: She's a bit shaken, but Schizo took her home and I don't believe Scooter knows where she lives. Kitty: It's not difficult to find out something like that. Riddick: I hope he doesn't. Ruby's furry bodyguard hasn't gone anywhere and things could get really ugly. Kitty: Zeke? What is he thinking? After all this time? Riddick: Who knows? At least he hasn't been threatening Schizo.
A Bit Of Fun 28
Next morning: Ruby: I guess this isn't how it normally goes when you're asked to stay for the night. Schizo: Don't worry, I slept very well. I can sleep on a concrete floor, if necessary, and this was much better. You know, I never get served breakfast in bed. You're spoiling me. Ruby: I like doing that. I felt a lot safer with you here. I guess you think I'm silly. Schizo: I understand perfectly, and I will stay here any time you want me to. Especially if I get breakfast in bed.
A Bit Of Fun 29
Schizo: Ruby, I've been meaning to ask you about your uncle. What does he think about me? Not that it matters very much to me, but I know you care about his opinion. Ruby: I... I don't know. I haven't told him. Schizo: What's the problem? Are you ashamed of me? Ruby: No, of course not. It's just that he's so much like Riddick. Schizo: Thinking of your best interest and trying to stop you from doing what you want? Ruby: Not exactly, or maybe a bit. I don't know. Schizo: Well, whatever it is, you need to tell him, because somebody is going to, sooner or later.
A Bit Of Fun 30
Schizo: Was that the doorbell? Are you waiting for a visitor? Ruby: No. Maybe it's Albert. Schizo: If it's Scooter, just tell him we are planning a ritual sacrifice and we haven't yet decided what, or who, to sacrifice. Ruby: Do you think he knows where I live? Schizo: I'm sure he doesn't. Do you want me to go and see who it is? Ruby: No, this is my home. I'm not going to let him scare me. I'll go.
A Bit Of Fun 31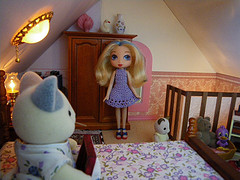 Mary: Bea, it's almost time to go, but before that, Rosie wants to see the dollhouse again. Bea: It's my dollhouse. Mary: Of course it is, but Rosie loves it. She won't break anything. She just wants to look at it. Bea: All right.
A Bit Of Fun 32
Mary: So, what have you got there? Bea: Nothing. Mary: I can see it's something. Why won't you let me see? It can't be that bad.
A Bit Of Fun 33
Mary: Is that your mom? Why have you been hiding it? Bea: I thought Kitty wouldn't like it. Mary: Bea, it's a photo of your mom. Of course you can have it. - Rosie, come and have a look at this.
A Bit Of Fun 34
Mary: See, it's Bea's mom. Rosie: No. Mary: Yes, it is. That's Bea's mom. Doesn't she look nice? Rosie: Kitty ma. Mary: Yes, Kitty is Rosie's ma, but that is Bea's ma. Rosie: Kitty ma! Mary: Yes, of course, Kitty ma. How silly of me.
A Bit Of Fun 35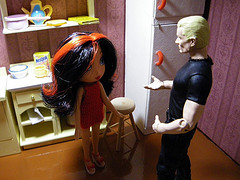 Ruby: James. What are you doing here? James: Please listen to me. Ruby: There's nothing you can say that would interest me. James: Please. You're Mary's friend. Can't you talk to her for me? Explain things? I'd talk to her myself, but Riddick... Ruby: Doesn't want you anywhere near Mary, I know. I don't blame him.
A Bit Of Fun 36
Schizo: Who was it? Oh, it's Mr. "Can't keep it in my pants." What are you doing here? James: None of your business. Schizo: Not quite so. If you come bothering Ruby, it's very much my business. James: Are you saying you two...? Ruby, I thought you had a bit better taste in men than that. Ruby: You're being very rude. At least Schizo doesn't do anything improper with relatives. Schizo: Well, my cousin and I did run naked across the city park once in a dare... James: Pamela is not a relative! You're blowing it all out of proportion. Besides, I was 14 when I first met her, so it's not like I've known her all my life. Ruby: She's your stepmother! She's not only married, but she's married to your father!
A Bit Of Fun 37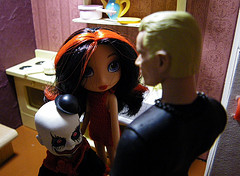 Schizo: You're going to be front page news, boy. James: What do you mean? Ruby: Did you think Chase was interested in you? Even she's got some standards. And she really likes Mary. James: What are you talking about? Ruby: You and Chase. Mary said it will be in today's paper. You and Pamela too, I suppose. Schizo: I suggest you stop by a newsagent on your way to wherever it is you're going to hide for the next few months. This isn't going to blow over in a day or two. It's much too delicious.
A Bit Of Fun 38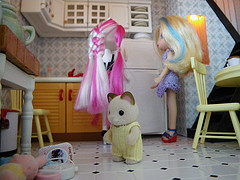 Mary: Kitty, Rosie just said an entire sentence. Well, not exactly, but almost... Kitty: Did she? I knew she would! What did she say? Mary: Well, I think I said something I shouldn't have. You see...
A Bit Of Fun 39
Kitty: Don't feel too bad about it. Rosie seems just fine. I'm sure she's already forgotten all about it. Just don't mention it again when she's around. Mary: I won't. I didn't think... Kitty: Like I said, it's fine. I'll speak with Bea about it after school when Rosie's having her nap. By the way, don't mention your... um, Caroline either. Mary: I won't. "Kitty ma" it is. Rosie: Kitty ma! Kitty: That's right. And it makes ma very happy to hear that, Rosie.
A Bit Of Fun 40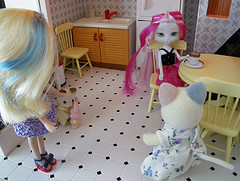 Bea: Mary, we need to go now or we'll be late from school. Mary: All right, let's go. Bea: Kitty, the dollhouse is mine, isn't it? Kitty: Of course it is. Riddick made it for you. Bea: So Rosie won't go and play with it when I'm at school? Kitty: She won't, I promise. She's got quite enough toys of her own.