Family Gathering 1
Chase: I really don't understand why you had to make such a big deal out of this. Kitty: What do you mean? Callie wants to get to know the family, so what would be more appropriate than having a little party with everybody present? Chase: Brian is not family. Kitty: He's our father, whether you like it or not. Chase: And how about Maurice? Kitty: He's here to make sure mother will behave. And if she won't, at least he'll know what he's getting, teehee.
Family Gathering 2
Toffee: So you're Joey. You can call me grandma Toffee. Actually, I'm your great-aunt, but we don't want to confuse Rosie. Joey: All right. Mum said you're granny's sister. Granny never said she had a sister. Toffee: I guess that's because she didn't know. - This is your great-grandma, but you can call her grandma Anika like Rosie and Bea do. Joey: So I've got two new grandmas? Cool! - Mum, can I go upstairs to see Bea's room? Callie: Of course. But no running in the stairs!
Family Gathering 3
Brian: I think this was a mistake. Riddick: Why? I'm sure you can stand Toffee in the same room for an hour or two. You don't need to talk with her. Brian: Who's the shorty? Riddick: Maurice. I guess Kitty has told you that Toffee is getting married again. Brian: That's him? He must be rolling in money. Riddick: Actually, they're very old friends.
Family Gathering 4
Brian: I guess Toffee has told you about me. Maurice: Not really. All I know is that you're Chase's and Kitty's father and that the marriage didn't end in good terms. I don't need to know about it, it's history. Brian: Really? She hasn't told you? Maurice: Sometimes it is best to bury the past and start all over again. Brian: You're starting to sound like the counselor in jail. Maurice: Sorry. Occupational hazard. At least there's no couch in sight. Brian: So you're a shrink? Great.
Family Gathering 5
Callie: You're not very talkative, are you? Chase: I have nothing to say to you. Callie: If you want to blame someone for the situation, how about blaming Anika? None of this is my fault. Chase: You could have stayed away. Callie: I'm not after money, if that's what you're afraid of. I just want to get to know you all and I want to know there's someone for Joey in case something happens.
Family Gathering 6
Anika: There's so much we need to talk about. Come and see me tomorrow. Toffee and Chase won't be there, so we won't be interrupted. Callie: Chase doesn't like me. Anika: That's no news. Don't worry about it. You don't need to see her that often. Callie: Kitty and the kids are great, though.
Family Gathering 7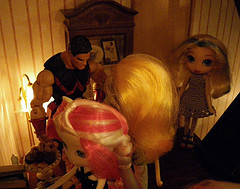 Toffee: How long is this going to go on? Brian: What? Toffee: Pretending to be part of the family. You never really were, so why all the interest now? Brian: I have changed. I want to spend time with Rosie and Bea. Toffee: So now you're fond of little kittens all of a sudden. If I remember correctly, you had serious doubts about whether you really are Chase's and Kitty's father. Brian: I was wrong. In jail, I met a guy, who was part feline and he explained things to me. Toffee: You believe some guy you met in jail, but you didn't believe your own wife? How absolutely fantastic.
Family Gathering 8
Brian: You're not thrilled to see me either. Mary: You're not my grandpa. Brian: It's more than that. Is it about my past? I'm not a bad guy, I just made a lot of mistakes. I've learned from them. Mary: I've heard that before. Mom's boyfriends always said so, when they weren't busy making more mistakes. Anyway, why do you care? Bea and Rosie like you. Isn't that what matters? Brian: I guess it is, but I still feel like an intruder. Mary: No need. I don't mind you coming here as long as it's fine with dad.
Family Gathering 9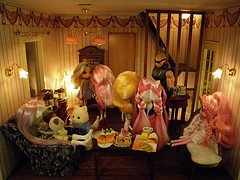 Mary: So, how do you feel? Getting panicky yet? Callie: What do you mean? Mary: I would, if I were thrown in the middle of a bunch of strangers, who claim to be family. It was bad enough with just dad and Kitty. Callie: What do you mean? Oh dear, I'm starting to sound like a broken record. Mary: They haven't told you? I haven't been living with dad all my life. I just came here after my mom died. Callie: That must have been awful. You're so young.
Family Gathering 10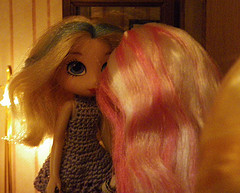 Mary: So, how do you feel? Callie: A bit puzzled, I guess. Your family doesn't seem to... Mary: Doesn't seem to get along that well. Anika couldn't stand dad at first. Chase is never happy. Toffee has a problem with Brian, don't know what that's all about, probably something to do with his disappearance all those years ago. Brian feels like an outsider. Dad's still confused about some of the feline customs. And of course Kitty gets agitated when people don't get along. I think Bea and Rosie are the only ones who are really happy. Callie: And you? Mary: I'm all right.
Family Gathering 11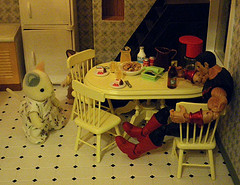 Bea: Kitty said we should come here to eat. I guess she thinks we'll make a mess. - Grandpa, why are you here all alone? Brian: Too crowded upstairs. So, what have you two been up to? Bea: I showed my room to Joey. - Grandpa, do you know any good stories? Brian: I know a lot of stories, but I'm not sure if they're suitable for little kids. Bea: You must know something. Brian: All right, let me see... I know, I'll tell you about what happened to Chase when she was little.
Family Gathering 12
Brian: ...and she was covered all over in... Chase: What are you doing? Bea: Grandpa's telling a story. It's a good one. Did you really fall into a sludge pond? Chase: What...? Who gave you permission to tell that one to the kids?! Brian: Oh, come on, it wasn't that bad. Although, if I remember correctly, it took days for the stink to disappear.
Family Gathering 13
Joey: I think she got mad. Bea: But it's a good story. Tell us what happened then. Brian: I'm not sure I should. I wouldn't want her to get too angry. - All right, I'll tell, but you must promise that you won't mention any of it to her. Bea: I promise. Joey: Me too.
Family Gathering 14
Kitty: Once we'll move into our new house, we'll have more room. You could stay overnight. I'm sure Bea and Joey would like that. Callie: We don't live that far away. Kitty: I know, but it's always nicer, if you can stay up late and go home the next day after a good night's sleep. Callie: I suppose. - So, when are you moving? Kitty: Don't know for sure yet. The house requires a lot of work. Nothing structural, just the interior, but even that is going to take some time.
Family Gathering 15
Callie: You know we can't keep this a secret for long. Riddick said a reporter saw us in Bastet and was asking questions. Kitty: I know. I could stop them from writing about you, but that would only mean that all sorts of wild rumors would start spreading. We'll need to take control by publishing it ourselves. Callie: What do you suggest? Kitty: I've got a friend who's got her own TV show. She owes me for giving her career a boost. She'll be happy to do me a favor, especially as it'll be another career booster.
Family Gathering 16
Kitty: Grandma, just the person we need. Anika: I don't like that smile. What are you up to now? Kitty: Nothing much, just another TV appearance - with Callie. Anika: What!? Kitty: Provided that Rosemary will do it, but I'm sure she'll jump at the opportunity to double her ratings. Anika: Kitty... Kitty: You know there will have to be an explanation.
Family Gathering 17
Kitty: This will not go away by staying silent. If we take the initiative, it'll be much easier to keep it under control. We don't need to tell everything and we can polish it up a bit. You know, the sort of sob story with a happy ending when Callie finally found the rest of her family. Anika: I guess you're right about the control part, but we'll need to discuss in detail what you can tell. I'm thinking about the reasons why it all happened. Callie: You mean you don't want the world to know you abandoned your baby, because she wasn't feline? I'm sure that would be embarrassing for you.
Family Gathering 18
Toffee: Where's Chase? Maurice: I saw her going to the kitchen and she looked upset when she came back. Kitty: Father's there with the kids. I wonder if it's about him. Toffee: Chase isn't going to accept Brian's return just like that. For some reason, of you two, she was the one who got more upset when he left. Kitty: She was his favorite. It's that simple. Toffee: You can't say that. You were too small to understand that sort of things. Kitty: Of course she was. She was the first. And then I came and ruined it all for her.
Family Gathering 19
Kitty: Did you have fun with grandpa? Bea: Yes, he told us a funny story about aunt Chase. Kitty: I guess we got an explanation. What kind of a funny story was it? Joey: He told us how she fell into a sludge pond and then wouldn't come out of the bathtub. Toffee: He shouldn't have told them about that. Kitty: Why not? You could call it a cautionary tale. You know, always check what's on the other side of the wall before jumping over.
Family Gathering 20
Mary: Why are you sitting here all alone? Chase: It's so infuriating. Brian, Callie, Joey... all these people sneaking their way into the family. Mary: Me? Chase: Oh no, you're Rosie's sister, so you really are family. Mary: But your own father isn't?