What To Believe In 17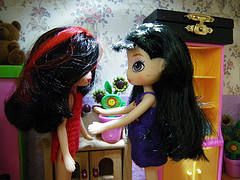 Ruby: ...so you see, I had to do it. I really think he could have killed me. Gaby: I'm sure he could. But you're all right now and you're not going to go away, right? Ruby: Right. I don't need to run away from anything or anybody anymore. And my life is finally getting sorted out and I may be getting married. Gaby: Married!? And you only tell me now! You should have started with that! Who is he? When is the wedding? Can I be a bridesmaid? Ruby: Calm down. I haven't even said yes yet. I'm just thinking about it. He said I should think carefully before answering, because there's no going back.
What To Believe In 18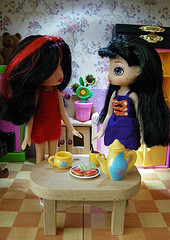 Gaby: What does that mean? Sounds ominous. Ruby: It means his kind do not believe in divorce. Gaby: Believe? What's there to believe? Divorce is a divorce in the eyes of law, no religion can change that. Ruby: It's not a religion thing. Gaby: Wait a minute, who exactly are you going to marry? What is he? Ruby: I think you better meet him and let him explain. It's complicated.
What To Believe In 19
Later: Henry: Why can't you talk about it with her yourself? Kitty: I promised her mom. You know the goddesses as part of our history, just like the saber-toothed cats, so it'll be all right. I'm sure her mom wouldn't object to extra lessons in feline history disguised as stories. Henry: Sounds reasonable. But her mother doesn't. Children are curious about these things and raising someone as a non-believer by restricting information is just as bad as the usual way.
What To Believe In 20
Kitty: So, how did you come to reject the old faith? Henry: All faiths, actually. Side-effects of being a scientist. You know, lack of proof and all that. Kitty: I see. Well, I guess that makes you the perfect choice for telling Bea about it. Henry: What about Rosie? Kitty: Grandma already asked that. She'll get to know the old faith and can decide for herself. Henry: I thought you were going to treat them all equally. Kitty: Well, that was the plan, but we didn't think about this at the time.
What To Believe In 21
Mary: Hi Henry. Kitty told me you're going to tell us about the goddesses. Henry: So you're interested? Mary: Of course. It's not like I believe in them, sorry Kitty, but it is feline history and I need to know about that. It's really stupid that they don't let us to those classes at school. It's not as if it's some secret society, or is it? Kitty: I'm afraid it is a bit like that. Things have changed somewhat in recent years, but it seems that the school board hasn't been changing with the times.
What To Believe In 22
Ruby: Abby was working here long before I came. Abby: I'm glad you came, Gaby. Ruby needs friends of her own age. Gaby: And I'm glad I found her. This time I'm not letting her disappear again. Abby: I don't think you need to worry about that. Ruby: So, is everything all right here? Abby: Fine. Charlene was here earlier. Ruby, I really think you shouldn't... Ruby: We've talked about that. She's all right and hasn't been causing any trouble.
What To Believe In 23
Carl: Hello Ruby! Won't you introduce me to your friend? Gaby: I'm Gaby. Who are you? Carl: I'm Carl. I'm one of Ruby's ex-boyfriend's brothers. I'm the best looking one of the bunch, by the way. Would you two like to join me and my brothers? Gaby: Sure, why not? Ruby: Gaby, I can't. I need to start working. Gaby: Yes, of course. Well, I'll go and have a little chat with Carl's brothers, if you don't mind.
What To Believe In 24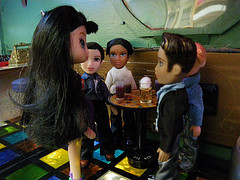 Gaby: ...of course it's just my first movie, but I've been auditioning a lot and I'm sure I'll get the next role in no time. Daniel: I'll certainly be watching the movie once it comes out. Andy: I'd say you were really lucky to get such a big role right away. Usually you need to go through a lot of small parts first. Gaby: Yes, I was lucky, although it also required a lot of hard work. - So, Billy, what's wrong with you? You haven't said a word. Carl: He doesn't know what to say, because you're Ruby's friend.
What To Believe In 25
Bea: Daniel said you need to go to church on Sundays. Kitty has never done that. Henry: That's because the old faith is a private matter. Overt public displays of faith are frowned upon. Small amulets are the most visible sign you're ever going to see. Bea: But what about the statues? Henry: They are considered more as art inspired by the faith. Mary: So it is like a secret society. Henry: Yes, I guess it is, although the reasoning behind it is that it is all between you and the goddess. You're not supposed to advertise it.
What To Believe In 26
Bea: So how about the god Daniel was talking about? How does he fit in? Henry: He doesn't. The two faiths are mutually exclusive. You see, the people who believe in that god do not accept any other gods and those who believe in the goddesses do not acknowledge male deities. Bea: So that's what grandma Anika meant.
What To Believe In 27
Bea: Henry, what do you believe in? Henry: That there are no gods or goddesses and it is up to us to take responsibility of what we do. Bea: What do you mean? Henry: That if you do something bad, you do not ask forgiveness from any god, you ask it from the person you have hurt. And you do not get to place the blame on the devil or some other mythical being who "made you do it." You need to acknowledge that you're responsible and face the consequences.
What To Believe In 28
Bea: You mean like Ben? Mary: Who's Ben? Bea: Mom's boyfriend. He's the one who hurt other people, not mom. Mom said I don't need to worry about him, because he got life without... something. Henry: Life without parole. It means he was sentenced to prison for the rest of his life without any chance of getting out. Mary: He must have done something really serious. Henry: Mary, I think we better not talk about that. - Let me tell you another story.
What To Believe In 29
Gaby: Billy, wait! You know, if somebody had asked me to pick Ruby's ex from the four of you, I would have chosen you. You're just the type. So, what went wrong? Or shouldn't I be asking? Billy: She fell in love with another guy. I guess you haven't met him yet. I still can't figure out why she chose him, but I hope he can make her happy. It seems that I couldn't. Gaby: Like I said, you're just the type. If me being Ruby's friend isn't too much of a problem, would you like to come and visit the studio some time? Billy: Well... I... sure. I've never been inside a movie studio.
What To Believe In 30
Gaby: I hope you're not going to get mad at me. I asked Billy to come and see the studio. Ruby: Why would I be mad? He needs cheering up. Just promise me one thing. Gaby: What's that? Ruby: Don't break his heart. He's had enough of that. Gaby: All right, I'll tell him. Then he won't get the wrong idea. Ruby: Thanks.
What To Believe In 31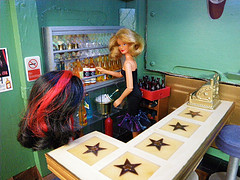 Abby: Tell him what? Ruby: You were snooping! Abby: No, I wasn't... well, maybe a little, sorry. But that did sound a bit strange. Ruby: It's not. Billy just needs to know that there's no chance of anything else than friendship. Gaby has always set her goals high and now that she looks... well, the way she looks, one of her goals is getting a rich husband with good reputation. She says the movie career won't be a problem as long as there are no nude scenes and no scandals. Abby: I see. Well, a career like that will certainly get her into suitable hunting grounds.
What To Believe In 32
Bea: Kitty, I think the goddesses sound really nice. Kitty: They are, mostly. Of course Henry told you the sanitized version. There are aspects of them that are not suitable for someone as young as you are. Bea: Is mom going to be mad, if I believe in them? I'd really like to. Kitty: I guess she might, but as I said, these things are for each of us to figure out by ourselves. In this matter, you should do what you feel is right. Bea: And what if I believe in them and it's all wrong? Kitty: You can always change your mind, if you later think you have made a mistake.