What To Believe In 1
Bea: Mary, can I ask you something? Mary: Sure. What is it? Bea: Do you believe in god? Mary: So you're going through the entire family with that one. I heard you already talked with Kitty and dad about it. Bea: Yes, but it's just getting more confusing. Mary: And how do you think my ideas on the subject would make it less confusing? Bea: What do you mean?
What To Believe In 2
Mary: Mom believed in reincarnation and I think it sounds fairly plausible. Bea: What's reincarnation? Mary: It means that when you die you get born again in some other form. What that form is depends on how well you lived your life. You know, like Daniel coming back as a frog or something. Bea: Teehee, that would be funny. But Mary, doesn't that mean that you'll live forever? Mary: Not really. When you have lived your life just the right way, you get to go to heaven.
What To Believe In 3
Mary: So, who are you going to ask next? Rosie? I doubt she has an opinion on the matter. Bea: Don't be silly. I was thinking of asking grandma Anika. Kitty says she'll be babysitting tonight. Mary: I'm not sure that's a very good idea. Bea: Why? Mary: You'll only get more confused.
What To Believe In 4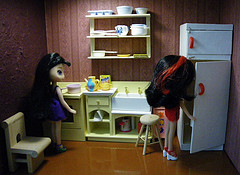 Ruby: But how could you afford it? Gaby: I met this man, he saw me act and he said I'm very good, but that it's not enough. Ruby: You mean you need to look good too? Gaby: That's right. He described himself as a risk investor, although I would call him a gambler, and he had a very interesting proposition. - He promised to pay for all the required plastic surgery in exchange for a part of my future profits. Ruby: That sounds strange. Gaby: I said he's a gambler.
What To Believe In 5
Gaby: So anyway, we signed a contract about it. Mother got a lawyer to check it first. It's all very straight forward. I got all the plastic surgery I needed and after I reach a certain level of income, he'll get 20% of everything I earn for 10 years. Ruby: What if you won't become a star? Gaby: Then it's his loss. Actually, I think he's doing it for fun. He could lose ten times the money he spent on me and not be worse from it, although he is expecting to profit from the deal. After all, he is a business man.
What To Believe In 6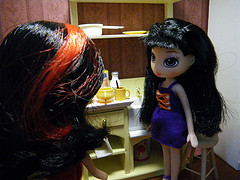 Ruby: Is that how you got the part? Did he arrange it? Gaby: Not quite. He gave me names of people to contact and a permission to use his name. And that name turned out to be a real door opener. It seems that I'm not the first one. I won't name any names, but some of the others have done really well. Ruby: My friend Adel didn't want to use uncle Hagrid to further her television career. Gaby: That's silly. Everybody knows how hard it is to get in, if you don't know anybody. You need to use all you've got. After all, it's only to get a chance to show what you can do. Then you're on your own and it all depends on how good you are.
What To Believe In 7
Bea: Grandma Anika, do you believe in god? Anika: A male deity? Certainly not! What made you ask that? Bea: Kitty told me about the goddesses and Riddick said he believes in a god, but he didn't tell which one, and Mary told me about reincarnation. I'm just trying to figure it out. Anika: You're a bit young to think about those things. Bea: If you don't believe in god, what do you believe in? Anika: The goddesses, of course. That's the way it has always been and I see no reason for us felines to adopt some strange new god.
What To Believe In 8
Anika: Of course Mary was also right about reincarnation. Bea: How can you believe in both? Anika: Why not? After all, there must be somebody who decides in what form you will come back and when you have been good enough to not have to come back. Bea: I guess so. - Riddick said I shouldn't worry about it, that it's enough to be nice to others and not do anything bad. Anika: Really? Very wise of him. And you say he didn't tell you which god it is he believes in? Bea: Only that he isn't the one the Bible tells about.
What To Believe In 9
Charlene: Where's Ruby? Abby: She'll be here later. You know, I'm not sure you should be talking with her. Charlene: I've heard that one before. What is it with you people? Can't she choose for herself? And who are you anyway? Her mother? Abby: No, but she could certainly use one. I just want to make sure she'll be all right. Charlene: And you think I'm bad influence on her? Abby: Yes.
What To Believe In 10
Billy: Hi Abby! Abby: Hello boys! Haven't seen you all together for some time. Charlene: Well, well, if it isn't the blind guy. Billy: What? Carl: Nothing. Andy: Carl, what have you done this time? Charlene: Don't worry, boys. Stupid pick-up lines are not a crime, just embarrassing. Carl: Shut up!
What To Believe In 11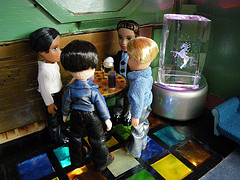 Andy: What was she talking about? Carl, you know you need to be careful. Daniel: You're just one arrest away from jail time. Your dad can't help you the next time, judge or not. Carl: It was nothing. Can't you see what she is? Billy: A feline, first and foremost. Anything else comes after that and you better remember it. Daniel: Carl, I really don't understand this thing you've got about felines. They're dangerous. Carl: And you're just jealous.
What To Believe In 12
Daniel: Why would I be jealous? Carl: Because you've got no life. But then again, what can one expect from a janitor's son? Andy: Carl! Carl: Let's face it, Daniel. My dad's a judge, Andy's dad is an artist, and Billy's dad is a business man. Mother had a really bad lapse of judgement with your dad. Andy: May I remind you that Daniel's dad is the only one who's been around for all these years? Your dad's only been bailing you out because mother said she'd go to the press if he didn't.
What To Believe In 13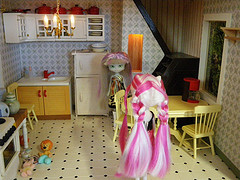 Anika: Rosie's taking a nap, but she'll wake up soon, and Bea is upstairs doing her homework. - Kitty, why haven't you talked properly about religion with Bea? Kitty: Did she ask you too? She seems to be a bit concerned about finding the right thing to believe in. Anika: And it's your job to help her do it. Kitty: It's not quite that simple. Her mother doesn't want us to do it. She thinks all religions are nonsense and doesn't want anyone to convert Bea into anything. Anika: Nonsense? NONSENSE!? No wonder that woman ended up where she is! Kitty: Shut up!
What To Believe In 14
Kitty: I will not let you talk that way about Bea's mother. It doesn't matter what she believes in or doesn't. She's Bea's mother and she has the right to decide what Bea is taught when it comes to religion. Anika: I hope you're not going to raise Rosie as a pagan too. Kitty: Don't tempt me. Anika: Kitty, you can't do that. She needs to know about our ways. Kitty: Of course I won't. I will teach her all about the goddesses and then it will be up to her to decide whether she believes in them or not.
What To Believe In 15
Anika: And what does Riddick think about it? Kitty: He agrees. He says his god isn't suitable for little kittens. Anika: Is that why he didn't tell Bea anything specific? Kitty: Yes. He said the girls would be better off believing in nothing than believing in his god. Anika: Sounds grim. Kitty: I guess it is. Anyway, you don't need to worry about Bea. I've already arranged someone objective enough to talk with her about it all.
What To Believe In 16
Gaby: That big guy, Riddick... I take it he's a bit more than just a friend? Ruby: Not that way. He took care of me when I first came here. It was the first time I've ever felt completely safe. He's still taking care of me, although I don't need it that much now and he's got a family to look after. Gaby: I see, yes, he did look like the type. - So how about you tell me everything? What really happened and why and how you disappeared. Ruby: I guess you have the right to know. And I really am sorry for making you think I was dead, but you see, I had no choice...