Shoe Shopping 1
Kitty: I think it's time for you to get a pair of shoes. Let's go and see if we can find something nice. Bea: I don't need shoes. Kitty: No feline needs shoes. Fashion is not about needing things, it's about looking pretty. Bea: I don't want to look pretty. Kitty: I do not believe that for a second. Come on!
Shoe Shopping 2
Kitty: How about these white sandals? Bea: Why would I want shoes? The other girls are not wearing them, except Nora, but that's not the same thing as she's not a feline. Kitty: Nadine does. Bea: She doesn't want to, but her mom makes her. She says her mom wants her to be a lady. What's the point of being a lady, if you need to do stuff you don't want to? Kitty: Would you at least try them on? For me? Bea: All right.
Shoe Shopping 3
Kitty: They look really good. Bea: I don't want shoes. Kitty: You are old enough to start using them. Mary, what do you think? Mary: They are nice, but if Bea doesn't want to... Kitty: Don't you start that too. - Bea, we could buy those for you and you don't need to use them all the time, just for special occasions. What do you say? Bea: Okay. I guess. Mary: There we go.
Shoe Shopping 4
Mary: Did you see these tiny shoes? Why not buy shoes for Rosie too? Kitty: Those are not for feline babies. Feline babies and small children never have shoes. Mary: Really? I've been using shoes all my life. Kitty: It's different for your kind. You need them, we just use them to be fashionable. Bea: I don't want to be fashionable. Kitty: That's what you think now. You won't be thinking so for very long.
Shoe Shopping 5
A little later: Henry: Hello, girls! Don't tell me you're here on your own. Mary: Hi Henry! We're not, Kitty's next door, shopping. Henry: And you got tired? Bea: I don't get all this shopping. We have enough stuff already. Mary: Apparently Kitty thinks otherwise. - Henry, why don't you sit down? Or are you busy? Henry: Not that busy.
Shoe Shopping 6
Mary: I see you've been shopping too. Is that what I think it is? Henry: What? No! No, it isn't. Just a birthday present. Bea: What did you think it is? Mary: Nothing. Bea: You two know something I don't. I know that look. Henry: Don't worry, Bea. It's nothing important.
Shoe Shopping 7
Henry: I hear you're moving. Mary: Yes, as soon as the new house is ready. Kitty has decorators making it nice. Bea: It's going to be really nice. I'm going to get a room with kitten pictures on the walls. I need to share it with Rosie, but that's all right. Henry: I'm sure you'll get along just fine. After all, you have been sharing a room with Mary so far. Mary: I'm glad that will be over. I'm getting a room all for myself. No offense, Bea, but I really need some privacy.
Shoe Shopping 8
Kitty: Henry, I didn't expect to see you here. Have you been shopping? Henry: Yes. This isn't one of my favorite places, but the selection of shops is impressive. Kitty: What were you looking for? Oh, is that...? Henry: A birthday present. Kitty: I thought it might be... well, never mind. Bea: I don't get it! First Mary and now Kitty. What's so special about that box?
Shoe Shopping 9
Henry: Nothing. It's just a birthday present. Bea: For who? Henry: For whom. It's a secret. Bea: It's for Miss Lenore! Her birthday is next week. Henry: Promise you won't say a word to anybody. Bea: I promise. I don't want to spoil the surprise. I'm sure she'll be really happy. Henry: Let's hope so.
Shoe Shopping 10
Kitty: Henry, would you mind staying with the girls a little longer? There's still one shop I need to go to. Henry: No problem. I'm in no hurry. Kitty: Thanks. I know this mall is a very safe place, but I'll still feel better knowing they're not alone. Mary: I can take care of Rosie. Bea: And I can take care of myself. I'm a big girl. Kitty: Not that big. Henry will keep you company. I won't be long. But first I'll get Henry some coffee and... what else? Cake? Henry: You choose.
Shoe Shopping 11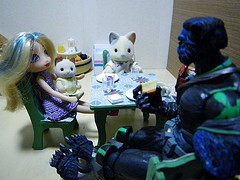 After Kitty has gone to continue shopping: Henry: So, Bea, what's wrong? Mary: Kitty bought her shoes. Henry: Isn't that a good thing? It means you're not a little child anymore. Bea: I don't want to wear shoes. You don't wear them, and Chester doesn't, and uncle Maurice. Henry: I guess that's because we're guys. Bea: I thought everyboby was supposed to be equal. Henry: I'm afraid that doesn't apply to fashion. May I see them?
Shoe Shopping 12
Henry: I think they look nice, but I can understand you not wanting to wear them. It should be a matter of choice. Just tell Kitty you don't want to use them. Bea: I did! She bought them anyway! Henry: I guess she thinks you'll change your mind. Who knows, maybe you will. Bea: I won't. Henry: In any case, I'm sure she's not going to make you wear them. If she does, just ask her how she felt when grandma Anika tried to make her do things she didn't want to do. Mary: Teehee, I want to be there to see that. Henry: And if she gets mad, tell her I told you to ask her that.