Max & Beth 1
Beth: Max, are you ashamed of me? Orlock: What? No, of course not. Whatever gave you that idea? Beth: Well, we've been going out for some time now, but you've never even suggested that I should meet your friends. Orlock: I didn't think... Are you saying you want to meet my friends? Beth: Of course. I've been wondering... You know, I even suspected you might be married. Orlock: Married? Me? You can't be serious.
Max & Beth 2
Orlock: I could never be ashamed of you. If there's any of that, it's the other way round. Beth: You mean... Max, I can't imagine you having friends you need to be ashamed of. Orlock: You haven't met Schizo. But if you really want to meet my friends, we could start with the one in the next room. Will! You can take your ear off the door now and come in!
Max & Beth 3
Will: I wasn't listening. Orlock: Beth, this is Will. He's like me, well, not quite, but we are the same kind. Beth: Nice to meet you, Will. I'm Beth. Will: It's nice to meet you too. I knew uncle Max had a girlfriend, but I never saw you, so I didn't know you're so pretty. Beth: Thank you. I see Max has been teaching you.
Max & Beth 4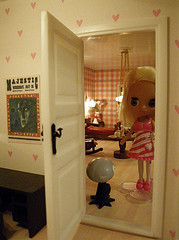 Will: Is Beth your real name or is it just a short version of a longer name? My name is really Willem, but I like Will better. Beth: My real name is Josephine Elisabeth Victoria. Will: Wow! Sounds really important. Beth: My mom is crazy about historical royalty. She's a cleaner and dad's a taxi driver, so it's not like we're rich or anything. Will: It's all right, uncle Max isn't rich either. - Would you like to see my room?
Max & Beth 5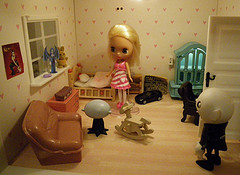 Beth: So, are you two related? Orlock: Not the way you mean. Will: We're just the same kind and that means uncle Max is supposed to help mama take care of me. Beth: Yes, I've heard of that. Very sensible principle. Is that... is that a coffin? Will: It's just a toy. It's too small for me to fit in, and anyway, we don't do that stuff anymore. I sleep in a normal bed. Orlock: Much more hygienic that way. Rosemary's cleaning lady would have a fit, if there was dirt on the floor every day.
Max & Beth 6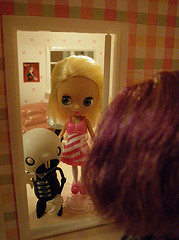 Rosemary: Max! Oh, I'm sorry, I didn't know you had company. Orlock: It's all right. Rosemary, this is Beth. Beth, this is Rosemary, Will's mama and my new landlady. Beth: I just love your show. I watch it every time. Rosemary: Thank you. I see you have already met Will. Beth: Yes, a very interesting little boy. Nice manners, too. Rosemary: Yes, Will's grandpa Joe did very good job.
Max & Beth 7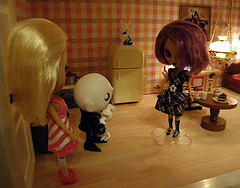 Orlock: So, Rosemary, was there a reason why you were looking for me? Rosemary: I just wanted to know if everything is all right. I see you already got the furniture in place. Also, my cleaning lady wants to know if you want her cleaning here too. I'm paying for it, so it wouldn't cost you anything. Orlock: No thanks, I don't want strangers snooping around in my room. Rosemary: She's not the snooping kind, but I understand. If you change your mind, just let me know.
Max & Beth 8
Beth: She seems nice. Just like a regular person, although she's a celebrity. Orlock: About that, her being a celebrity, I mean, I guess you know it means a lot of gossip. Beth: Of course. People are always so curious. I must confess I am a bit too. Orlock: Yes, it's only natural. What I'm talking about is that people are going to speculate whether there's something going on. There isn't, she's just a landlady and Will's mama. Beth: Oh, I didn't think about that. I won't mind any gossip in the tabloids, if that's what you mean. She might, but I guess she must be used to it by now.
Max & Beth 9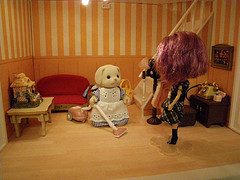 Mrs. Cocker: What did he say? Rosemary: He doesn't want you to go down there. He'll take care of it himself. Mrs. Cocker: Very well. To tell you the truth, I like it better that way. He's a bit... scary. Rosemary: I suppose he could seem that way, but he's really a very polite guy. You're not scared of Will, are you? Mrs. Cocker: Oh no, he's a sweet kid. I find it hard to believe those two are the same kind. Rosemary: Will is still very young. By the time he reaches Max's age, he could well be like Max.