The Past: Riddick 21
Orlock: Am I supposed to believe that nothing happened? I know you like him. Ruby: Of course I like him, but not that way. He just makes me feel safe. You should have seen his face... Orlock: Safe? From what? Ruby: That's a long story and one I don't like to tell. Maybe some day, but not now.
The Past: Riddick 22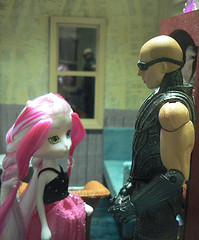 Kitty: How are you feeling? Riddick: I've been better, but I'll live. Kitty: About what you told... I have some difficulties believing you could do something like that. And what about that marriage thing? Riddick: It was a long time ago. She was everything to me and I was jealous. She was going to leave me, because she was scared of me. Turned out she was right.
The Past: Riddick 23
Riddick: After what I did, she wasn't very forgiving and I had to disappear. I wasn't going to get her anyway, so I decided it would be wiser to take off than face prosecution. Kitty: I don't know what to say... Riddick: Say you don't hate me. I'm not that man anymore. I have learned my lesson the hard way.
The Past: Riddick 24
Kitty: I don't hate you. I love you. You know that. But I must admit that what you told me makes me worried and I don't like that. Riddick: What do you want me to do? Kitty: I don't know. I need to think about it all. Just give me some time.
The Past: Riddick 25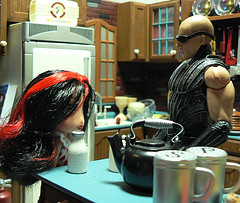 Ruby: Feeling any better? Did you talk with Kitty? Riddick: Yes. - Ruby? I'm really sorry about what happened. Ruby: Don't be sorry. It was the first time in weeks that I slept without having any nightmares. Little snoring is a small price for that. Riddick: Why haven't you told me about the nightmares? Ruby: What's the point? You can't do anything about it.
The Past: Riddick 26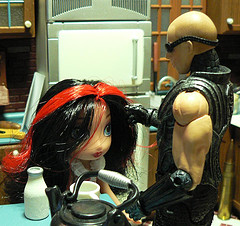 Riddick: If what you just said is true, that isn't the case. We just need to figure out what the problem is. Are you scared of being alone? I'm sure we can do something about that. Ruby: Like what? There isn't anything you can do. I'm sure I'll get over it in time. Riddick: And meanwhile? Tell me, how much have you actually slept lately?
The Past: Riddick 27
Kitty: I'm sorry I asked you to come here on such a short notice, but I really need to talk to someone. Faith: It's all right. I've got a couple of hours before I need to be at work. Besides, I don't even remember when you have needed my help, it's always been the other way round. I'm glad if I can pay back even part of it. Just tell me what's wrong. Kitty: It's Riddick. He told me...
The Past: Riddick 28
Kitty: ...and now I'm quite confused. What do you think about it? Faith: Well, it was a long time ago. He may have changed. You will have to take that into consideration, anything else would be unfair. Kitty: But there is really no way of knowing for sure? Faith: No. If he lost control totally once, it may happen again, given the right circumstances. Then again, it seems that he still feels guilty, which makes me think he has learned his lesson.
The Past: Riddick 29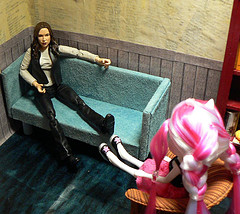 Faith: You know, I don't think I've ever seen you so worried. Kitty: He's different. He isn't like Marv, who did anything I ever asked, and more. With Riddick, I can never be sure and that makes me nervous. It didn't matter before, when it was just a sort of game. I could tease him all I wanted, but now things are different. I'm wondering whether I made a mistake getting involved with him.
The Past: Riddick 30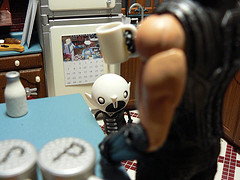 Orlock: I saw you this morning. Ruby said nothing happened, but I'm not sure whether I should believe her or not. Riddick: Do you really think she would do something like that? You can believe whatever you want from me, but I thought you had a bit higher regard for Ruby. - Let me tell you something. I know what jealousy can make you do. Things can get very nasty, very quick, and then you can forget her for good. Is that really what you want?
The Past: Riddick 31
Riddick: I heard you were looking for me last night. I'm sorry I was unavailable. Kermit: It's all right. It's just that I met Hagrid and he asked me to give you a message. He said to tell you: "It wasn't me. It was too clean and too quick." He said you would know what it means. Riddick: Yes, I know. Thanks.
The Past: Riddick 32
Liz: Hello, I'm Liz. I was told that you can help me with my dress. Kitty: Certainly. What's wrong? Your dress looks fine to me. Liz: It just needs a little adjustment. I think I've lost some weight after the last fitting. I really hate this, just when everything was perfect. Kitty: Don't worry, I'm sure it can be fixed in no time.
The Past: Riddick 33
Ruby: Kitty... Oh, I'm sorry. I didn't mean to disturb. Kitty: It's all right, Ruby. This is Liz. Ruby: Nice to meet you. Your dress is really pretty. Liz: Thank you. If you have something to say to Kitty, just go on. Don't mind me. I'm in no hurry. Ruby: Kitty, I wanted to talk about Riddick, but maybe I'll come back later.
The Past: Riddick 34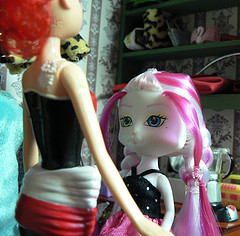 Liz: Did she say Riddick? Would that be Richard B. Riddick by any chance? Kitty: Yes... Do you know him? Don't tell me you're an ex-girlfriend. I don't think I can take any more of those right now. Liz: What? No, no, nothing like that. He used to be a family friend. - Could I speak with him?
The Past: Riddick 35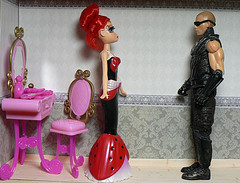 Riddick: Kitty said you wanted to talk to me. Liz: Hello, Riddick. - Don't you recognize me? It has been a long time, but you should. Riddick: Should I? Liz: I guess I have changed. After all, I was only 14 at the time. Still, you stayed with us quite a long time. Daddy really liked you. Did you know he never sent the police after you, even though it was his favorite rifle you stole? Not to mention the money.
The Past: Riddick 36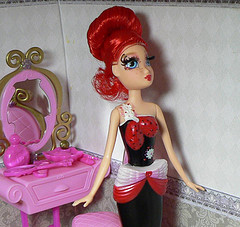 Riddick: Elizabeth? Is that really you? Yes, I can see it now, although you have changed. A lot. I would never have believed... Liz: I guess I should take that as a compliment. By the way, it's Liz now, not Elizabeth. Riddick: How is your father? I liked him too, but I just couldn't stay. Liz: He died a few years ago. He always used to wonder what had become of you and whether you were even alive anymore. He thought you were special. I see you've done quite well.
The Past: Riddick 37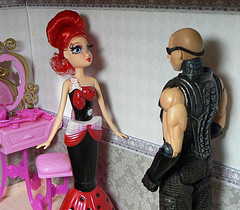 Riddick: It took a long time to get things straight, but I haven't done anything illegal for years. Liz: I'm happy to hear that. I'd like to hear more, but I need to be on stage soon. How about a lunch tomorrow? I'll be in town for a couple of days. Riddick: Sure. I'd like that. I'm not that keen on remembering the past, but you and your family were always good to me.
The Past: Riddick 38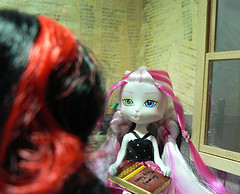 Ruby: I saw Liz with Riddick. What was that about? Kitty: Apparently they used to know each other a long time ago. What was it you wanted to talk about? Ruby: I talked with him and he said he told you about something really bad. He's so worried. You're not going to leave him because of what he told, are you? Kitty: I know he's your friend and you want what's best for him, but this is something you should not interfere with. It's between me and him. It's got nothing to do with you.
The Past: Riddick 39
Ruby: What can be so bad? And if it was a long time ago, does it really matter? Kitty: He told me once that you said there isn't much difference between him and your father. You have no idea how accurate that statement was. Ruby: You don't mean that. I didn't know him then like I know him now. He's nothing like my dad. He's NOT!
The Past: Riddick 40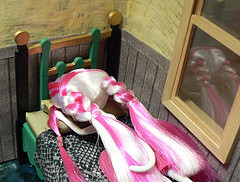 - I've really done it this time. Now I only need to get Max angry and I've created a perfect mess. Why did I have to ask those stupid questions about the past? Maybe she's right, it was a long time ago and it shouldn't matter.