The Past: Riddick 41
Riddick: What's wrong? Has something happened? Ruby: Just something Kitty said. It doesn't matter. She was wrong. - Would you go outside for a moment, please? Riddick: Sure.
The Past: Riddick 42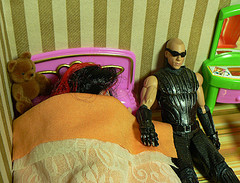 Ruby: Did you tell Kitty about this? I don't want her to think I'm childish. She wouldn't understand. She's never afraid of anything. And she could even get angry at me... or you. Riddick: She doesn't know anything and we don't need to tell. Although, I'm sure she wouldn't be angry. Ruby: Will you stay until I fall asleep? Riddick: Yes, don't worry.
The Past: Riddick 43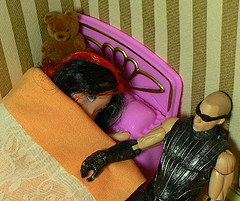 Ruby: Riddick... I met Liz... she was so pretty... and I was wondering... is there really something wrong with me... Riddick: Wrong? In what way? Ruby: Is it really wrong to like girls? I mean, if you're a girl. Dad said it was sick and twisted and that I was very bad... Riddick: Oh, Ruby... No, it isn't wrong and you're certainly not bad.
The Past: Riddick 44
Riddick: I don't think I'm the right person... Maybe you should talk to Faith about that, I'm sure she will understand better than I ever could. Ruby: What if she thinks I'm bad? Riddick: I'm sure she won't. She's very understanding. Ruby: Riddick? I love you. Riddick: I love you too. You should try to sleep now.
The Past: Riddick 45
Kitty: I never thought I would do this, but you wanted another chance to be a mother... Toffee: What is it? Kitty: All those guys you've been with... Did anyone of them ever treat you badly? I mean physical violence. Toffee: I guess it's time for the truth. - One. Your father.
The Past: Riddick 46
Kitty: You're lying. Toffee: No, I'm not. Why do you think he left? He didn't do it willingly. I gave him a choice, either leave or be reported to the police. He left and I haven't heard from him ever since. Kitty: But... All these years... I thought it was your fault. Toffee: I know. I just couldn't tell you. First you were too young, then the lie had been going on for too long.
The Past: Riddick 47
Toffee: Why are you asking about that? Did he do something to you? Kitty: Riddick? No, it's about something he did a long time ago. Toffee: Must be serious, if it got you upset. Still, you should remember that people do change sometimes, if they want it badly enough. - But I must say the same thing to you that your grandma said to me a long time ago: It's a mistake to marry someone who isn't our kind.
The Past: Riddick 48
Orlock: What were you doing in Ruby's room? Riddick: Are you spying on me? If you absolutely must know, I was sitting by her bed waiting for her to fall asleep. Then I left. Orlock: That's the strangest thing I've ever heard. Why would you do something like that? Riddick: Because it made her feel better. Orlock: I could have done it. I would sit by her bed all night, if that's what she wanted.
The Past: Riddick 49
Riddick: I guess you would. You really love her, don't you? Orlock: But she loves you. Riddick: Not the way you mean. Unfortunately, she will never love you that way either. Orlock: Why? How do you know? Riddick: I just know. I'm really sorry, Max.
The Past: Riddick 50
Next day: Riddick: Max said you wanted to talk. Kitty: I've been thinking. It was all a long time ago, so I think it would be unfair to hold it against you. You are a different man now and that's the man I love. I will forget about the past and will ask no more questions. You tell me what you want to tell and the rest doesn't concern me.
The Past: Riddick 51
Riddick: You are absolutely fantastic, did you know that? Kitty: Then, there is one question about the present. What have you and Ruby been up to? Riddick: What do you mean? Kitty: I heard you have been spending time in her room. Late at night. Riddick: It's true, but you just need to trust me. We haven't been doing anything we shouldn't, just talking.
The Past: Riddick 52
Kitty: Can't you talk during the day? Riddick: She isn't scared at daytime. It's the night that seems to be the problem. And I hope you're not going to say I can't spend so much time with her, because I will. Kitty: All right, I understand. Now don't get mad, because I have to ask this: Does this have something to do with your past? Are you trying to somehow compensate for all that by helping Ruby? Riddick: I don't know. I just know she needs me and I'm going to be there for her.
The Past: Riddick 53
Riddick: Ruby, about what you told me last night... I'm not sure I want to know, but I think I need to. How did your dad know? Ruby: Somebody told him and then he asked me. He could always see when I was lying. Riddick: Who was that somebody and what happened? Ruby: It was my friend's father. He sort of, um... found out accidentally. And what happened then was why I ran away.
The Past: Riddick 54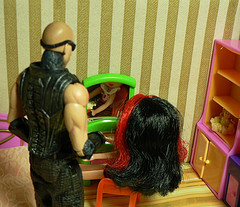 Riddick: Is that why it was worse than any of the previous beatings? Ruby: Yes. He was furious. He could have killed me. Riddick: Do you think you could ever have forgiven him any of that, if he had not died? Ruby: No. I will do my best to get over it, but I can never forgive. Riddick: I thought so.
The Past: Riddick 55
Riddick: There's something else I've been wondering. Who is Hagrid? How are you two related? Ruby: He's my mother's brother. He never liked dad. He says dad was the greatest mistake my mother ever made. When mother got pregnant, Hagrid promised to take care of her and me, so she wouldn't need to marry dad. Mother disagreed. Riddick: Is that why you went to him when you ran away?
The Past: Riddick 56
Ruby: Yes. He knew I wasn't happy. He just didn't know how bad it was. He once said that if I wanted to get out, he would help. So, when I ran away, I just went to him and said I needed to disappear. I knew he could do it. Riddick: Yes, he is a very resourceful man. Why didn't you tell him the truth? Ruby: He was getting into enough trouble already by helping me. I didn't want him to do anything worse. He would have, you know.
The Past: Riddick 57
Ruby: He's a bit like you in that way. By the way, he likes you. I think it's partly because you've been so nice to me, but there's more to it, I just don't know what it is. Riddick: Does it really matter? I'm glad he likes me, though, because if he didn't, he wouldn't approve you and me being friends. Ruby: Is that important? Riddick: Considering that he could have me sacked at any time, it is.