The Past: Kitty 41
Ruby: I hope it was worth it, because Kermit is in a bad mood. You're late. Riddick: What are you talking about? Ruby: I know what you've been up to while you were supposed to be working. Riddick: It's starting to look like you really are a mind reader. Ruby: No, I just met a little fellow who was a bit embarrassed and promised to stop eavesdropping.
The Past: Kitty 42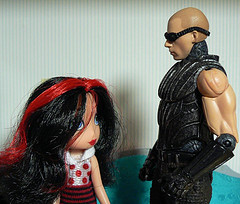 Riddick: You mean Max...? What did he hear? Ruby: He only said you were being mushy. Are you mad at him? Riddick: No. Let's hope he keeps his promise. Ruby: Somehow I doubt it. I'm happy things are all right with you and Kitty. She sounded a bit irritated earlier. Was it because of me? Did I do something wrong? Riddick: No, it was more about something I hadn't done.
The Past: Kitty 43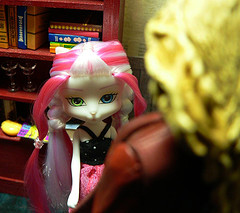 Wendy: This isn't something I would normally do. Don't tell anyone where you got the information. Kitty: I won't. Just tell me. Is it bad? Wendy: He's got a criminal record spanning several pages. Mostly property crimes, but the last one was an assault and battery. He got out of the prison 3 months ago. Kitty: I don't need this. I really don't need this. Wendy: I must go now, but let me know, if you need any more help.
The Past: Kitty 44
Kitty: ...so that's where he has been. And he didn't tell me, or mother. Riddick: Not good. Do you still want to see him, if he comes here? Kitty: Maybe, but I think it would be best if you stayed around, just in case. Riddick: Of course. He may be your father, but in practice, he is a stranger.
The Past: Kitty 45
Some time later: Ruby: Hello. Kermit said you'd be coming back for an extra performance. It's nice to see you again. Liz: You're Ruby, right? It's nice to see you too. Do you know where I could find Riddick? Ruby: I think I saw him going to the kitchen. I'll show you where it is.
The Past: Kitty 46
Ruby: Riddick, look who's here. Riddick: Hi, Liz. I thought you would come a bit later. Liz: I wanted to have some time to talk with you. I hope you're not too busy. Riddick: No, I'm not busy. Ruby, would you...? Ruby: Do I have to? Riddick: Yes. Go on. I'm sure you can talk with Liz later.
The Past: Kitty 47
Riddick: I think you have a new fan. I hope you won't mind, if she hangs around while you're here. Liz: I won't mind. Who is she? Not yours, I think. She doesn't look like you. Riddick: What? No, I don't have any children. At least, none that I know of. No, she's one of the kind your parents used to take care of. Not like me, but I'm sure you can see that. The other kind.
The Past: Kitty 48
Liz: Oh. How bad? Riddick: Bad enough. But she's tough. She may not look like it, but it's there. Liz: You always managed to find them. Or they managed to find you. Daddy used to be a bit worried that you wouldn't understand to keep your hands off. Riddick: I was 17. He was right to be worried. I'm older and wiser now.
The Past: Kitty 49
Ruby: Oh, it's you again. Brian: Yes. Could you take me to Kitty? And I'm not going to do anything to you, so don't look so frightened. Ruby: Please wait here.
The Past: Kitty 50
Ruby: Riddick, I'm sorry to disturb, but it's that scary guy again. Riddick: All right, don't worry. I'll take care of it. I'm sorry Liz, I have to go. Liz: It's OK. I'm sure Ruby will keep me company. Ruby: Sure, I'll be happy to do that.
The Past: Kitty 51
Riddick: I will take you to Kitty. Brian: What is the matter with that girl? The little one with red and black hair? I'm not that scary, am I? She didn't need to go and get you. Riddick: Ruby was instructed to get me, if you come back.
The Past: Kitty 52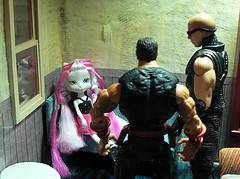 Riddick: Kitty, your father is here. Kitty: I was hoping you wouldn't come back. Brian: Would you mind, Mr. ...? Riddick: Just Riddick. I'm staying. Brian: What's going on here? Kitty: I did some research. I know where you have been. I don't trust you.
The Past: Kitty 53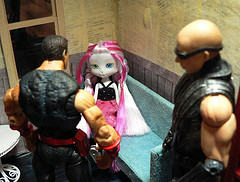 Brian: But I'm your father. Kitty: Being a biological father isn't much of a qualification, I'm afraid. You should have been honest and you would have had a chance, but you didn't even tell mother. You are a total stranger and I'm not interested in getting to know you after all this time. Brian: I thought that if I tell, you won't listen to me at all. I suppose it was a mistake.
The Past: Kitty 54
Kitty: I think you should go now. If you want to get to know one of your daughters, I suggest you try Chase again. You two have a lot in common. Brian: You're even harder than your mother. Kitty: I take that as a compliment. Riddick, will you escort Brian out of here? Riddick: As you wish. Come on, let's go.
The Past: Kitty 55
Ruby: How long have you known him? Liz: I knew him for a couple of years when he was about your age. He lived with us. Ruby: Why? Where were his own parents? Liz: I'm not sure I should be telling you that. He may not like it. He didn't like people asking about his private life then and I don't think he's changed that much.
The Past: Kitty 56
Liz: What I can tell you is that my parents used to take in foster kids. Children who had no parents or whose parents couldn't take care of them. Some needed discipline, so they wouldn't end up in prison, others just needed a safe place where no one would hurt them. Ruby: I can guess which sort he was. I can't imagine anyone being able to hurt him. Liz: No, not physically, not even then, although he was smaller than he is now.
The Past: Kitty 57
Brian: Do you think there's any chance of getting her to listen? Riddick: You said she's hard and you were right. You should have told her yourself. Brian: I have changed. I'm not like I used to be. I didn't want her to know. Riddick: You have been out for 3 months. That isn't long. How about you contact her again after you've been out for a year or so? That is, if you are still out after a year. Maybe she will listen to you then.
The Past: Kitty 58
Riddick: Did you have nice time with Liz? Ruby: She's great. We talked about all sorts of things. - Riddick? Why were you there? Riddick: What did she tell you? Ruby: She said she couldn't tell, because you wouldn't like it, but she told me what her parents used to do. Where were your parents? - Or shouldn't I ask? Riddick: I never knew my parents. That's all I'm going to say, so don't ask more.
The Past: Kitty 59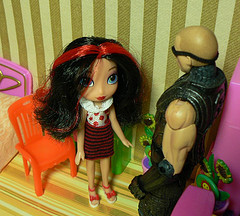 Ruby: Are you angry? Riddick: No. I understand you want to know, but I'm sure you also understand that sometimes it is best to forget the past. Ruby: Yes. I'm sorry. I'll try not to ask any more questions. Riddick: Just try? Ruby: That's the best I can promise. Just let me know when I'm asking something I shouldn't.
The Past: Kitty 60
Kitty: Do you think I was too hard? Riddick: No, not really. He's been out for only a short time. No point in getting to know him, if he's going to be back in again soon. However, if he really is serious about changing his life, maybe you could try to listen what he has to say.
The Past: Kitty 61
Kitty: How will I know if he's serious? Riddick: Don't get mad at me, but I told him to contact you again, if he manages to stay out for a year. I think that's long enough to show some degree of seriousness. Kitty: Let me guess. He told you he's changed and you felt everyone deserves a second chance? Not everyone is like you. Riddick: But you won't know, if you won't let him try.