Muppet Stories 1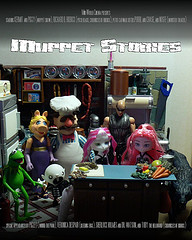 In the kitchen 1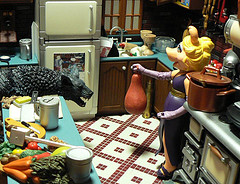 - Nice doggie... Here, have this and go away...
In the kitchen 2
Piggy: Well, hello there! Can I help you? Riddick: I'm looking for my dog. Sort of a big one with a nasty temper.
In the kitchen 3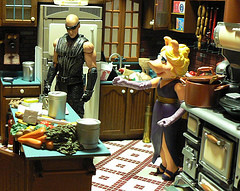 Piggy: Oh, he was yours. He was quite scary. He went that way. Riddick: Thanks.
In the kitchen 4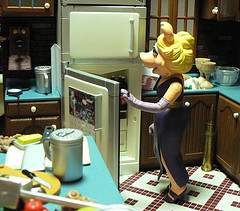 - He was a rough looking fellow. I wonder where he came from.
In the kitchen 5
- Was there something else? Oh, it's you, I thought that dog owner came back.
In the kitchen 6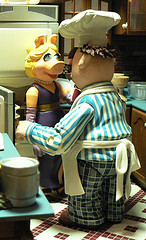 - You know, we really must stop seeing each other like this. Someone will find out and tell Kermit.
In the kitchen 7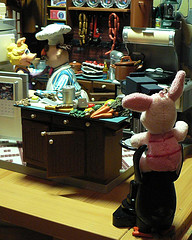 Penguin: Is the camera rolling? Piglet: Yes, sir!
Aftermath 1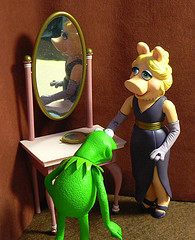 Kermit: But Piggy, you should have told me. I just want you to be happy and if Chef is the one who can make you happy, of course I will let you go. Piggy: But... No... I'm... You can't mean... Kermit: That's settled then. I hope you two will be very happy.
Aftermath 2
Kermit: Thanks guys. Terrific job. Here's little extra. Penguins: Glad to be of service. If you need any more help, just let us know.
Aftermath 3
- Free at last. This must be the happiest day of my life. This calls for a celebration.
Aftermath 4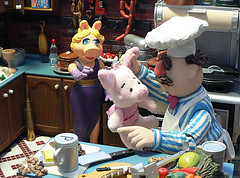 Piggy: Cut that little squealer's head off. Piglet: Help! Heeelllp!!!
Aftermath 5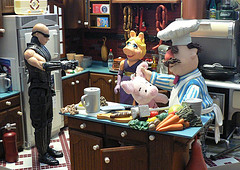 Riddick: What's going on here? Hey you, let that little guy go. Piggy: This is none of your business.
Aftermath 6
Penguin: Thank you, mister. You saved my assistant. Riddick: No problem. Now, you two would-be murderers... You're lucky he doesn't want to report this. Make sure you leave him alone.
Aftermath 7
Piggy: I need to be alone for a while. Please leave me. I need to think.
Aftermath 8
- Thinking is awfully hard with an empty stomach.
Aftermath 9
Veronika: Hello, I'm Veronika. I wonder if you can help us. We're looking for someone called Kermit. I'm supposed to perform tonight and he said he wants to discuss some things beforehand. Oh, and this is my bodyguard, Richard. Riddick: We have met. Piggy: I'm Miss Piggy. As for that little green monster, I have no idea where he is and I don't care.
Aftermath 10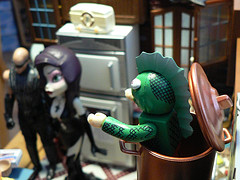 - Did someone ask for a little green monster?
Aftermath 11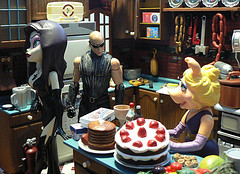 Veronika: What was that? Never mind. We'll go and ask someone else about Mr. Kermit, if you can't help us. Piggy: Sure. By the way, Richard, did you find that dog of yours? Or is it still loose? Riddick: Still loose. Don't worry, he prefers lean meat.
Kitty and Piglet 1
Veronika: What a strange woman. Riddick: You have no idea... Veronika: She said "green". I think I see a green guy there, it must be Mr. Kermit. I'll go and have a chat with him. You go and find that beast of yours before he eats someone. I don't need any more bad press. Riddick: As you wish.
Kitty and Piglet 2
Kitty: So, Piglet, how did you get into such trouble in the first place? Piglet: It wasn't me, it was those penguins. If I had known what they were up to... Miss Piggy can be really scary.