Solution 5
Kermit: You know, whether this will work or not, it is still fun. But I think the message should go through.
Solution 6
Piggy: I give up. Veronika: Give up what? Oh, Kermit? He certainly seems to enjoy himself.
Solution 7
Veronika: Hello, Kermit. Kermit: Ladies, would you excuse us for a moment?
Solution 8
Kermit: I was wondering where you disappeared. Veronika: Sneezy and I had to sort some things out. I'm sorry to tell you this, but I cannot be in your show. We have decided to move to the countryside and start a family.
Solution 9
Riddick: I guess you won't be needing me anymore, then. Veronika: You were eavesdropping! Don't you know that it is a very naughty thing to do? - Seriously, I'm sorry this came so suddenly, but it was a suprise for us as well. So, we'll probably need a nanny more than a bodyguard. And although I'm sure you could handle that job too, I don't think you would like it.
Solution 10
Riddick: Don't worry, I'll be fine. Kermit: You can stay here for a while, if you like. I like you. You have such good ideas for fixing things.
Chase 1
Riddick: Thanks for coming and bringing your friends. They played the part perfectly. Peggy: They didn't play anything, they really liked the guy. Riddick: What is it about him? He's short and green. He's got sticks for legs and arms. Still women seem to fall for him just like that. Peggy: He's cute and charming and most important of all, he's funny.
Chase 2
Chase: Excuse me, I'm looking for my sister and Beelzebub, our goat. Riddick: Try in there. Peggy: Well, Riddick, you could certainly work on that charming part.
Chase 3
Chase: There's no one here. Riddick: I'll go and find them for you. Sorry if I was rude, it's an old habit. Chase: No problem, I'm used to that sort of thing.
Chase 4
Riddick: I'm a bit curious about this goat of yours. What is it that's so special about him? Chase: He's our grandfather's reincarnation. Riddick: What?! You can't be serious. Why the hell is he called Beelzebub then? Chase: Grandma's idea of a joke. The man was a mean bastard.
Chase 5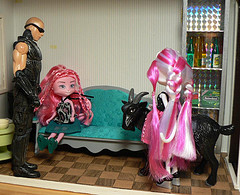 Chase: Oh, hi sister. I was just telling your friend here about Beelzebub. Kitty: I'm not sure if you can call him a friend... Why did you do that? Chase: It's not a secret, isn't it? Kitty: No, but you don't need to tell everyone you meet.
Chase 6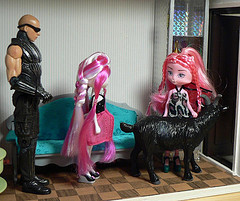 Chase: Well, I'll be going then. Grandma's waiting for us. It was nice meeting you, Mr...? Riddick: Just Riddick. Chase: I'm Chase. It was nice meeting you, Riddick. Maybe we'll see each other again.
Chase 7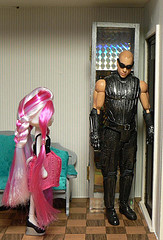 Kitty: Just a friendly warning. Keep away from her or you'll be in deeper trouble than Kermit ever was with Miss Piggy. Trust me, I know her. Riddick: She seemed quite nice to me. Besides, I can take care of myself. Kitty: That's what they always say.