Investigation 1
Fozzie: Hi Kermit! Long time no see. Kermit: Fozzie! Where did you come from? Fozzie: Actually, it's "Officer" nowadays. See? This isn't a costume. Kermit: Well, I never... I knew you were disappointed with your career in standup comedy when you left, but this is still a surprise.
Investigation 2
Kermit: So, is this is a social call or something official? Fozzie: Official, I'm afraid. There's a Detective Mills downstairs who would like to have a word with all of you. Kermit: All right. Let's go and see him.
Investigation 3
Kermit: That's Detective Mills? Wow! Fozzie: Yeah. It's my lucky day. All the other guys complained, because boss gave the assignment to a rookie, but I was the only one who knew all of you - well, not all, I noticed there are some new faces - but anyway, I was the one who would be most useful.
Investigation 4
Kitty: Stop staring or your eyes will drop out. Riddick: Was I staring? Do you think she noticed? Kitty: She's a detective. What do you think?
Investigation 5
Mills: Some irregularities have been found in the recent investigations by Holmes and Watson, so we are reopening some of the cases. Kermit: What sort of irregularities? Mills: No need to go into that. - So, there are these two deaths that have happened here. I need to speak with everybody. I will start with Kermit as he's in charge here.
Investigation 6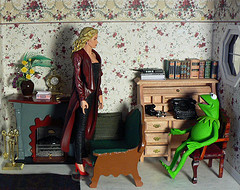 Kermit: I suggest you go to Miss Piggy next. It may save you a lot of time. Just tell her you know she did it and she'll tell you everything. - Oh, by the way, what were those irregularities you mentioned earlier? Surely you can tell me. Mills: All right, it's not a big secret. Holmes is becoming senile and Watson is on the take. They're both on their way out.
Investigation 7
Kermit: It's so good of you to come on such a short notice. I think Miss Piggy has gone too far this time and she will be needing your help. She's talking with the detective right now and I think it is going to be bad. Kevin: I will go to them right away.
Investigation 8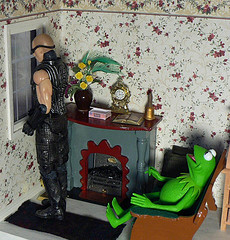 Riddick: So, why not get the lawyer before Miss Piggy went to see the detective? Kermit: Do you really need to ask?
Investigation 9
Piggy: It was self-defense. She poisoned that assistant. I admit I gave her the poison, but it was only so that she would take it away and destroy it. The next thing I hear is that someone's dead. I didn't tell anything, because I didn't want to tell that I had handled the poison. I did however confront her and she attacked me. So, I grabbed the fire extinguisher and hit her. I didn't mean to kill her, just stop her from killing me.
Investigation 10
Kevin: Stop it! Miss Piggy, not a word more. Keep quiet. Mills: I think I already heard all I need to hear. Of course I will have to speak with everyone, but if what you say is true, it probably was self-defense. The prosecutor will decide what charges you will have to face, but I'd say at least obstruction of justice.
Investigation 11
Fozzie: ...so that's what it looks like at the moment. Miss Piggy has no criminal record, so they probably won't be too hard on her. Riddick: And you're saying the detective is convinced that is how it happened? Fozzie: Sure. There's nothing to suggest anything else. Although it is still a mystery where the poison originally came from.
Investigation 12
Mills: Say, Fozzie, that green guy, Kermit... Is he married or something? Riddick (thinking): Again. I don't get it.
Investigation 13
Kermit: That went nicely for you. You know, I could have told her what you told me about the poisoning. Do you know how blackmailing works? And, in case you're getting any unhealthy ideas, you should know that I have written everything down and the paper will be delivered to the authorities, if I happen to die suddenly, however accidental the death may appear.
Investigation 14
Kermit: And one thing more. I want you to go to anger management classes. That's an order. You must learn to control your aggressions. Otherwise you will one day do something that cannot be hidden or explained away. Piggy: I'll show you anger management!
Investigation 15
Piggy: I want to hire you as a bodyguard. Riddick: I don't think so. Piggy: Not for me, for Kermit. I want you to take care that nothing happens to him. Riddick: I'm a bit curious about your motives, but if you really want to keep him safe, I guess it's OK.
Investigation 16
Riddick: ...so, it looks like you're going to be stuck with me hanging around. Kermit: Hmmm, I didn't think she would go that far. But it's OK, as long as you remember that she may pay your salary, but I'm the boss.