Kitty and Chase 23
Prince: You know, you really are a very pretty lady. Care to dine with me tonight? Chase: No thanks. Prince: Come on, I'm sure you would enjoy it. There are many women who are dying for my attention. How can you refuse? Chase: Well, you better go and give those other women your attention, then. You'll be a lifesaver.
Kitty and Chase 24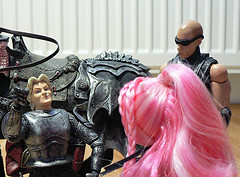 Prince: Why are you so unkind? A beautiful lady like you should be gentle and mild. Riddick: What's going on in here? Chase: Nothing I can't handle. Now, Prince Gentle and Mild, would you do me the honor of getting out of my sight?
Kitty and Chase 25
Riddick: You need any help with him? Chase: No thanks. He seems quite harmless. Riddick: As you wish. Let me know, if he isn't.
Kitty and Chase 26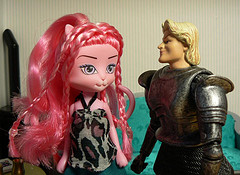 A little later: Prince: I can't stop thinking about you. I've always been fascinated by Cat Woman. And my favorite movie is Cat People. Chase: Should I be flattered because you have a cat fetish? By the way, you do know what they did in Cat People to return back to human form, don't you? Prince: You can do anything you want with me. Chase: My pleasure.
Kitty and Chase 27
Riddick: Do I want to know? Chase: Sometimes words just aren't enough. Besides, he gave me a permission. Although I think he was expecting something else. Probably got the movie plots mixed up. Riddick: I don't follow. Chase: Never mind, it isn't important. He isn't important.
Kitty and Chase 28
Riddick: Let's hope the sleeping beauty learned the lesson. How about a dinner? And there's no need to try to knock me out to refuse the offer. A simple "no" will do. Chase: Dinner would be lovely.
Kitty and Chase 29
Riddick: Can I help you? Stranger: I'm looking for a blonde guy in a tin can armor. Says he's some sort of a prince. Chase: I've seen him. What's he done?
Kitty and Chase 30
- Stolen my horse.
Kitty and Chase 31
- Oh dear. I thought he didn't look like he belonged to that horse.
Kitty and Chase 32
Riddick: What are you going to do to him? Stranger: What's that got to do with you? Riddick: I'm supposed to keep things running smoothly here. A crumpled prince really doesn't fit into that. How about we get you your horse back and you let us figure out what to do with the thief? We're very imaginative here. Stranger: All right, but only if he hasn't done anything to the horse. Chase: I don't think he could have, even if he had tried. That horse seemed to have a very strong will of his own.
Kitty and Chase 33
Riddick: One part of the problem solved. Now, what do we do with the so called prince? Any ideas? Chase: Well, we could fetch Beelzebub. Put those two in a pen and see what happens. *giggle* We could even film that. Kermit said the guy was supposed to be on the show. Riddick: That sounds interesting. Come on, let's get the dinner first and worry about the prince later.
Kitty and Chase 34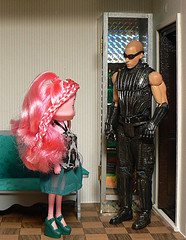 After dinner: Chase: That was nice. What do you say if we go and see Kitty? She must be getting bored. And with you there, she will behave. She's very good at that, presenting her best side to everyone else but the family. Riddick: If what I've seen is her best side, I don't think I want to see the rest. But sure, I'll come with you to see her, if that's what you want.
Kitty and Chase 35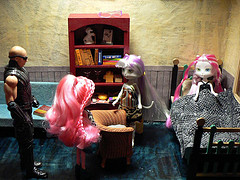 Chase: Oh, hi grandma! Anika: What have I told you about calling me that in front of strangers? Chase: Sorry. - But Riddick's not a stranger. Anika: Maybe not to you, but I haven't met him before. Aren't you going to introduce me? Chase: Sorry. Anika, this is Riddick. Riddick, this is Anika, our grandmother... oops, there it was again...
Kitty and Chase 36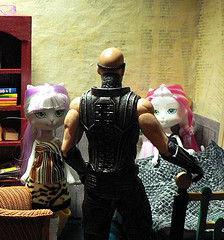 Riddick: How are you feeling, Kitty? Kitty: A bit better. And don't tell me I shouldn't have done it, I know it perfectly well without you saying so. Anika: A couple of days' rest and you'll be back on your feet. Riddick: I'm sorry, but I have to go now. I'll come and see you again later, Kitty. It was nice to meet you, Anika.
Kitty and Chase 37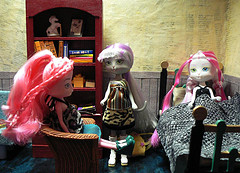 Anika: Well, well. And which one of you is after him, if I may ask? Chase: You may not. Anika: I should have guessed it was you. - I have to go now. I just came to see for myself that Kitty is all right. Dr. Dedwin was very upset by your behavior, Kitty. Kitty: Chase shouldn't have called him in the first place.
Kitty and Chase 38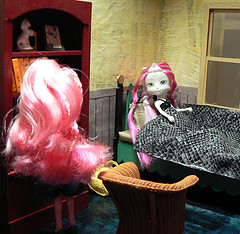 Kitty: You've been spending time with Riddick, have you? Chase: So? Kitty: What do you want from him? He's not your type. Chase: Says who? What do you know?
Kitty and Chase 39
Next evening: Riddick: Quite a grandma you've got. Kitty: Yes, I know. Did Chase mention that Dr. Dedwin is a plastic surgeon?
Kitty and Chase 40
Riddick: How come Toby is so fond of you, but seemed prepared to rip Chase apart? She's not that different. Kitty: Maybe he knows something you don't.
Kitty and Chase 41
Riddick: So, you're all right now? Kitty: Almost. Still a bit sore here and there, so I think I'll stay in bed a little longer. You should be happy, at least I can't get into trouble while I stay in bed, can I? Riddick: I wouldn't bet on that. Let's go, Toby.
Kitty and Chase 42
Riddick: Hi Chase! Did you come to see Kitty? She seems to be fine now. Chase: Well, maybe I won't go and spoil her good mood then. Riddick: Would you like some coffee? I was just going to the kitchen. Chase: That sounds like a good idea.