The Little Ones 7
Kitty: Gonzo! Just the person to help us. Gonzo: What do you want this time? Kitty: This here is Miss Piggy's nephew, Piggley. Piggley: Nice to meet you, sir. Kitty: Could you lend us your cannon? We'd like to show it to him. Gonzo: Oh no! Last time you "just wanted to take a look," it took me a week to clean it.
The Little Ones 8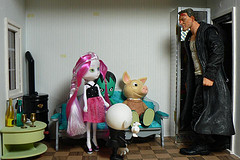 Kitty: What a spoilsport. He doesn't know what real fun is. What are we going... Oh, hi Marv. Where did you come from? Marv: Hi Kitty. I'm looking for Riddick. Kitty: Not here. Took off for a few days. Because of you-know-who. Marv: So he did let her mess with his head? Kitty: I'm afraid so.
The Little Ones 9
Marv: And what about you? Kitty: What about me? Marv: Still turning innocent little minds into mischief? Kitty: When did I ever do anything like that? Orlock: You seem to know Kitty well.
The Little Ones 10
Marv: Well, used to know. I just don't believe that she has managed to change very much during these years. Who are you? Orlock: I'm Orlock, this green one is Jack and this other one is Piggley. Piggley: Pleased to meet you, sir.
The Little Ones 11
Marv: And who's this? Kitty: Miss Piggy. She's probably looking for Piggley. Piggy: There you are, Piggley. Your parents are here.
The Little Ones 12
Kitty: Piggy, this is my old friend Marv. He was wondering if he could take a look around. Maybe you could give him a guided tour? Marv: What...? Piggy: Really? Well... sure, why not? Come this way. I'll just have to hand Piggley over to his parents first. Marv: Kitty? Kitty: Go on, you'll like it.
The Little Ones 13
Orlock: What on earth are you doing? Kitty: If I can't do anything else for fun, I can always try some match-making. Orlock: You can't be serious. Those two? It'll never happen. Kitty: Wanna bet?
The Little Ones 14
Kitty: What next? With Riddick not around, we can do what we please. Orlock: I don't have any ideas. Kitty: I must confess that I don't either. It just isn't the same when the risk of being caught is removed. But I'm sure this is just a temporary block and I'll have lots of good ideas tomorrow.
The Little Ones 15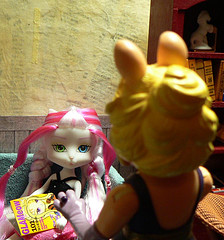 A couple of hours later: Piggy: Kitty! Could I have a word? Kitty: Sure. What's the matter? Piggy: Oh no, nothing's wrong. I just wanted to thank you for introducing me to Marv.
The Little Ones 16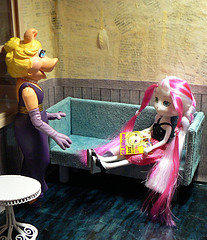 Kitty: So you like him? Piggy: He's very nice, although his manners could do with a little polishing. Kitty: Don't pay too much attention to that. He's been in a different kind of company for the last few years, so he may be a bit rough around the edges. He'll catch up with the rest of us in no time.
The Little Ones 17
Exit Piggy, enter grandma: Kitty: Grandma, what brings you here? Anika: I went to see your sister. I also talked with Kevin. It seems that the only way is to confess all they already know about and hope for leniency. Even Kevin can't do miracles. Kitty: She doesn't deserve leniency. And how about confessing everything, not just all they already know? Anika: How can you say something like that? - I was going to ask you to do something, but I guess it's no use, if that's your attitude. Kitty: What is it?
The Little Ones 18
Anika: There's this man, the prosecution's main witness. He's doing a lot of harm and Chase suggested that maybe you could talk to him. Make him tone it down. Kitty: You mean Marv? Do you have any idea what he went through because of her? Even if I thought he would do it, I wouldn't have the heart to ask him. Anika: Well, how about that other man? The good looking one Chase was dating last? Kitty: Him? She messed him up good and he's gone away for a while, to pick up the pieces. Asking him to speak for her is definitely not a good idea. To tell you the truth, I wouldn't even dare to raise the question.
The Little Ones 19
Anika: Oh dear. This is really bad. Isn't there anyone who could speak for her? Kitty: I don't think so and she's the one to blame. Probably the only ones who would speak for her are currently six feet under, because they did not realize in time what she was. Still is. Anika: How can you hate your own sister so much? Kitty: How can you be so blind when everyone else can finally see the truth? Anika: I'm not listening to any more of this.
The Little Ones 20
Orlock: Who was that old lady storming out from here? Kitty: Grandma. A word of advice: never call her "old lady" when she's on the hearing range. Anyway, she had some crazy ideas for defending Chase. Can you believe it, she thought Riddick would speak for Chase, so she would get a lighter sentence. Orlock: And who would be the death-defying individual who's supposed to volunteer to ask him? Kitty: Not me, that's for sure.
The Little Ones 21
Orlock: Any idea when he's coming back? Kitty: Maybe in a few days. That is, if he's coming back. Orlock: What do you mean? He must come back. Where would he go? We're his friends. Kitty: I'm not sure if that matters to him at the moment.
The Little Ones 22
A couple of days later: Orlock: You're back! Great! Riddick: Is it? Orlock: Of course it is. We missed you. I know Jack and I did. I'll go and tell Kitty. Riddick: I'd rather you didn't.
The Little Ones 23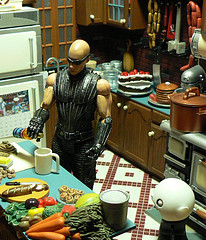 Orlock: Why? What's wrong? Riddick: I'm not sure I ever want to see another cat in my life. Orlock: All right, then. - You won't be able to avoid her forever, though. Riddick: I know, but let's take it one day at a time, shall we?
The Little Ones 24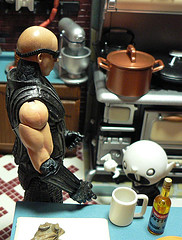 Riddick: So, did anything worth mentioning happen while I was away? Orlock: Um, yes, but it involves c-a-t-s, so maybe we won't talk about it. Miss Piggy found a new boyfriend, though. Scary looking guy, and a lot bigger than you. Riddick: Interesting. Did this guy have a name? Orlock: Of course... only... I forgot. Sorry. Riddick: It's all right. I'm sure I'll meet him sooner or later.
Riddick 1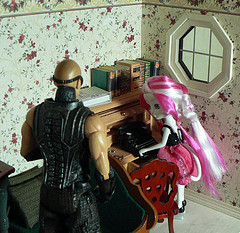 Riddick: What are you doing here? Kitty: Oh, hi, you're back. I didn't know. Riddick: I can see that.
Riddick 2
Riddick: That's it. Get out! Kitty: Hey! What...?! Riddick: Get out! And stay out!